Will China's Plan for a 2.5-Day Weekend Help Spur the Economy?
July 24, 2020 at 11:36 AM EDT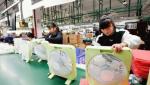 Aside from stimulus packages, China may have the solution to spurring its economy following the coronavirus pandemic—a 2.5-day weekend. Will this novel idea work? Per a South China Morning Post article, the country "plans to introduce 2.5-day weekends across China in a bid to encourage tourism and...