09/25/2023, Chichester // PRODIGY: Feature Story //




Leading digital marketing and expert SEO consultant, Steve O'Brien, better known in the industry as "The SEO Chap", has just released his latest insights on the crucial role of SEO in the world of motorsport, unveiled a compelling understanding on the transformative power of SEO in the motorsport domain. His latest opinion outlines the pivotal relationship between online visibility through SEO and the enhanced ability of motorsport teams to attract coveted sponsorship deals. Furthermore, O'Brien digs into the art of leveraging SEO to ensure sponsors gain the maximum return on their investment.

In the adrenaline-packed world of motorsport, where races are won and lost within fractions of a second, there exists another race off the tracks: the digital race. Brands, championships, drivers and race teams big and small, are battling for online prominence, and the stakes are higher than ever. As the fight for sponsorships becomes more intense, a potent online strategy and visibility have evolved from mere advantages to indispensable assets.

In an industry defined by the roar of engines and the thrill of speed, the digital space has emerged as a critical battleground for motorsport teams. More than just a platform for engagement, it's now the nexus of brand building and the genesis of most sponsorship interactions. O'Brien flags, "The digital age has revolutionised how motorsport teams present themselves. An optimised online presence, today, is the cornerstone of making a lasting impression on prospective sponsors."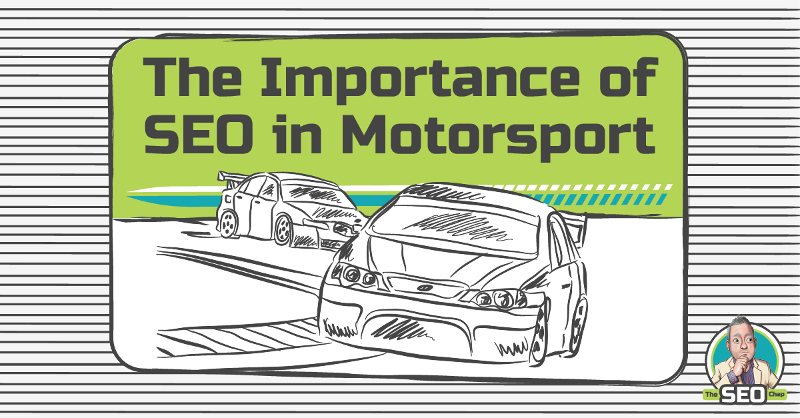 At the heart of "The Importance of Motorsport SEO", The SEO Chap lays bare the mechanics of how an amplified online visibility, cultivated meticulously through SEO, can be a magnet for potential sponsors. When teams surge to the forefront of online searches, resonating with relevant content and weaving compelling digital narratives, they don't just garner fans – they gain the interest of brands eager to associate with winning narratives.

However, the story isn't just about Steve's background in Motorsport and sponsor acquisition. A significant portion of The SEO Chaps insights pivot to the value proposition for the sponsors themselves. "A brand's association with a motorsport team is a symbiotic one," he elaborates. "While teams gain the obvious financial and strategic support, sponsors are on the lookout for enhanced brand visibility and deeper audience engagement."


Drawing from his wealth of hands-on experience collaborating with automotive and motorsport entities, The SEO Chap meticulously unpacks the digital landscape in this race for sponsorship. The exploration is not just a theoretical analysis; it's grounded from real-world scenarios. His experience of tailored SEO strategies, demonstrating their efficacy in bolstering online visibility and ensuring the message resonates powerfully with the unique culture and vibrancy of the motorsport community.

Speaking about his latest insights, Steve elaborates, "In today's digital age, brands associated with motorsport, particularly teams and drivers, can't afford to neglect the significance of online marketing, especially SEO. The race for sponsorship is fierce on and off the track, and your brand's online footprint, or lack of, can critically influence sponsorship decisions. With tailored SEO strategies, brands can effectively bridge the gap between their core values and the digital expectations of potential sponsors."

For those eager to explore the depth of these insights and discover more about the interplay of SEO and motorsport sponsorship, The SEO Chaps full ramblings are available on theseochap.co.uk. Beyond the written word, Steve O'Brien is also available for insightful dialogues, podcasts and interviews, plus consultations, presenting a rare opportunity to fathom the intricacies of SEO and possibilities for motorsport's digital frontier.

Read more about The SEO Chap: The SEO Chap Emphasises the High Importance of Effective Online Reputation Management for Businesses

About The SEO Chap:
With a reputation carved from years of nearly 20 years in digital marketing, Steve O'Brien, known as "The SEO Chap", is a luminary in the search marketing realm. His expertise, especially in automotive, motorsport and SEO, has seen him tailor unique strategies that cater explicitly to the high-octane world of motorsport and its stakeholders. As partner at Woya Digital, (the official marketing partners of TCR UK) and an expert SEO Consultant, his reach and commercial understanding is current and top drawer.

Media contact:
Steve O'Brien - Principle
media@theseochap.com
Linkedin: https://www.linkedin.com/in/steveob/

Source Company: https://theseochap.com/



Source: Woya - Digital PR

Release ID: 750557

Source published by Submit Press Release >> The SEO Chap Highlights Importance of Motorsport SEO Within The Race For Sponsorship