Is Gold Underperforming Compared to Other Commodities?
April 21, 2022 at 11:53 AM EDT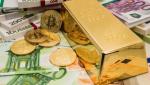 Gold has been performing well, with its price slowly grinding upward, but many investors find it lacking compared to other commodities. Wells Fargo's head of real asset strategy John LaForge notes in a Kitco article, "Since moving to favorable on March 4, 2020, gold prices have gone up 17%,...