Activist investors like Carl Icahn and Daniel Loeb try to keep their targets a secret until they're ready to strike, but intrepid investors can scour their 13F filings for clues on what they're planning.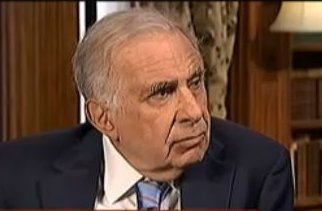 And aside from their activist investing, it's worth keeping an eye on what's in and out of favor with the big hedge fund managers, since their involvement often affects a stock's price.
The latest 13F filings, for the quarter that ended March 31, just became available this week and are required by the U.S. Securities and Exchange Commission (SEC) of any money manager with $100 million in qualifying assets. And they show that most of the best-known activist investors were very busy in the year's first quarter.
Let's look at some general trends first, then we'll check on the latest moves of some of the top activist investors.
In the big picture, top investors suddenly got very hot on Verizon Communications Inc. (NYSE: VZ). The quarter showed a remarkable 52.85% increase in ownership among those required to file 13F forms. Verizon is now held by 1,631 13F filers, the ninth highest.
Some of the big names that bought Verizon in the first quarter were Warren Buffett, Dan Loeb, and John Paulson.
Another stock that caught the eye of several top hedge fund managers was international cable company Liberty Global Plc (Nasdaq: LBTYK). Buffett's Berkshire Hathaway Inc. (NYSE: BRK.A, BRK.B) added 7.35 million of the K shares and an equal number of the A shares (Nasdaq: LBTYA).
David Einhorn's Greenlight Capital also increased his stake in Liberty Global by 66%, buying nearly 1.25 million shares. Daniel Loeb's Third Point LLC tripled his stake with a purchase of 3.6 million shares of Liberty. And George Soros bought 1.38 million shares of LBTYK.
Meanwhile, top investors were dumping troubled General Motors Co. (NYSE: GM) stock. Berkshire dumped 10 million shares of GM, and Jana Partners nearly 8 million. Loeb sold all of his 17 million shares.
Now let's take a closer look at what some of the top activist investors were doing in the March quarter...
What Activist Investors Have Been Buying and Selling
Carl Icahn:

The prototypical activist investor added to stakes in two companies that he has already targeted, buying 2.8 million shares of Apple Inc. (Nasdaq: AAPL) and 27.8 million shares of eBay Inc. (Nasdaq: EBAY). While Icahn has taken his foot off the gas in his dealings with both companies lately, he may yet have more cards he wants to play if he's adding to those positions.

What he's dumping

: Icahn sold 421,000 shares of Netflix Inc. (Nasdaq: NFLX).
David Einhorn:

Einhorn's Greenlight Capital really took a shine to solar power developer SunEdison Inc. (NYSE: SUNE), snapping up 10.54 million shares to increase his stake by 807%. SunEdison stock is up 177% over the past year, so it's not a likely activist investing target, however. But a few other companies might be. Greenlight bought 6.2 million shares of construction company McDermott International (NYSE: MDR), which is down 65% over the past two years. It also bought 5.24 million shares of real estate investment trust American Capital Agency Corp. (Nasdaq: AGNC), which is down about 22% over the past 12 months. And here's a wild card - Greenlight bought 3.5 million shares of Nokia Corp. (NYSE ADR: NOK) as the Finnish company was in the middle of selling off its phone business to Microsoft Corp. (Nasdaq: MSFT).

What he's dumping:

In addition to GM, Greenlight sold 6.6 million shares of Rite Aid Corp. (NYSE: RAD), cutting his stake by more than half.
Nelson Peltz:

While not as much in the public eye as some other activist investors, Peltz is the most successful. His Trian Fund made modest additions to two of his favorite recent targets, buying 265,000 shares of Mondelez International (Nasdaq: MDLZ) and 73,000 shares of PepsiCo Inc. (NYSE: PEP). Nelson Peltz also increased his stake in E I Du Pont De Nemours and Co. (NYSE: DD) by 6% with the purchase of 363,000 shares.

What he's dumping:

Peltz sold 18.2 million shares of The Wendy's Co. (Nasdaq: WEN), cashing out some of the gains he created through his activist investing efforts.
Daniel Loeb:

Loeb's Third Point fund was extremely active in the March quarter, opening 22 new positions and selling out of 20. So picking possible targets isn't easy. The most significant of Loeb's new additions were the purchase of 2.5 million shares of pharmaceutical Actavis Plc (NYSE: ACT), the purchase of 966,500 shares of fertilizer maker CF Industries Holdings Inc. (NYSE: CF), and 1.15 million shares of Roper Industries Inc. (NYSE: ROP).

What he's dumping:

Loeb exited from several large positions, including the sale of 10 million shares of Blackberry Ltd. (Nasdaq: BBRY), 8 million shares of Yahoo! Inc. (Nasdaq: YHOO), and 3.25 million shares of Abbot Laboratories (NYSE: ABT).
John Paulson

: In addition to adding Verizon, Paulson doubled his stake in Cobalt International Energy Inc. (NYSE: CIE) by adding 14.18 million shares. Cobalt could be an activist investing target; it's down more than 40% since early 2012 and 25% since last November. Paulson also opened a position in CBS Corp. (NYSE: CBS) with 4.47 million shares.

What he's dumping:

Paulson cut his holdings in two stocks by a third. He sold 5.34 million shares of Freeport MacMoRan Copper & Gold Inc. (NYSE: FCX) and 3.29 million shares of Family Dollar Stores Inc. (NYSE: FDO).
Bill Ackman

: Ackman bought 33.3 million shares of Platform Specialty Products Corp. (NYSE: PAH), a holding company that buys and runs specialty chemicals businesses. Ackman is very involved in PAH, having already made one successful recommendation to the company's board. Bill Ackman also bought 3.75 million shares of Apartment Investment and Management Co. (NYSE: AIV).

What he's dumping

: Ackman sold 9.15 million shares - 43% of his holdings - in Beam Suntory Inc. (NYSE: BEAM). Like Peltz, Ackman was cashing out on some successful activist investing. He also sold his entire stake in mall operator General Growth Properties (NYSE: GGP), 27.62 million shares.
Do you see any patterns in what these activist investors are buying and selling? Share your insights on Twitter @moneymorning or Facebook.
Carl Icahn's purchase of more eBay shares almost certainly means he plans to continue that fight. Here's what Icahn was saying about eBay just a few weeks ago...
Tags:
activist investing
,
activist investing 2014
,
activist investors
,
activist investors 2014
,
Carl Icahn
,
Daniel Loeb
,
latest 13F filings
The post Activist Investors Show Their Hands in Latest 13F Filings appeared first on Money Morning - Only the News You Can Profit From.