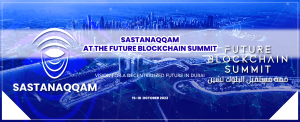 Dubai, UAE, 21st August 2023, ZEX PR WIRE, The sprawling Dubai Harbour is all set to host the Future Blockchain Summit, MENA's most immersive large-scale blockchain conference. This year, the summit is thrilled to announce the participation of Sastanaqqam, the trailblazing blockchain-based ecosystem.
Sastanaqqam's presence at the summit is a testament to its dedication to pushing the boundaries of Web 3.0. The summit, which attracts industry leaders, tech enthusiasts, and blockchain experts, offers an unparalleled opportunity for Sastanaqqam to engage with a global audience, share its innovative solutions, and carve a niche in the ever-evolving blockchain landscape.
The collaboration between the Future Blockchain Summit and Sastanaqqam signifies a shared vision for a decentralized future. With panel discussions, workshops, and networking sessions, attendees will gain deep insights into the next big thing in blockchain and entertainment. They will also get a chance to interact with the Sastanaqqam team, understand their offerings, and explore potential collaborations.