--News Direct--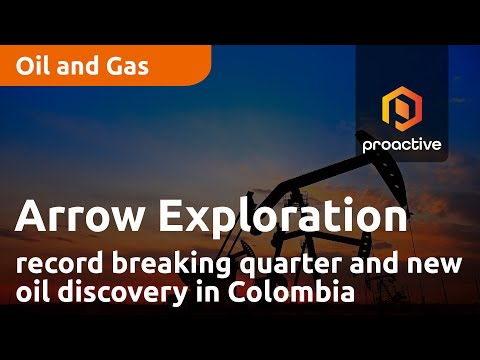 Arrow Exploration CEO Marshall Abbott joins Natalie Stoberman from the Proactive studios to share the company's 1Q financial highlights along with the latest discovery at its Carrizales Norte-1 well (CN-1), an exploration well on the Tapir block in the Llanos basin of Colombia.
Abbott says the company has recorded $6.9 million of total oil and natural gas revenue which has more than doubled earnings from 1Q 2022. Abbott also says the company has added to its record quarter with adjusted EBITDA of $4.3 million, more than seven times compared to 2022.
In addition, Arrow Exploration has also revealed a significant new drill discovery at its Carrizales Norte project in Colombia. Abbott says the well was drilled to a total measured depth of 9,190 feet and encountered 148 feet of cumulative net oil pay. He says the discovery has led to six separate pay zones, including a thick pay zone that produced over 1000 barrels a day. This discovery adds substantially to the company's reserve base and is expected to have a significant impact on its future production.
Contact Details
Proactive Canada
+1 604-688-8158
na-editorial@proactiveinvestors.com
View source version on newsdirect.com: https://newsdirect.com/news/arrow-exploration-shares-record-breaking-quarter-and-new-oil-discovery-in-colombia-158417506