--News Direct--
BioLargo CEO Dennis Calvert joins Proactive's Natalie Stoberman to share more details behind the company's record-setting revenue for the first quarter of 2023 which has already surpassed the company's previous record quarterly revenues set last quarter.
Calvert says the revenue growth was driven primarily by sales of the Pooph branded pet-odor control product sold by Ikigai Marketing Works.
He adds that management expects quarter-over-quarter revenues in 1Q 2023 could surpass a 50% growth rate over 4Q 2022. Biolargo has already announced a year-over-year growth rate of at least 125% for 2022 versus 2021, which represents the eighth consecutive year of revenue growth.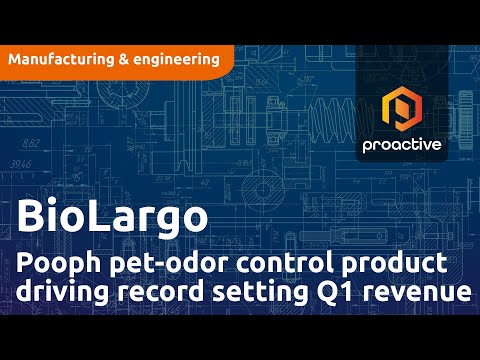 Contact Details
Proactive USA
+1 347-449-0879
na-editorial@proactiveinvestors.com
View source version on newsdirect.com: https://newsdirect.com/news/biolargo-shares-how-pooph-pet-odor-control-product-has-driven-record-setting-first-quarter-revenue-181965768