Prominent attorney Steven M. Sweat discusses legal complexities and implications of Rideshare accidents in San Gabriel Valley, offering crucial insights for victims and rideshare drivers.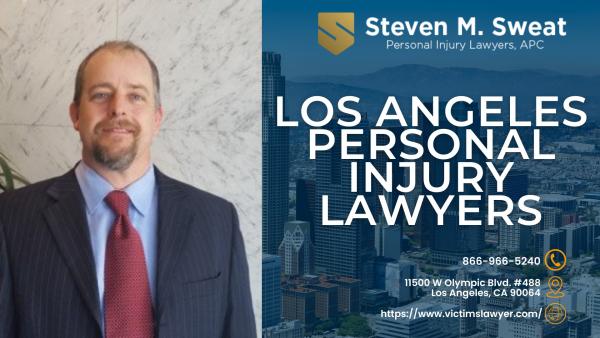 Los Angeles, United States - September 28, 2023 —
Prominent San Gabriel Valley personal injury attorney, Steven M. Sweat, recently shared his expertise on the intricacies and legal implications surrounding accidents involving ridesharing companies, including Uber and Lyft.
With the ever-increasing popularity of ridesharing platforms in today's fast-paced world, the legal landscape has been grappling with numerous challenges presented by accidents involving Uber and Lyft drivers. As a leading voice in personal injury law, Steven Sweat's insights offer valuable information for victims, rideshare drivers, and the general public.
"Ridesharing services have revolutionized the way we commute," said Sweat. "However, with this convenience comes a myriad of legal complexities. Determining liability in the event of a crash, understanding the nuances of insurance policies, and navigating the legal process are paramount concerns."
Having represented numerous clients involved in Uber and Lyft accidents, Steven Sweat is uniquely positioned to shed light on the common challenges victims face. He emphasized the importance of understanding the different phases of a rideshare trip - from when the app is turned on to when a passenger is dropped off. Each phase has its own insurance implications, making it critical for victims to be well-informed.
Sweat also highlighted the evolving nature of laws governing ridesharing platforms. "These services are relatively new, and as such, legal regulations are in a constant state of flux. It's crucial to work with a legal expert who is up-to-date with these changes and can adeptly navigate the landscape."
Navigating the aftermath of an accident involving ridesharing platforms can be incredibly daunting, especially when dealing directly with insurance companies. These companies, in their quest to preserve profits, often present initial settlement offers that might seem substantial but barely scratch the surface in covering medical bills, property damage, and other associated costs. Particularly in Southern California, where the volume of traffic contributes to a high frequency of accidents, including motorcycle accidents and even instances of wrongful death, having an experienced attorney on the side can make a marked difference.
Rideshare companies like Uber and Lyft typically carry insurance policies that far exceed those of regular non-commercial vehicles. This means that there's a better chance for victims to adequately address their medical expenses and improve their quality of life post-accident. However, securing maximum compensation requires a deep understanding of personal injury claims, especially when factoring in medical care, emotional distress, severe injuries, and the long-term impacts they can have. With the right accident lawyers or accident attorneys, victims can ensure they don't settle for less than what's fair. It's paramount for those affected to recognize the importance of pursuing a fair settlement, ensuring their medical bills are covered, and that they are compensated for property damage and emotional distress. Having an experienced attorney in Southern California, where the nuances of ridesharing legalities are continuously evolving, ensures that individuals stand the best chance to receive the justice they rightfully deserve.
One of the pressing issues Sweat touched upon is the challenge of determining fault in Uber and Lyft crashes. While traditional vehicular accidents typically involve two parties, ridesharing accidents can involve multiple layers of responsibility - from the individual driver to the ridesharing company itself.
Steven Sweat's extensive experience has shown him that Uber and Lyft have stringent insurance policies in place. However, accessing these policies and ensuring fair compensation can be a daunting task for victims. "While these companies provide a $1 million liability policy, the conditions under which it comes into play are very specific. Understanding these conditions is key to ensuring victims receive the compensation they deserve," Sweat explained.
As an advocate for victims' rights, Steven Sweat also stressed the importance of seeking immediate medical attention and legal counsel following an accident. "The immediate aftermath of an accident can be overwhelming. However, prioritizing one's health and legal rights can make a significant difference in the outcome of a claim."
Sweat's law firm, known for its commitment to client welfare and aggressive representation, has been instrumental in securing favorable outcomes for victims of ridesharing accidents. His team is equipped with the resources and expertise to tackle the unique challenges these cases present. With a reputation for tenacity and a deep understanding of the intricacies of personal injury law, Steven M. Sweat continues to be a beacon of hope for many.
Moreover, Sweat emphasized the role of continuous education and adaptation in the realm of personal injury law, particularly given the rapid technological advancements in transportation. "We're witnessing an era of rapid change. From self-driving cars to evolving safety regulations, the transportation sector is in flux. As attorneys, it's our responsibility to stay abreast of these developments to best serve our clients."
In conclusion, as ridesharing platforms continue to grow in popularity and become an integral part of daily lives, the legal challenges surrounding them are bound to increase. Steven M. Sweat's insights serve as a timely reminder of the complexities involved and the need for expert legal guidance.
For more information or to seek legal counsel, contact Steven M. Sweat's office. With a legacy of excellence and a commitment to ensuring justice for accident victims, the firm stands ready to assist.
About Steven M. Sweat:
Steven M. Sweat is a distinguished personal injury attorney based in San Gabriel Valley, California. With decades of experience and numerous accolades, Sweat has earned a reputation for his unwavering commitment to clients and his deep expertise in personal injury law. His firm has been a cornerstone for those seeking justice and fair compensation in the wake of accidents and injuries.
Contact Info:
Name: Steven Sweat
Email: Send Email
Organization: Steven M. Sweat Personal Injury Lawyers
Address: 11500 W Olympic Blvd. #488, Los Angeles, California 90064, United States
Website: https://www.victimslawyer.com/

Source: PressCable
Release ID: 89108813
Should any problems, inaccuracies, or doubts arise from the content contained within this press release, we kindly request that you inform us immediately by contacting error@releasecontact.com. Our dedicated team will promptly address your concerns within 8 hours, taking necessary steps to rectify identified issues or assist with the removal process. Providing accurate and dependable information is at the core of our commitment to our readers.