London, United Kingdom - June 4, 2023 —
Author Benneth Iwuchukwu advances a logical and thought-provoking hypothesis about 'Spirituality'. He posits that what we know today as 'Spirituality' is a hoax, and that it will go down in history as mankind's biggest folly. He claims that his book delivers immortality, invincibility and expanding prosperity to anyone brave enough to read his book with an open mind.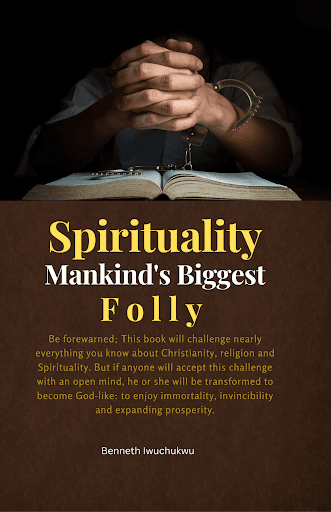 Renowned author Benneth Iwuchukwu takes readers on a journey of discovery with critical integrated thinking and reasoning to unveil a new global phenomenon for the totality of mankind in the top-rated book, "Spirituality: Mankind's Biggest Folly," now available in leading digital and print bookstores globally.
In presenting his thought-provoking ideas, Iwuchukwu showcases numerous examples of what he described as big errors made by humanity, many of which endured for centuries before being corrected. 
One of them, according to Iwuchukwu, was the belief that the Earth was flat. This view persisted until the 15th century when navigators like Christopher Columbus proved that the Earth was round. 
On the other hand, another striking error was that diseases were caused by "bad air" or miasma. This belief continued until the 19th century when Louis Pasteur, a French microbiologist, illustrated the role of bacteria and viruses in causing diseases.
According to Iwuchukwu, though spirituality is commonly distinguished from religion, the two are not mutually exclusive. While most individuals find spirituality within a religious framework, others may search for it outside of organized religion. No matter where we find it, spirituality is a hoax, explains Iwuchukwu.
According to Mr. Iwuchukwu, "Spirituality is what primitive people do when they are overwhelmed by a lack of knowledge and understanding of who they are and of the universe, as they struggle to find explanations for the meaning of life. In due course, just as Alchemy was eventually replaced by modern chemistry, Spirituality will be fully replaced by Science and Technology," he postulated.
The new global phenomenon on the totality of life, according to Iwuchukwu, is a vehicle bringing immense power to individuals globally. 
"They will become invincible, men and women of quiet power to control everything and collect advantages and privileges, and to vanquish every threatening situation confronting them," adds Iwuchukwu. 
Benneth Iwuchukwu was born in Nigeria, West Africa, in 1958 in a Christian family of seven. His father was an ordained pastor of the Anglican Church of Nigeria. He went to St. Gregory's College, Nigeria; Yaba College of Technology, Nigeria; The Polytechnic of North London, U.K; and University of Westminster, London, U.K. 
Those who want to check out Benneth Iwuchukwu's latest masterpiece may purchase the book at https://books2read.com/b/Benneth. "Spirituality: Mankind's Biggest Folly" is available in ebook and in paperback on Amazon and Barnes & Noble.

Contact Info:
Name: Benneth Iwuchukwu
Email: Send Email
Organization: SPIRITUALITY: Mankind's Biggest Folly
Address: 81 Tower Mill Road, London SE15 6BS, United Kingdom
Phone: 07947273424
Website: https://books2read.com/Benneth

Release ID: 89099133
If you detect any issues, problems, or errors in this press release content, kindly contact error@releasecontact.com to notify us. We will respond and rectify the situation in the next 8 hours.