Slovenia - June 4, 2023 —
Oceanpoint, a groundbreaking DeFi platform revolutionizing the world of tokenized real estate investments, introduces Asset Pools, allowing users to stake real estate-backed tokens and earn rewards in crypto. The release of Oceanpoint v0.4 marks a significant milestone, showcasing the platform's potential in blockchain, cryptocurrency, and real-world asset tokenization. Oceanpoint aims to redefine the industry and enhances liquidity for real estate owners and investors.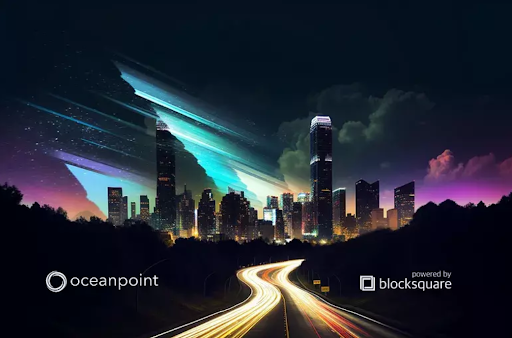 Real estate tokenization infrastructure provider Blocksquare is proud to announce the official release of Oceanpoint v0.4. The latest update ushers in a new era for tokenized real estate investments, providing users with exciting opportunities to earn Blocksquare Tokens (BST) and participate in the community pool.
The highlight of Oceanpoint v0.4 is the introduction of Asset Pools, a game-changing feature that allows users to stake Blocksquare Property Tokens (BSPTs) and earn BST. The opportunity is exclusively available for real estate properties using Blocksquare's tokenization protocol.
The Oceanpoint v0.4 update includes two Asset Pools:
- Asset Pool — Owners (v0.2): Real estate owners can now tokenize their properties and stake their assets to earn crypto. This incentivizes property owners to embrace tokenization, adding a new income stream to their traditional revenue.
- Asset Pool — Community (v0.4): The Community asset pool enables community members to participate in the ownership of tokenized real estate properties. By staking BSPT tokens in the Community asset pool, community members can redirect DAI revenues toward the DAO's treasury while receiving BST rewards.
The Governance Board will utilize the accumulated revenues in the DAO's treasury to execute BST token purchases on the open market, reducing the token supply through burning.
Oceanpoint v0.4 was launched publicly on May 22, 2023, marking a significant milestone for the Oceanpoint team. The following week showcased the platform's potential as a game-changer in the blockchain and cryptocurrency ecosystem. Developed through meticulous development and rigorous testing, Oceanpoint v0.4 is set to redefine the understanding and utilization of blockchain technology in real estate.
Looking ahead, Blocksquare will introduce a new risk assessment framework for tokenized real estate assets, offering selected properties for purchase on the Oceanpoint marketplace. These properties can then be staked in the community pool by their new owners, further advancing the future of blockchain technology.
Oceanpoint is a groundbreaking platform that leverages the power of tokenized real estate to provide users with passive income opportunities, portfolio diversification, and the ability to contribute to the growth of a vibrant web3 community. By continuously developing and implementing new features, Oceanpoint aims to lead the tokenized real estate industry, empowering users and strengthening the position of the BST token.
The Blocksquare Token BST is a utility token powering Blocksquare's ecosystem and can be traded on MEXC and Uniswap.
For more information about Oceanpoint and to start earning BST with tokenized real estate assets, individuals can visit the website.
About Blocksquare:
Blocksquare is a technology company at the forefront of tokenized real estate investments, incorporated in Slovenia, EU. Blocksquare aims to revolutionize the real estate industry by providing an open-end DAO designed to own an unlimited pool of assets. Through the Oceanpoint platform, anyone can participate in a decentralized finance protocol backed by the real estate economy.

Contact Info:
Name: Julia Buchholz, CMO
Email: Send Email
Organization: Blocksquare
Address: Cankarjevo nabrezje 2, 1000 Ljubljana, Slovenia
Website: https://www.oceanpoint.fi

Release ID: 89099193
If you detect any issues, problems, or errors in this press release content, kindly contact error@releasecontact.com to notify us. We will respond and rectify the situation in the next 8 hours.