An American Gold Star Mother Shares Her Journey of Loss and Resilience in Book Two of her Trilogy - The Next Day Came
Safety Harbor, Florida, United States - March 22, 2023 /MarketersMEDIA/ —
Dr. KD Wagner, a renowned international bestselling author, has announced the release of Book Two: BUD - Homicide Turns a Blue Star Gold, the second book in her powerful trilogy - The Next Day Came. In this deeply moving non-fiction work, Dr. Wagner shares her personal journey of loss and resilience following the tragic deaths of her two sons, Jeffrey (18) and Bud (24), in a span of just two years.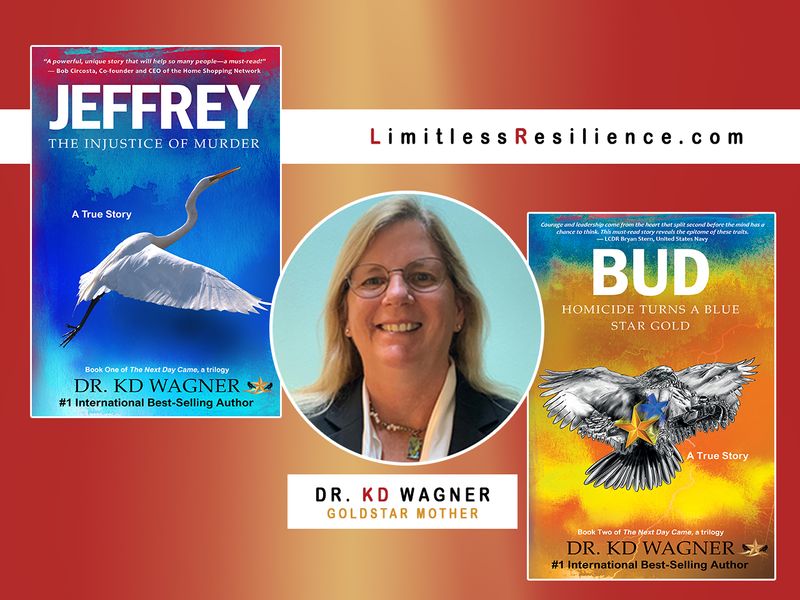 As an American Gold Star Mother, Dr. Wagner provides an intimate perspective on parents' pain and suffering after losing a child. In BUD, readers will find a raw and emotional account of how She navigated the devastating aftermath of her son's homicide as she transformed the blue star on her service flag into a gold star - a symbol of the ultimate sacrifice made by her son. 
Along with Book Two, Dr. Wagner also invites readers to download her #1 International Bestseller - Book One, titled JEFFREY - The Injustice of Murder, and her Limitless Resilience Kit, available at LimitlessResilience.com. These resources offer essential tools and training to help individuals develop resilience in the face of unimaginable loss.
With her compelling storytelling and deep empathy for those who have suffered loss, Dr. KD Wagner's books offer a beacon of hope and inspiration for readers worldwide.
If you, or someone you know, has suffered a loss, these books guide and teach the reader steps to cope with loss, find a new purpose in their life, and ways to honor their loss. Dr. Wagner believes that these stories will undoubtedly change people's ideas and views about any kind of loss and how to support and help people who suffered those losses. These books stand as a tribute to the human spirit, revealing the love between a mother and her sons, exemplifying how a person can survive even when death rips everything apart. 
According to the Journal of the American Geriatrics Society, 91% of the people who died during the pandemic died alone. The CDC stated that families received phone calls that their loved ones had died. Expected or not, the notification of the death of a loved one, especially through a phone call, is devastating. 
Tragedy often strikes us without warning, like a lightning strike in a storm. Dr. KD Wagner learned, on the phone, not once but twice, about the violent deaths of her only children, Jeffrey and Bud. She dug deep and summoned limitless resilience to not only survive but thrive. Dr. Wagner said, "Sometimes, you must let go of the vision of how you thought your life would be and live the life you were dealt." Dr. Wagner offers much-needed support and guidance to help people get out of their depressive state and get them back into living a joyful everyday life. 
Dr. KD Wagner desires that all parents move into their new lives while keeping the memories of their loved ones treasured inside their hearts. When asked how she carries on every day, Dr. Wagner says, "I live every day to make my sons proud and to be the person they believed me to be; with that, I cannot go wrong." Dr. Wagner resides in Florida with her spouse, Kim, and their standard poodles.
Dr. KD Wagner invites readers to purchase an autographed hardcover copy of JEFFREY - The Injustice of Murder, BUD - Homicide Turns a Blue Star Gold, and THE NEXT DAY CAME Thoughts and Emotions Activity Book mailed to their home within the United States at www.LimitlessResilience.com, along with free downloads in the Limitless Resilience Kit. Dr. Wagner's books can also be purchased on Amazon. She offers one-to-one, group coaching and shares her story and strength through Professional Speaking. To book Dr. Wagner to speak, go to www.LimitlessResilience.com
About Dr. KD Wagner:
Dr. KD Wagner is a multiple best-selling author, speaker, Eippy Award winner, and former law enforcement officer. She shares her journey through loss, grief, depression, addiction, planned suicide, and survival, and how she survived with courage and strength. As a Gold Star Mother, Dr. Wagner serves as the President of her Florida Chapter, supporting veterans, their families, and the community at large. A percentage of all book sales goes to the American Gold Star Mothers, Inc. - Gulf Coast Chapter, a 501(c)3 non-profit for mothers who lost a child while serving on active duty military service. Dr. KD Wagner has appeared on FOX, CBS, ABC, and NBC shows. 
About Gold Star Matrix I:
Gold Star Matrix I, Inc. is a publishing and coaching company founded by Dr. KD Wagner in 2021. The company's mission is to empower individuals who have suffered a loss to use their limitless resilience to reboot, recharge, and reclaim their lives. Through coaching services, Dr. Wagner provides education, support, and tools to help individuals navigate the complex and emotional journey of healing after loss. Gold Star Matrix I, Inc. also serves as a publishing platform for individuals who have experienced loss and are ready to share their stories of limitless resilience. The company is committed to promoting stories of hope, healing, and resilience and providing a platform for authors to share their experiences with a wider audience. With Dr. Wagner's expert guidance and support, clients can transform their pain into power, and discover a new sense of resilience and strength.
Contact Info:
Name: Dr. KD Wagner
Email: Send Email
Organization: Gold Star Matrix I, Inc.
Address: 690 Main Street Suite #117 Safety Harbor, Florida 34695
Phone: 727-412-3088
Website: https://limitlessresilience.com

Video URL: https://www.youtube.com/watch?v=g1Tre9Gib-s
Release ID: 89092432
If you detect any issues, problems, or errors in this press release content, kindly contact error@releasecontact.com to notify us. We will respond and rectify the situation in the next 8 hours.