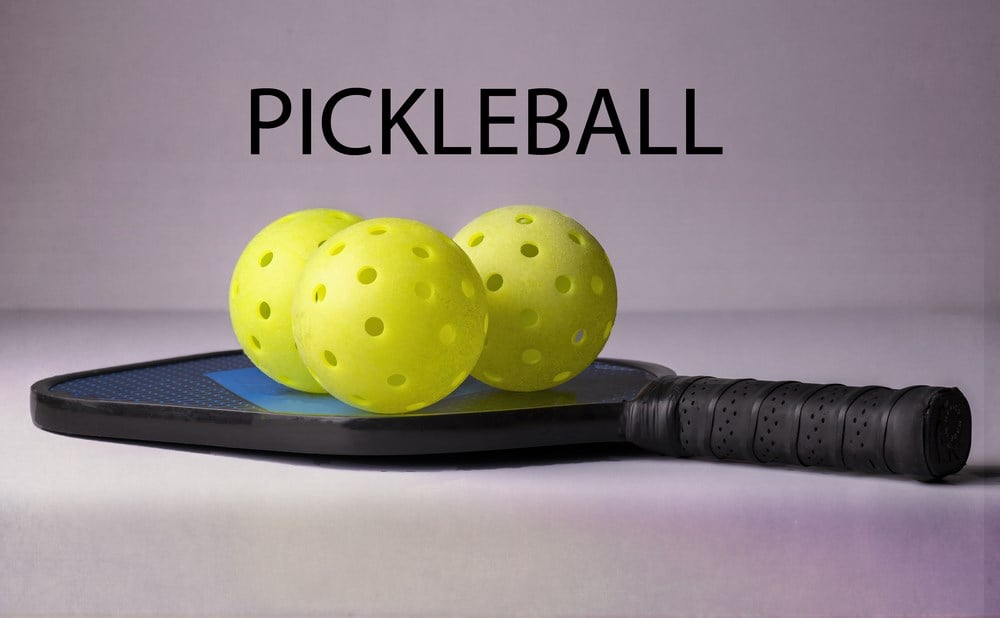 Pop. Pop. Pop. Those sounds in the distance that sound like popcorn popping? Chances are it's people playing pickleball.
America's fastest growing sport, five years running, pickleball, is taking over neighborhood tennis courts and taking the country by storm. More than 48 million U.S. adults have stepped onto a pickleball court over the past year. That's roughly one-fifth of the adult population!
Although it's been around for nearly 60 years, pickleball's popularity exploded during the pandemic as a safe, socially-distanced activity — and continues to soar to new heights. The badminton/tennis/ping pong hybrid is 'popping' up everywhere, even 'serving' as the centerpiece for new themed restaurants nationwide. The Rob Gronkowski-backed Crush Yard Pickleball Club & Restaurant in Orlando, Pickle Haus in Chicago and the Rally pickleball and entertainment complex in Charlotte are all set to open in the coming months.
For investors looking to get in on the action, the options are somewhat limited. Taking a stake in a pickleball-themed venue is one idea, but typically requires a big outlay. Owning a Major League Pickleball (MLP) team is also cost-prohibitive at up to $10 million a pop.  
What about publicly traded companies that are in on the game?
As the sport's popularity has taken off in recent years, so too have the number of pickleball equipment suppliers, apparel makers, e-commerce sites, facilities and sponsors. The problem is most are privately held.
But not the following three companies. Although not pickleball 'pure plays,' these stocks have significant exposure to a market that is forecast to grow 10% annually and reach $2.3 billion by 2028. Hey, they're worth a 'shot!'
#1 - Pickleball Court Provider - LTH 
Minnesota-based Life Time Group Holdings, Inc. (NYSE: LTH) owns over 160 "athletic resort destinations" in the U.S. and Canada, along with a range of digital offerings geared towards fitness, health and wellness. Not surprisingly, one of the biggest draws is pickleball. Life Time Pickleball (LTP) operates more than 500 permanent pickleball courts that are absorbing much of the sport's demand. From January 2022 to June 2023, the number of unique LTP participants skyrocketed by 673%. 
As interest keeps growing, the company continues to invest in both indoor and outdoor pickleball space. A 40,000-square-foot complex in Harbour Island, Florida, boasts 15 outdoor courts and an outdoor pool. Along with its existing North American footprint, Life Time has a development pipeline of more than 80 locations — which will undoubtedly get a heavy dose of pickleball. 
Combined with its personal training, group training and dynamic stretching brands, pickleball is generating strong financial results for the high-end gym operator. Affluent, variety-minded members paid an average of $228 per month through the first six months of 2023, a 27% jump from the same period in 2019. In the second quarter of this year, Life Time banked $83 million in profits after posting a $389 million net loss in the prior year period. With new clubs (and plenty more pickleball) on the way, the long-term growth outlook looks healthy.
#2 - Footwear & Apparel - SKX
A visit to Skechers U.S.A., Inc. (NYSE: SKX) online storefront reveals two dozen men's and women's pickleball sneakers ranging from $75 to $115. Compared to Nike and other competitors, Skechers has become an affordable destination for pickleball novices and pros alike. It helps that the company is the official footwear of all of the professional leagues as well as the grassroots USA Pickleball organization.
With a dominant position in the domestic pickleball footwear market, Skechers is turning to other countries for the next wave of growth. Last month, the company sponsored the Pickleball Canada National Championship in Regina which drew over 1,000 players. It is also making a big push into England, considered one of the sport's next big frontiers, through sponsorship deals and by signing influential pros.
In July 2023, Skechers announced record Q2 sales and a 67% year-over-year profit surge that crushed Wall Street estimates. As part of the release, CEO Robert Greenberg attributed the performance to demand for comfortable lifestyle and athletic footwear including "high-performance golf and pickleball shoes."  The recent pullback in Skechers stock to the low-$50's may be a winning entry point.
#3 - Major Sponsor - CVNA
Used car e-commerce innovator Carvana Co. (NYSE: CVNA) is riding a 973% year-to-date surge that's about improving financials and meme stock rallies. But pickleball may deserve a bit of credit too.
That's because it is the brand behind the Carvana Pro Pickleball Association (PPA) Tour that features the world's top talent — and is getting an increasing amount of air time. The four-day weekly PPA events have been a regular feature of late on major cable networks like ESPN and CBS. This is translating to a ton of eyeballs viewing Carvana signage and other promotional content.
For a company that has seen its reputation damaged by bankruptcy concerns and claims of price gouging and poor services, linking up with a sport known for its positivity and inclusivity can only be a good thing.
Carvana has been running TV ads featuring women's world number one and teen phenom Anna Leigh Waters that tout the convenience and novelty of its used car vending machines. The stock market's focus is primarily on Carvana's ability to reduce debt, but its exposure to the nation's fastest growing sport may be an underappreciated turnaround driver.