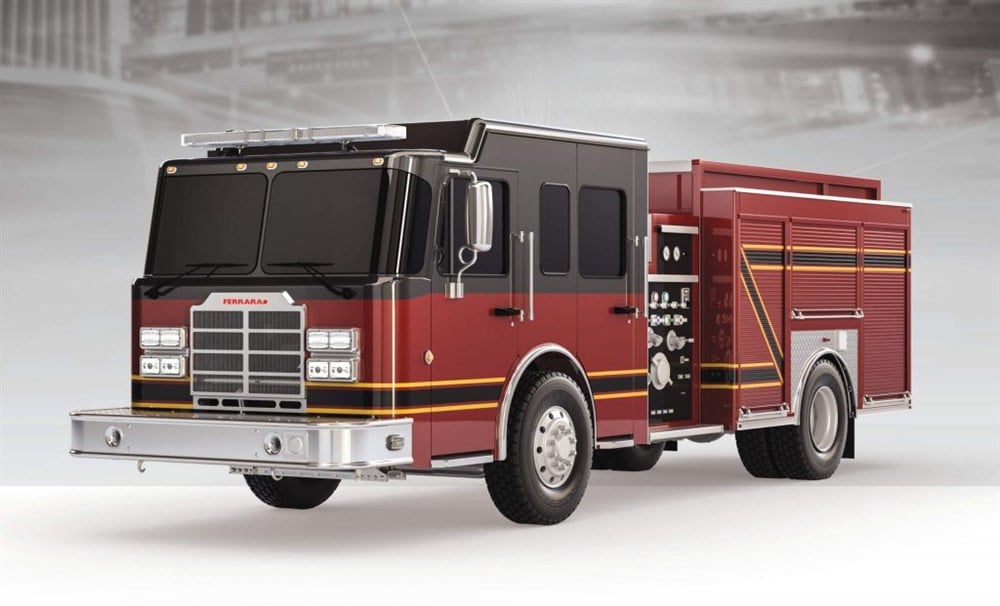 While you may not have heard of specialty vehicle and parts maker REV Group Inc. (NYSE: REV), you've likely seen their products on the roads or heard of their brands. REV Group produces emergency response vehicles, including fire trucks, ambulances and rescue vehicles, public vehicles like metro and school buses, commercial charter buses, motor homes and recreational vehicles (RVs). It also sells apparatuses, aerials, pumpers and aftermarket parts and services.
Some of its brands include E-One, Leader, Collins Bus, Capacity and American Coach. REV Group knocked it out of the park with its recent Q3 2023 earnings. It raised guidance, but the United Auto Workers (UAW) strikes may have a material impact moving forward as it affects the big 3 automakers Ford Motor Inc. (NYSE: F), General Motors Co. (NYSE: GE) and Stellantis NV (NYSE: STLA).
Potential Impact of UAW Strike
The UAW strikes commenced on Sept. 15, 2023, starting at select Ford Motors plants. The longer it goes on, the more it will spread, with more factories targeted for workers to strike and impact production lines. Ford has nearly 57,000 UAW members, General Motors has 46,000, and Stellantis has 44,000 workers.
Electric vehicles (EV) giant Tesla Inc. (NASDAQ: TSLA) has around 10,000 UAW workers. The REV group is a major supplier to the big 3 automakers, and any strike-related production shutdowns can make material impacts. The company hasn't disclosed any problems yet, but since it set the bar high, an extended strike could eventually impact its guidance moving forward.
Homerun Q3 2023
REV Group reported Q3 2023 EPS of 35 cents, beating consensus analyst estimates of 25 cents by 10 cents. Net income was $14.9 million. Adjusted net income was $20.9 million or 35-cent per diluted share, up from 24 cents last year. Revenues climbed 14.3% YoY to $680 million, beating $637.17 million analyst estimates. The company closed the quarter with $11 million in cash and cash equivalents.
Segment Breakdown
REV Group comprises three segments: Fire and Emergency (F&E), Commercial and Recreational. The F&E segment saw a 40.3% revenue jump to $92.8 million, primarily due to increased ambulance and fire apparatus unit shipments. The improvement came from improved supply chains and labor efficiencies. The segment had a backlog of $3.22 billion, up $1.05 billion compared to the year-ago period, driven by robust demand.
The Commercial segment had $143.3 million in revenues, up 29.1% YoY. Higher shipments of school buses, municipal transit buses, terminal trucks and street sweepers drove this. The backlog was $507.7 million, down by $23 million compared to the year-ago period.
The Recreation segment had 15.6% YoY revenue growth to $214.5 million. However, there was a decrease in revenues since the year-ago period due to lower units shipped due to lower demand and increased discounting. Backlog fell a massive $834.3 million from the year-ago period of $1.24 billion due to order cancellations and lower order intake in many product categories.
CEO Insights
REV Group CEO Mark Skonieczny noted how the improved supply chain had helped the company beat analyst estimates. Notably, the increase in chassis inventory enables the company to plan production more efficiently, which is the key to F&E and Commercial revenue growth.
He commented, " Exiting the third quarter, our chassis inventory secured not only fourth quarter production, but many cases production into and through the first quarter of next fiscal year. As we exit the year, we will continue efforts to optimize total inventory by utilizing chassis pools and dealer floor planning arrangements."
Raised Full-Year Guidance
REV Group raised its full-year 2023 guidance for revenues of $2.55 billion to $2.60 billion, from prior guidance of $2.45 billion to $2.55 billion, versus $2.53 billion consensus analyst estimates. The improvements and efficiencies in Q3 2023 have helped build momentum with its productivity and product simplification methods.
Improvements in throughput rates are driving increased production completion, helping REV Group work through the older backlog to produce the higher-priced units that experienced price increases over the past 18 months.
REV Group analyst ratings and price targets are at MarketBeat. REV group peers and competitor stocks can be found with the MarketBeat stock screener.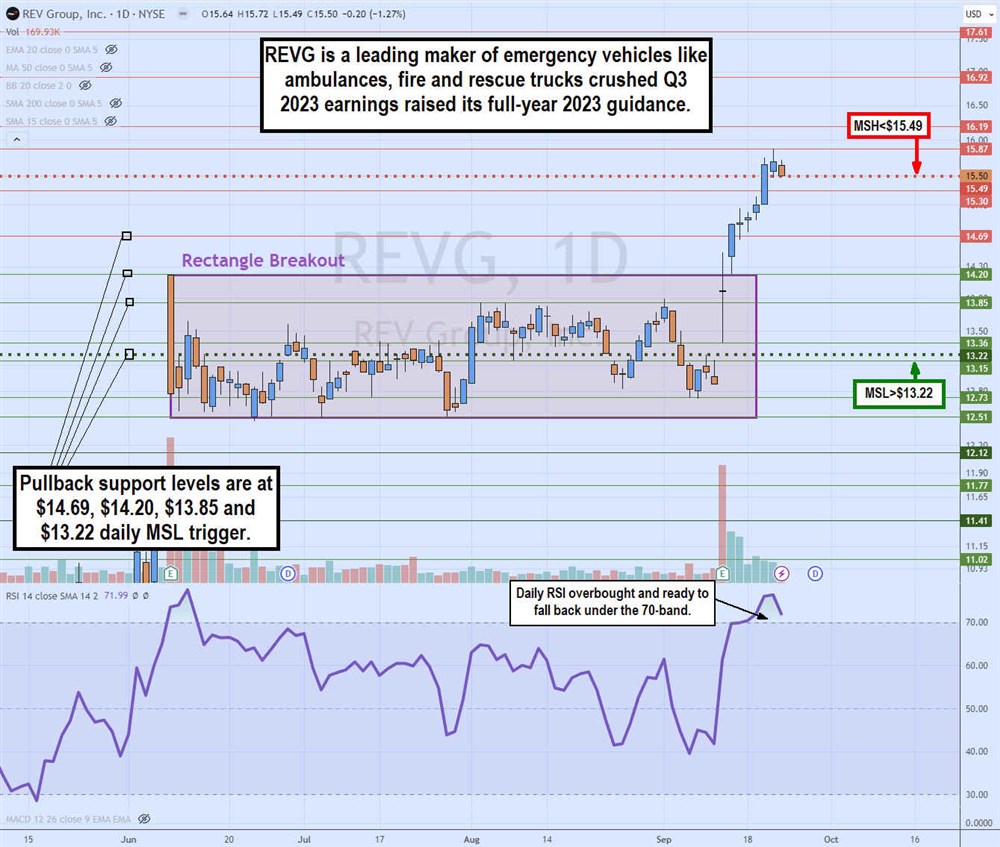 Daily Rectangle Breakout Pattern
The daily candlestick chart for REVG illustrates the rectangle breakout pattern. The rectangle commenced on June 8, 2023, as shares peaked out at the flat-top trendline resistance at $14.20. REVG fell to $12.51, forming the flat-bottom horizontal trendline that retested the bottom three times.
REVG triggered the daily market structure low (MSL) breakout through $13.22. REVG continued to rise to and through the rectangle top, squeezing up to $15.87 before forming the daily market structure high (MSH) trigger under $15.49. The relative strength index (RS) oscillator is very overbought and starting to turn down. Pullback supports are at $14.69, $14.20, $13.85 and $13.22 daily MSL trigger.