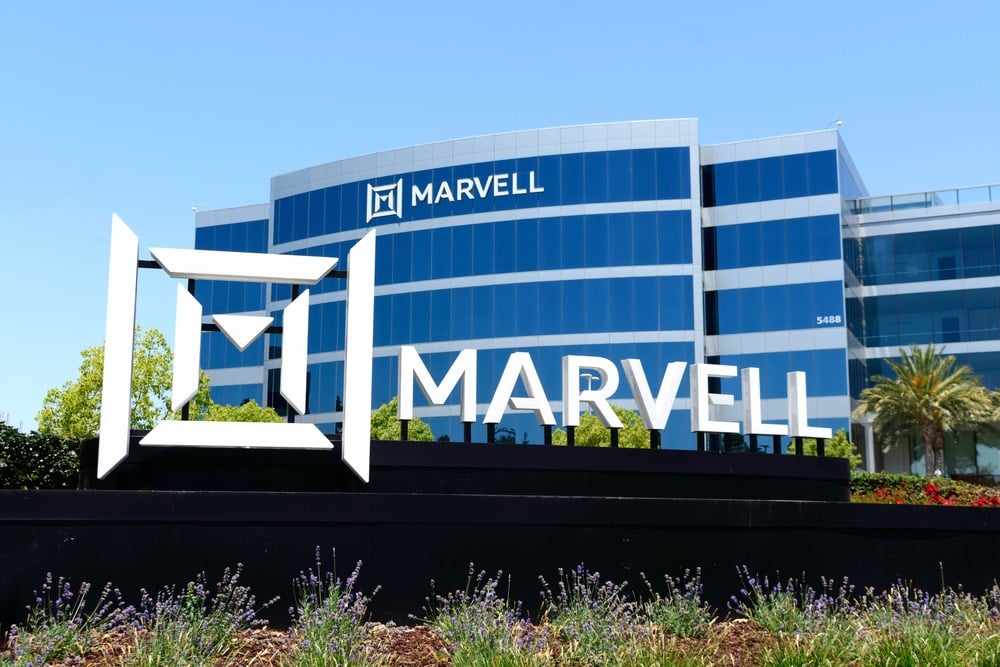 With AI spending on the rise by giants such as Alphabet Inc. (NASDAQ: GOOGL) and Microsoft Corp. (NASDAQ: MSFT), other chipmakers besides juggernaut Nvidia Corp. (NASDAQ: NVDA) are set to benefit. 
One such company is Marvell Technology Inc. (NASDAQ: MRVL), which expects its AI chip revenue to double in the current year, fiscal 2024, and again in fiscal 2025.
Marvell makes chips used in cars, industrial applications, wireless networks, automobiles, data centers, and data storage gear. 
In the first quarter, data center was its largest end market, driving 33% of total revenue. Enterprise networking was the next largest, with 27% of total revenue, followed by wireless carrier infrastructure at 22%, consumer products at 11%, and auto industrial at 7%.
Marvell Technology made a name for itself by developing advanced storage, networking, and connectivity products that power a range of devices and network systems. 
AI Boom Offset By Data Storage, Networking
It's easy to see how Marvell's existing product portfolio easily lends itself to AI applications. While the company sees booming growth ahead, the good times will be partially offset by near-term weakness in data storage and enterprise networking. That's where tech companies are slashing some spending, while simultaneously boosting AI expenditures. 
In the first quarter conference call, CEO Matt Murphy elaborated upon the vast potential for AI. 
"Given the speed at which AI infrastructure is advancing, the technology refresh rate is happening at 18 to 24 months versus four-plus years in standard infrastructure," he said.
AI Massive Driver For PAM4 DSP Platform
He added that the company expects the massive deployment of AI to be a major demand driver for Marvell's PAM4 digital signal processor platform, which was designed to deliver high-bandwidth optical connectivity for AI.
Because AI spending is frequently embedded in other spending categories, such as data storage, Murphy noted that it's "difficult to accurately allocate revenue from our storage business specifically to AI." That means the company's AI revenue forecast does not include any storage contributions. 
In addition, the company expects the increase in network traffic from AI to also provide a tailwind for its broader networking portfolio over time. 
Rapid Shift In Customers' AI Spending
"We've seen a rapid shift in our cloud customers' plans of spending on AI infrastructures becoming a much bigger portion of their capex," Murphy said, adding that Marvell is one of a scarce few semiconductor companies uniquely able to participate in all three aspects of AI systems: Networking; compute, which refers to the processing of data and performance of calculations; and storage.
The company reports its second quarter on August 24. Analysts expect earnings of 16 cents a share on revenue of $1.33 billion. Those would mark decreases on both the top and bottom line, but the company seems to have adequately prepared the market for slowdowns before growth resumes. 
For example, after the first-quarter report, the stock gapped more than 32% higher in monster volume, as you can see on the Marvell Technology chart. 
Beating Sales & Earnings Views
MarketBeat's Marvell Technology earnings page shows one reason why the stock soared: The company beat both sales and earnings views.
However, the AI forecasts were likely an even reason behind the gap-up. 
For the full year, analysts expect Marvell to earn $0.86 a share, down 59%. In fiscal 2025, that's seen rising by 92% to $1.66 a share. 
Some markets Remain Choppy
Regarding this year's expected earnings decline, Murphy said, "A few markets remain choppy, and we expect revenue from our wired and enterprise end markets to continue to trend down due to macroeconomic uncertainty and inventory corrections."
He offered a more granular assessment of future revenue streams: The company expects revenue from the wireless market to step up in the third quarter before taking a pause and declining in the fourth quarter, although it sees "many positive signs in our data center end markets."
So where does this leave would-be investors, as the company muddles through some rough patches?
If you take another look at Marvell's chart, using a bar or candlestick view, you will catch a glimpse of a cup that formed a steep handle, which corrected more than you'd ideally like to see. The downside action on August 2, after bond rater Fitch downgraded U.S. debt, was responsible for the breakdown in the handle formation. 
Marvell stock was rebounding on August 3, defying the continued downturn in global equity markets. 
Earnings Just A Few Weeks Away
At this juncture, the stock is out of buy range, but with earnings just a few weeks away, it would be prudent to keep the stock on a watch list, and wait for the results. 
Although Wall Street and the company's own forecasts anticipate a slowdown, there seems to be very real potential for this stock to post big future gains due to AI business.