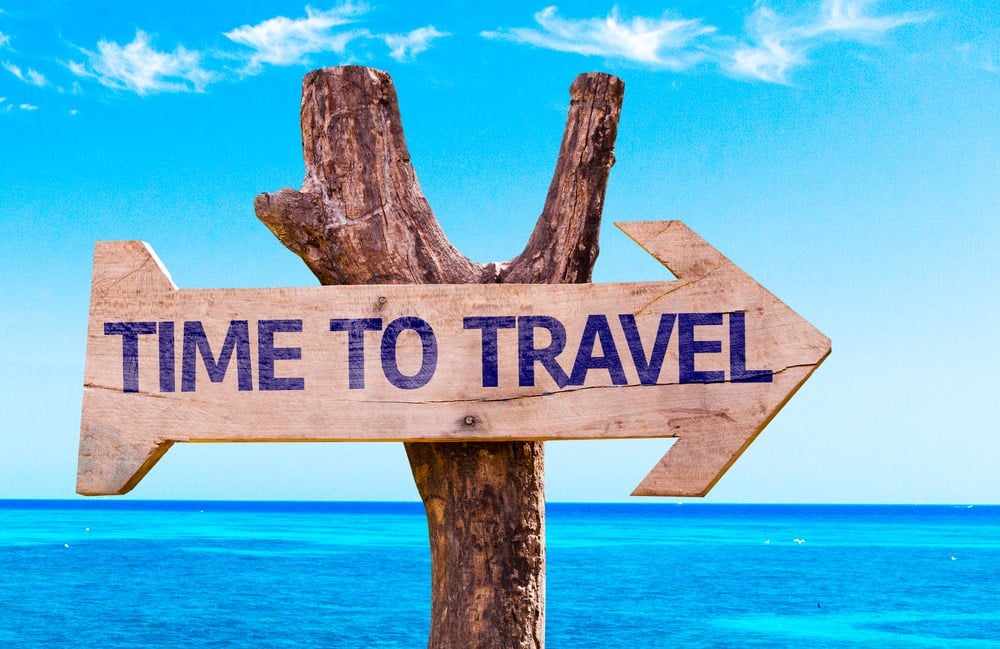 Sky-high rates for plane tickets? Overcrowded airports and full flights? Expensive hotel rooms? Pricey stays at AirBnb Inc. (NASDAQ: ABNB) properties? Inflation and economic uncertainty?
None of that is curbing global travel demand, and analysts expect that trend to continue. 
Not only have cruise lines like Royal Caribbean Cruises Ltd. (NYSE: RCL) sailed to new heights, but travel-related companies, including Booking Holdings Inc. (NASDAQ: BKNB), China-based Trip.com (NASDAQ: TCOM), and India-based MakeMyTrip Ltd. (NASDAQ: MMYT) are showing particularly good chart action. 
A more familiar name for U.S. investors, Expedia Group Inc. (NASDAQ: EXPE), declined after its most recent earnings report but is finding support above its 200-day moving average, as a look at the Expedia chart illustrates. That moving-average support indicates that investors still have conviction in the company, which is to grow earnings by 21% this year and 29% next year. 
Booking Holdings 
The owner of Priceline, OpenTable, Kayak and other travel and leisure brands returned 9.98% in the past three months and 51.76% year-to-date. The stock has been pulling back since its high on August 10, with much of that selling tied to broader market weakness. 
A look at the Booking Holdings chart shows the stock is holding well above its 50-day moving average, a sign that the stock was getting pretty frothy and was ready for a breather. 
The stock appears to be forming a new base, which could offer a new buy opportunity near its previous high of $3251.71. 
The online travel agency is U.S.-based and allows users to reserve hotel accommodations, flights, rental cars, and other travel-related services worldwide.
Booking Holdings' analyst ratings show a "moderate-buy" aggregate view on the stock, with nine analysts boosting their price targets after the most recent quarterly report on August 3. 
While this is a high-priced stock, that shouldn't scare off investors. The company has solid fundamentals, with a three-year earnings growth rate of 278% and a three-year revenue growth rate of 40%, showing how well the company has bounced back from 2020's sharp declines. 
Wall Street expects earnings to grow by 44% this year and increase by another 18% next year. 
Trip.com
Not to be confused with TripAdvisor Inc. (NASDAQ: TRIP), China's Trip.com offers booking services for flights, hotels, train tickets, car rentals, and other travel experiences around the world.
Trip.com has a market capitalization north of $24 billion. Its three-year sales growth rate is 107%, as the company bounced back strong from a loss of 23 cents a share in 2020. 
Shares retreated 7.18% the week ended August 18, but were getting support at their 50-day line. 
The Trip.com chart shows a breakout from a base that began in late January. The stock rallied to a high of $43.59 on August 10 before beginning its pullback. 
In a bull market, the current support at the 50-day average would mean the stock is actionable, but in the current market conditions, it's a better idea to wait it out, and see if stocks as a whole can reverse higher. That gives you some added insurance any time you make a purchase. 
Trip.com analyst ratings show a "moderate buy" consensus view, with a price target of $46.83, an upside of 24.23%. 
If there's any red flag to watch out for, it's the company's return on equity, which is just 1%. 
Return on equity measures a company's efficiency, showing you how much profit it generates from its net worth. It's best if you see an ROE of 17% or higher, as that indicates a well-managed company. 
MakeMyTrip
The online travel company helps users plan and book travel internationally. 
The stock has returned 23.68% in the past month.  A look at the MakeMyTrip chart shows that rise, which began immediately after the company's quarterly earnings report on August 1. 
MakeMyTrip earnings show the company trouncing sales and earnings views in the quarter. Analysts have a consensus view of "buy" on the stock, with a price target of $41.40, an upside of 12.93%. 
As a non-U.S.-based midcap, the stock doesn't have a swarm of analysts covering it, but it's attracted some of the biggest investment banks, including Citigroup, Morgan Stanley, JPMorgan Chase, and Bank of America. That can signal confidence in a stock's future prospects, as the big banks anticipate the possibility of future business.  
With the post-earnings price action, the stock cleared a buy point above $34.78, and just kept running. After rallying to a high of $37.38 on August 14, MakeMyTrip pulled back to find support at its short-term 5-day moving average. 
Similar to the situation with Trip.com, this stock's current moving-average support could offer an entry point, but the market weakness means it requires some extra caution. 
For the full year, analysts see the company earning 88 cents per share, up 83%. Next year, that's expected to rise by another 52% to $1.34 a share. Both those estimates have been revised higher recently.