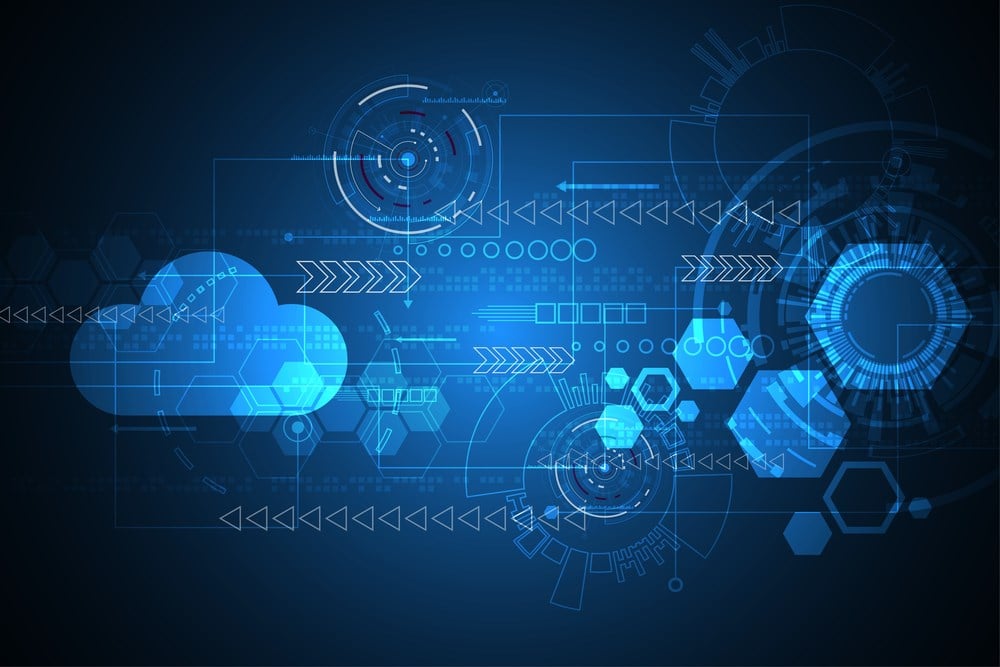 Next-generation data center solutions provider Applied Digital Co. (NASDAQ: APLD) stock exploded higher by over 400% in 2023. The company designs, constructs and operates high-performance computing (HPC) next-generation data centers. These data centers are specifically accommodative for artificial intelligence (AI) companies. Applied has announced that they have signed two AI companies for its AI Cloud Service with cumulative contracts worth up to $640 million.
It also announced a strategic collaboration with Hewlett Packard Enterprises Co. (NYSE: HPE) to deliver energy-efficient supercomputers to support large-scale AI for its AI Cloud Services. It plans to get two more facilities online, bringing the total MW to 480 MW between three next-gen data centers. The company competes with traditional datacenter operating Equinix (NASDAQ: EQIX) and Digital Realty Trust (NYSE: DLR).
Developments
On May 16, 2023, Applied Digital announced it had signed its first AI Cloud Services computing customer through its wholly-owned Sai Computing subsidiary. The contract is worth up to $180 million over two years. The contract includes a "significant" prepayment as services commence in June 2023.
The company has a 100 MW facility operating in Jamestown, North Dakota. Its Ellendale, North Dakota, datacenter is a 180 MW facility energized in March 2023. It's Garden City, TX, location is a 200 MW facility ready to be operational in 2023. The company offers hosting and co-location services where customers can place their hardware in Applied's facilities, and Applied will operate and maintain them. On June 23, 2023, Applied announced it had secured its second AI cloud customer with an agreement worth up to $400 million over three years.
Revenue Spikes as Datacenters Go Online
On April 6, 2023, Applied Digital released its third quarter 2023 earnings report for the quarter ending in February 2023. The company saw an earnings-per-share (EPS) loss of ($0.08), excluding non-recurring items, versus consensus analyst estimates for a loss of (-$0.05), missing by ($0.03).
Revenues rose 1,273% year-over-year (YoY) to $14.1 million, missing analyst estimates by $3.03 million. Revenues were primarily from hosting services at its Jamestown, North Dakota facility. The company energized its second co-hosting facility in Ellendale, North Dakota, to be fully operational by the end of June 2023. The company closed the quarter with $23 million in cash and $23.7 million in outstanding debt.
CEO Insights
Applied Digital CEO Wes Cummings commented, "Demand for our services from traditional customers and emerging HPC applications remains robust, which validates our position as a financially strong and leading digital infrastructure provider to serve various hosting needs." He sees robust demand from cryptocurrency miners but is diversifying his customer base with exposure to the HPC and AI growth segments.
Its next-gen data centers are ideal for hosting HPC applications at a lower cost than traditional data centers that don't have the power density that AI needs. Its datacenters are superior to traditional facilities due to their high-density power delivery, high-efficiency cooling systems and modularity, enabling customers to scale capacity up or down easily.
Lowering the Bar
In a surprise announcement, Applied Digital issued downside revenue guidance for its fiscal Q4 2023 earnings report on June 26, 2023. Net loss is expected to be around $6.8 million, and adjusted EBITDA is between $2.7 million to $3.2 million. The company expects revenues of $22 million versus $23.07 million consensus analyst estimates. It stated that AI Cloud Services demand is high, and the pipeline of business opportunities is very large.
The top 11 opportunities have the estimated potential for $1.3 billion in revenues over three years. The company has ordered 26,500 GPUs anticipating surging AI/ML demand.
Applied Digital analyst ratings and price targets are at MarketBeat.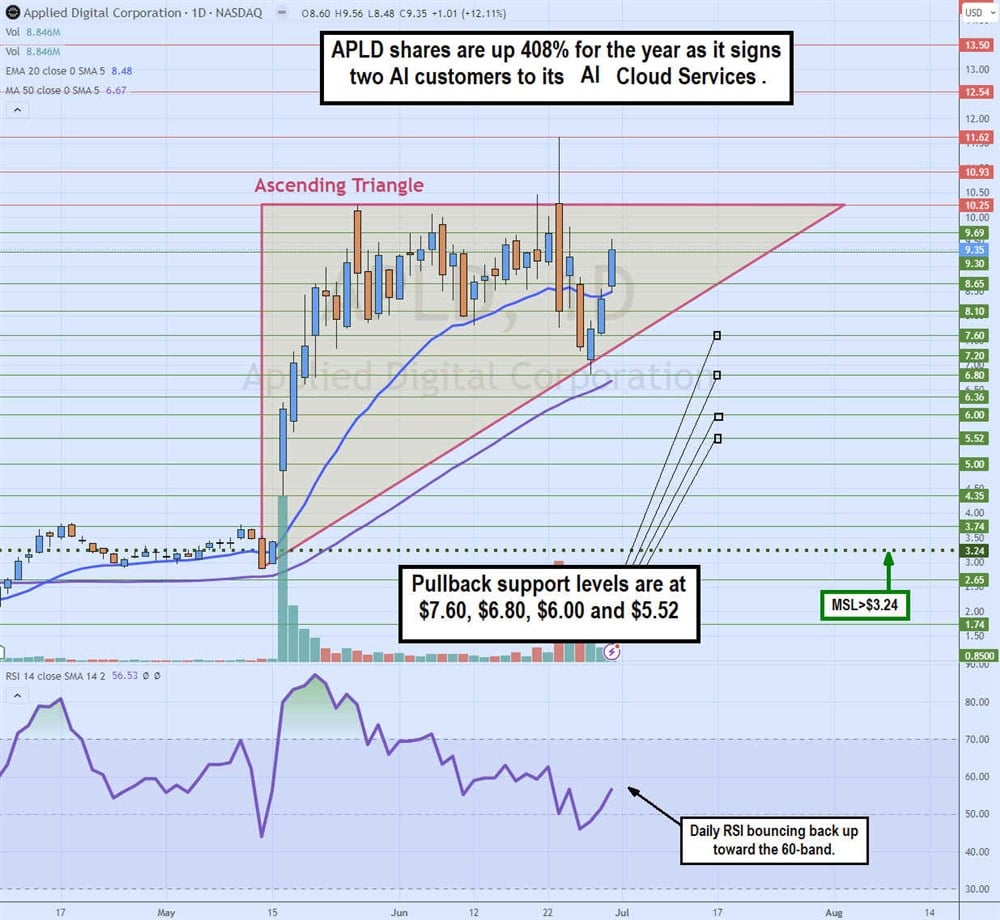 The definitive beginner's guide to reading stock charts can be found free on Marketbeat.
Daily Ascending Triangle
The daily candlestick chart for APLD indicates an ascending triangle comprised of a flat-top horizontal trendline and a diagonal ascending trendline. The triangle commenced on May 12, 2023, as APLD staged a rally off its $2.88 lows. The breakout through the daily market structure low (MSL) triggers through $3.24 catapulted shares to a high of $10.25 in less than two weeks.
APLD has attempted to breakout near the $10 range multiple times, hitting a high of $11.62 on June 23, 2023, before shares fell through the ascending trendline on its earnings warning on June 26. Shares were able to bounce off the $6.80 to attempt another rally as shares hopped over the daily 20-period exponential moving average (EMA) at $8.48. The daily RSI has bounced back up from the 50-band. Pullback support levels are at $7.60, $6.80, $6.00 and $5.52.