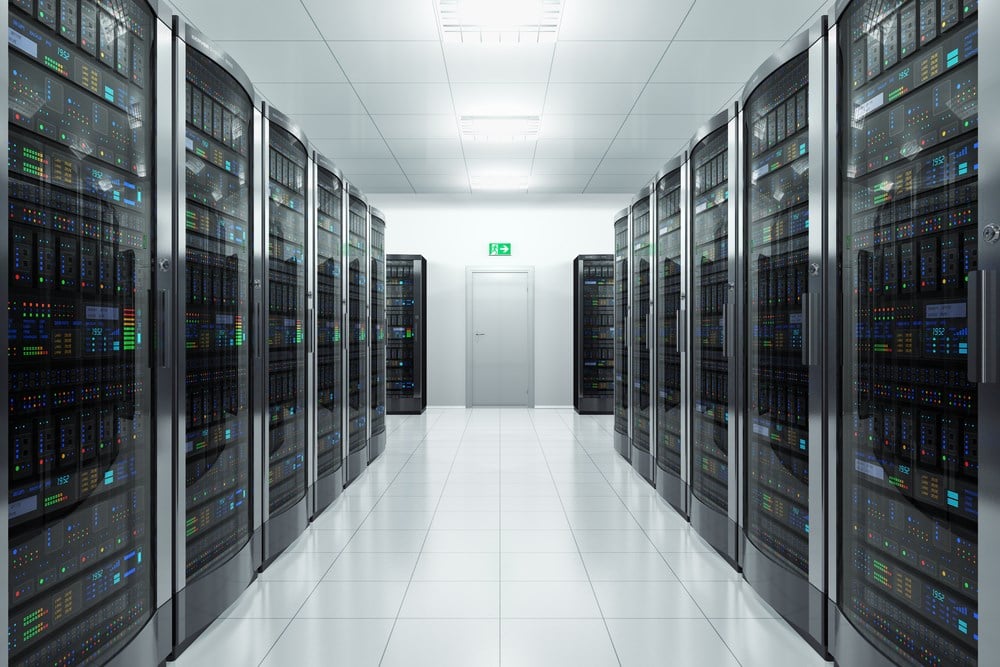 Enterprise data storage solutions provider Pure Storage Inc. (NYSE: PSTG) stock has traded in a weekly rectangle trading range for over a year as shares attempt another breakout at the upper range. Shares are up 35% year-to-date (YTD), with most gains coming in the prior six weeks. Its systems have a direct-to-flash architecture storing data directly on the fastest flash memory available on NVMe flash drives. Its pay-for-consumption model helps onboard new customers with low, upfront costs, while its subscription services provide predictable high-margin cash flow.
Pure Storage benefits from the secular tailwinds, including artificial intelligence (AI) and demand for robust mission-critical storage systems using flash-optimized technology. It provides systems for well-known companies and data centers like Alphabet Inc. (NASDAQ: GOOGL), Meta Platforms Inc. (NASDAQ: META), Equinix Inc (NASDAQ: EQNX) and Salesforce Inc. (NASDAQ: CRM).
FlashBlade//E Rollout in April 2023
Pure Storage is seeing "off the chart" demand for its new FlashBlade//E product, which only uses 10% of the energy and space of traditional hard disk drives for the same price. It's a scale-out unstructured data repository constructed to handle exponential data growth. With speeds up to 100 GB/s, it's ideal for high throughput applications like big data analytics, artificial intelligence (AI), machine language (ML), and media processing.
They are highly scalable, with up to 100 PBs of capacity and 100 TBs of throughput, and a lifecycle of up to 2.5 million hours. Pure Storage competes with NetApp Inc. (NASDAQ: NTAP) and buys its flash memory and DRAM from Micron Technology Inc. (NASDAQ: MU).
Beat and Raise Earnings
Pure Storage released its fiscal Q1 2024 earnings results on May 31, 2023, for the quarter ending April 2023. The company reported EPS of $0.08, beating consensus estimates by $0.04. Revenues fell (5%) YoY to $589.3 million, beating the $55.9.8 million consensus analyst estimates.
Revenue growth was 5%, excluding the $60 million impact in fiscal Q1 2023 contemplated in the year's second half. Subscription services revenues grew 28% YoY. Subscription annual recurring revenue (ARR) grew 29% to $1.2 billion. Remaining performance obligations (RPOs) rose 26% YoY. GAAP gross margins were 70.1%, while non-GAAP was 72.2%. Operating cash flow is $173.2 million, and free cash float is $121.8 million. The company ended the quarter with $1.2 billion in cash and marketable securities.
A CEO Who Doesn't Beat Around the Bush
CEO Charlie Giancarlo boldly said, "We are the clear leader in data storage, now delivering a portfolio that can address the vast majority of storage needs for all enterprises. Pure's product portfolio's superior economics, performance, and operational and environmental efficiencies over the hard disk and SSD-based, all-flash competitive offerings are now undeniable." He also boldly predicted that no hard disk drives (HDD) would be sold within five years.
Raising Guidance
Pure Storage raised guidance for fiscal Q2 2023 revenues of $680 million versus $656.16 million consensus analyst estimates. It sees mid to high single-digit fiscal full-year 2024 revenue growth.
Pure Storage analyst ratings and price targets are at MarketBeat.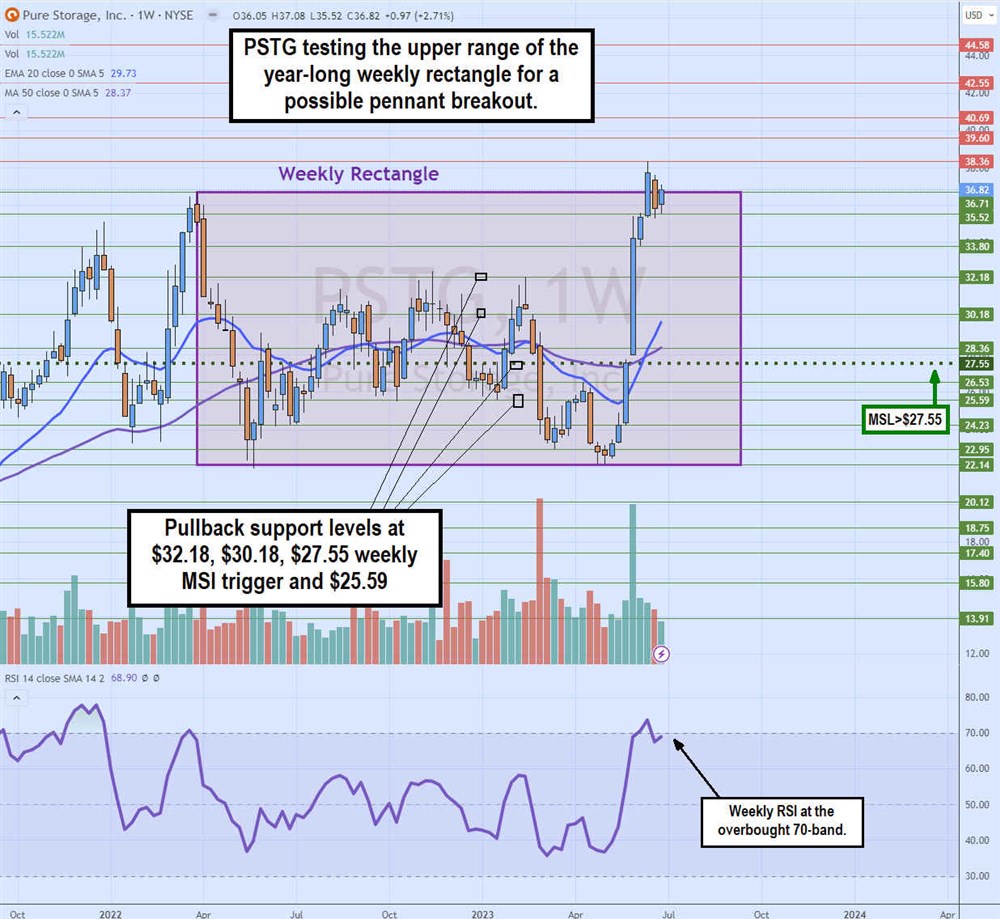 The definitive beginner's guide to reading stock charts can be found free on Marketbeat.
 Learn how to use the RSI indicator on MarketBeat.
 Video on How to Use the RSI indicator on MarketBeat.
Weekly Symmetrical Triangle Breakdown Commences
The weekly candlestick chart on PSTG has been in a rectangle range since March 2022. It initially appeared to form a symmetrical triangle until the breakdown reversed and squeezed back to the upper flat-top trendline at $36.82.
The surge on the $27.55 market structure low (MSL) triggers a breakout and four consecutive green candles spiking up to $38.26 highs as it attempts a possible pennant or bull flag at the top of the range. The weekly RSI made a full oscillation from the 35-band up through the 70-band and back down just under there.
Pullback support levels are $32.18, $30.18, $27.55 weekly MSL trigger and $25.59.