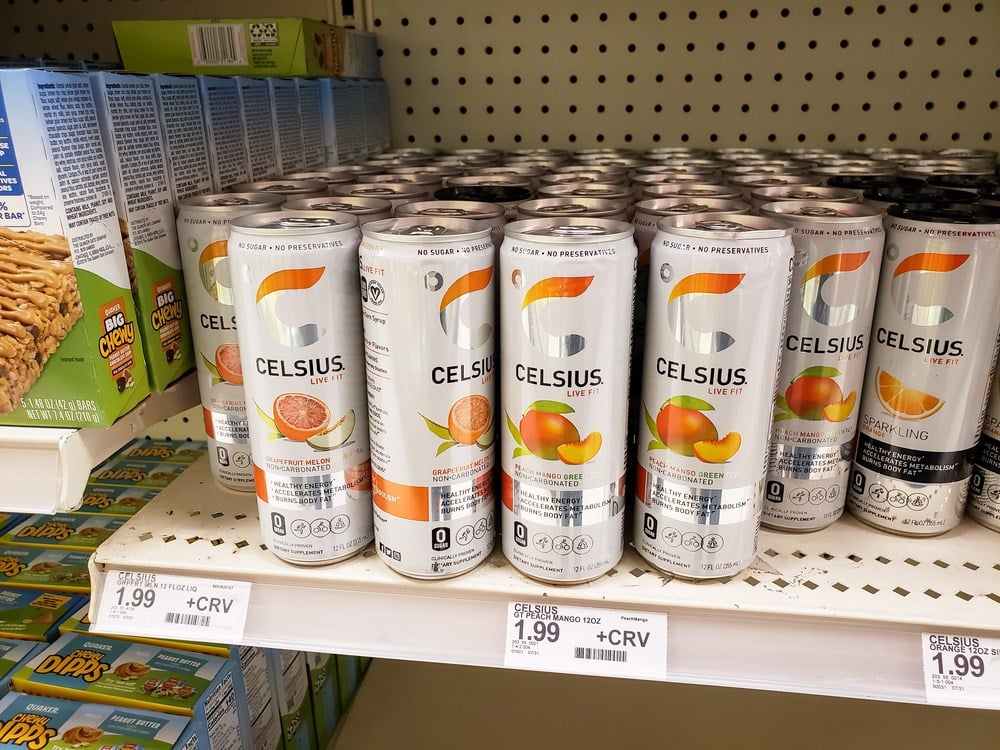 For many consumers, energy drinks have evolved into a product characterized as "must haves," which fall under the consumer staples category. One of the category leaders, in terms of sales and earnings growth, as well as stock price appreciation, is Celsius Holdings Inc. (NASDAQ: CELH). Celsius stock surged 15.57% in May.
The stock was up nearly 5% mid-session on June 5, after Piper Sandler analyst Michael Lavery reiterated his "overweight" rating on Celsius, and boosted the price target to $165 from $130. That's an increase of 14% from where the stock is currently trading. 
A look at the Celsius analyst ratings reveals that the stock has a consensus view of "buy," even after gains of 38.85% and 46.35% in the past month and three months, respectively. 
The stock began its uptrend in March, although it really got an energy boost on May 10, following a better-than-expected first-quarter report. 
Earnings came in at $0.40 a share, up a whopping 344% from the year-earlier quarter, and easily beating Wall Street views, as you can see using MarketBeat's Celsius earnings data. Revenue of $259.9 million was 95% higher than the year-earlier quarter, and also topped expectations. 
What's Driving Such Rapid Growth?
That's a pretty impressive increase in revenue. Typically, revenue growth in a range between 15% and 40% is considered terrific, but nearly doubling sales in a year? What's that about?
Much of that increase was due to a distribution deal with PepsiCo Inc. (NYSE: PEP) that was inked on August 1, 2022. Celsius didn't have the benefit of PepsiCo's distribution strength a year ago, so the year-over-year comparisons are colossal at this point. 
Those revenue growth numbers are likely to decline as the year-over-year effects of the PepsiCo deal normalize, although Celsius says it sees much more opportunity to grow sales worldwide in the Pepsi channel. 
Costco, Amazon Also Significant Channels
However, Celsius says it's been expanding other channels as well. For example, if you've visited to a Costco Wholesale Corp. (NASDAQ: COST) store recently, you may have noticed prominent Celsius displays. 
In the first-quarter conference call, CEO John Fieldly said, "We continue to see growth across all channels, including those non-tracked, with the Club channel sales totaling over $47 million for the quarter ending March 31, 2023, up 77% compared to $26 million in the first quarter of 2022."
In 2022, PepsiCo accounted for 22.2% of Celsius sales, Costco accounted for 16.7% and Amazon.com Inc. (NASDAQ: AMZN) accounted for 8.8%. All other sellers and channels accounted for 52.3%. 
He added that the company also hit a new record on Amazon, with Celsius now being the second largest energy drink brand, with a 19.1% share of that category as of the 4-week period ending April 22. 
Investors Like The Momentum
Celsius doesn't provide guidance for the current quarter, or for the full year, but investors got the message: There appears to be plenty of momentum here for revenue and earnings to continue growing at a rapid clip.
This year, Wall Street is eyeing earnings of $1.31 per share, a fast turnaround from a loss of $2.63 a share in 2022. Earnings are seen growing 54% in 2024, to $2.02 a share. 
If anyone has been taken by surprise, it's been the naysayers, particularly the short sellers. Celsius short interest data shows 24.6% of shares in float shorted, as of May 15. That's a high number, but it's been above 20% since October, even as the stock rallied. Of course, short covering can send shares higher, but in this case, optimism about the stock's future prospects, based on the company's strong results, seems to be an even bigger driver. 
Distinguishes Itself By Touting Health Benefits
Celsius differentiates itself from rivals, including Monster Beverage Corp. (NASDAQ: MNST), by touting its health benefits. 
"Our flagship functional energy drink and liquid supplement brands are backed by science, being clinically proven to deliver health benefits by six self-funded studies published in various journals including the Journal of the International Society of Sports Nutrition, the Journal of the American College of Nutrition, and the Journal of Strength and Conditioning Research," the company says. It notes that these studies concluded that a single serving of Celsius "burns 100 to 140 calories (by increasing a consumer's resting metabolism an average of 12%, while providing sustained energy for up to three hours."
Celsius shares are currently trading 35% above their 50-day moving average. The stock is still in buy range, as it's about 3.7% above its recent structure high of 138.80. Use caution when chasing a stock higher; often, it's wise to wait for a pullback with moving-average support as a chance to buy shares at a lower valuation.