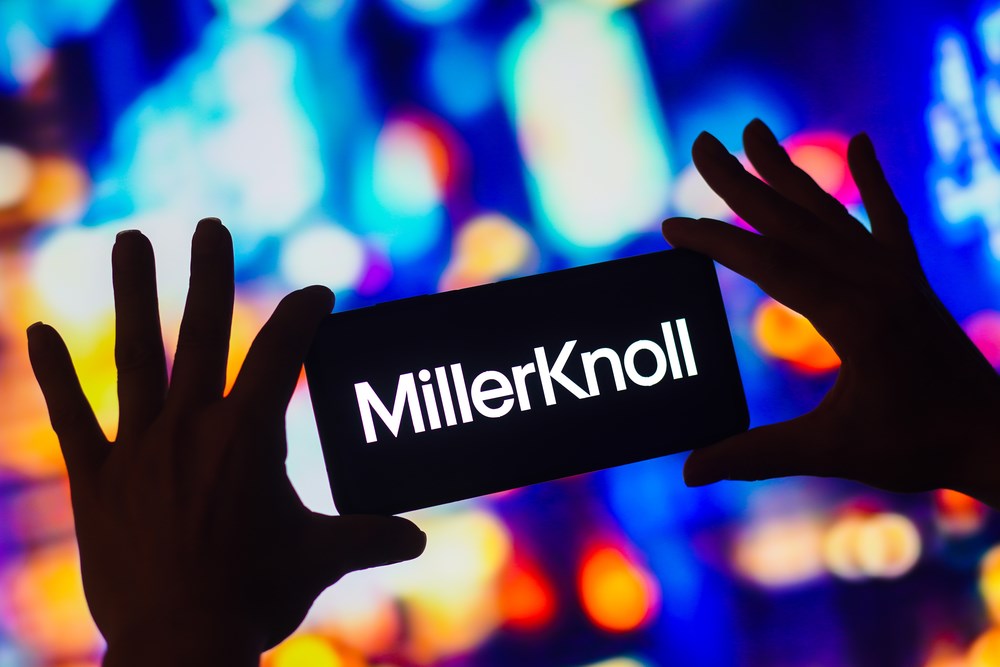 MillerKnoll, Inc (NASDAQ: MLKN) has much to offer investors, with shares trading at only 8X its earnings outlook. The stock yields more than 5.0% and has a stable distribution outlook that income investors will like. Close competitor Steelcase (NYSE: SCS) trades at a higher 11X multiple while paying a similar yield, suggesting the stock is deep-value and not just cheap relative to the broad market.
The caveat is that other furniture brands, albeit those with less-diversified businesses, trade at lower valuations and pay lesser dividends. The takeaway is that MillerKnoll is high-yield, cheap to buy, and may also be a value to invest in. 
Regarding MillerKnoll's dividend, the company pays only 40% of its earnings even after issuing weak guidance in FQ3/CQ1. The payout has been stable since the pandemic-inspired hiccup and is backed up by a solid balance sheet and improving cash flow. The company's net debt-to-EBITDA leverage ratio is less than 2.75X and is in line with the company's lending agreement.
The company is not expected to grow earnings this year, but distribution coverage is ample, and the guidance leaves plenty of room for upside surprises. 
Resilient MillerKnoll Focuses On Profitability
MillerKnoll posted a mixed quarter in Q3 but continues to show resiliency in a tough environment. Revenue fell short, but margin improvement was better than expected, driving a solid bottom-line beat. The results are due to ongoing efforts to improve internal efficiency, the integration of Knoll, which is advancing schedule/better than expected, and balance sheet improvements, which should continue this year.
The guidance came in weak compared to the then-consensus, but the analysts have lowered their targets. The Marketbeat.com consensus for revenue of $944.50 and EPS of $0.39 are at the low end of the company's guidance range, and there is a chance it could outperform guidance if only on the bottom line.  
Marketbeat tracks 5 analysts with revenue and earnings estimates but only 2 with Buy/Sell ratings. Their consensus is Hold based on 2 Hold ratings set late last year. Their price target is $20.00 based on 1 price target, about 35% above the current price. This isn't a resounding vote of confidence, far from it, but it shows the sell-side interest that the institutions echo.
The institutions own about 97% of this high-yield stock and have been buying on balance for 2 consecutive quarters. JPMorgan Chase owns about 2% of the stock and was a recent seller. That is offset by Silvercrest and State Street, which own more than 6% and maintain or add to their positions.
The Technical Outlook: Oversold MillerKnoll Ready To Rebound 
Shares of MillerKnoll are in a downtrend that may not be over, but there are indications the market is ready to rebound. The share price recently fell to a new 14-year low despite the business being much larger than in 2009. However, the move is accompanied by deeply oversold conditions as indicated by MACD and stochastic, and divergences suggesting the market is overextended.
The daily, weekly, and monthly charts show a possible bottom at $14.50. This could result in a rebound; the question is whether a Dead Cat Bounce or a true rebound that leads to consolidation and reversal forms. In the 1st case, price action may increase to $18 to $19 before hitting resistance.
In the 2nd scenario, price action should move above the short-term EMA and enter a trading range to consolidate and build a base. The catalyst for the rally may come in mid-July when it releases results for Q4.