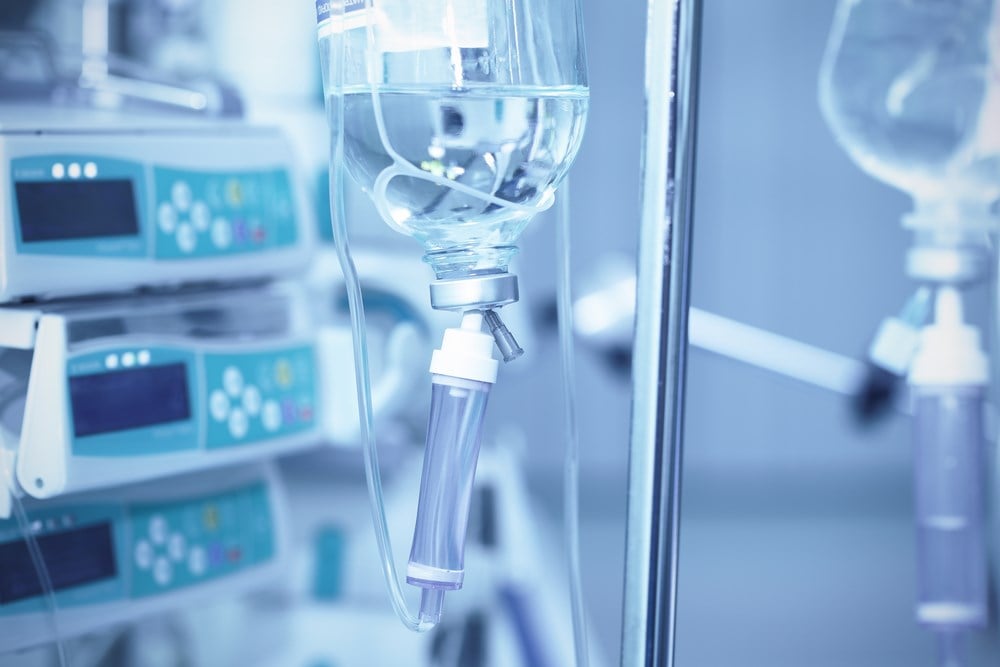 Commercial-state biotechnology company ImmunoGen Inc. (NASDAQ: IMGN) shares more than doubled on phase 3 clinical trial results. Its ovarian cancer drug Elahere shows statistical improvements for progression-free survival (PFS) and overall survival (OS) for patients in a MIRASOL late-stage study.
The PFS is the length of time a cancer patient lives during and after treatment without worsening the disease. Elahere had shown a clinically meaningful and statistically significant improvement in PFS compared to chemotherapy. The news sent shares skyrocketing over 140% in the week, enabling the company to make a $325 million secondary stock offering of 26 million shares at $12.50 per share.
Platinum-Resistant Ovarian Cancer
This type of ovarian cancer doesn't respond well to platinum-based chemotherapy drugs like cisplatin and carboplatin, which are standard initial treatments. Many patients develop a resistance to these, which makes treating them even more difficult. The treatment often shows initial success, but the cancer recurs or progresses further after treatment.
Antibody-Drug Conjugates (ADCs)
ADCs are designed to selectively and specifically target and deliver anti-cancer drugs to tumor cells and stay away from healthy cells. It uses antibodies that bind to specific antigens found on the surface of target cancer cells. Once it binds, it releases potent anti-cancer agents as a "payload" to kill the cell.
Elahere or mirvetuximab soravtansine-gynx is described by ImmunoGen as a "first-in-class ADC targeting folate receptor alpha (Fra). Fra is a protein found on the cell surface of epithelial tumors, including ovarian, endometrial and non-small cell lung cancers.
ImmunoGen competes with Pfizer Inc. (NYSE: PFE) acquired Seagen Inc. (NASDAQ: SGEN), a leader in ADC treatments as well as ovarian cancer treatments from AstraZeneca Plc (NASDAQ: AZN) and GSK plc (NYSE: GSK)
Elahere MIRASOL Study Results
The MIRASOL clinical trial consisted of 453 patients with platinum-resistance ovarian cancer with high levels of Fra. Of the patients, 62% had received prior treatment with bevacizumab. The study's primary endpoint was PFS, and secondary endpoints included objective response rate (ORR) and OS.
Compared to investigators' choice (IC) chemotherapy, Elahere significantly improved OS indicating a 33% reduction in risk of death and PFS, indicating a 35% reduction in tumor progression. The median OS was 16.46 months versus 12.75 for chemotherapy. Median PFS was 5.62 months compared to 3.98 months for chemotherapy. The ORR for Elahere was 32.4% compared to 15.9% for the IC chemotherapy group. The safety profile was favorable, with no new safety issues other than the low-grade ocular and gastrointestinal events.
What's Next?
Elahere or was already granted an accelerated FDA approval for adult patients suffering from Fra-positive platinum-resistance cancer in the fallopian tube, ovarian or primary peritoneal regions after having undergone up to three systemic treatment regimens. The positive late-stage phase 3 trial results were a victory overturning its earlier phase 3 trials that showed no significance over chemotherapy.
While the data is positive, FDA approval is never a sure thing. ImmunoGen is awaiting full FDA approval as well as European approval. If approved, the company will still need physicians and patients to consider using the drug versus conventional treatments for platinum-resistant ovarian cancer. It will also need to be accepted by Medicare and health insurers for reimbursements.
Analyst Actions
On May 3, 2023, Piper Sandler upgraded shares of IMGN from Neutral to Overweight, raising the price target from $6 to $16. ImmunoGen analyst ratings and price targets can be found on MarketBeat.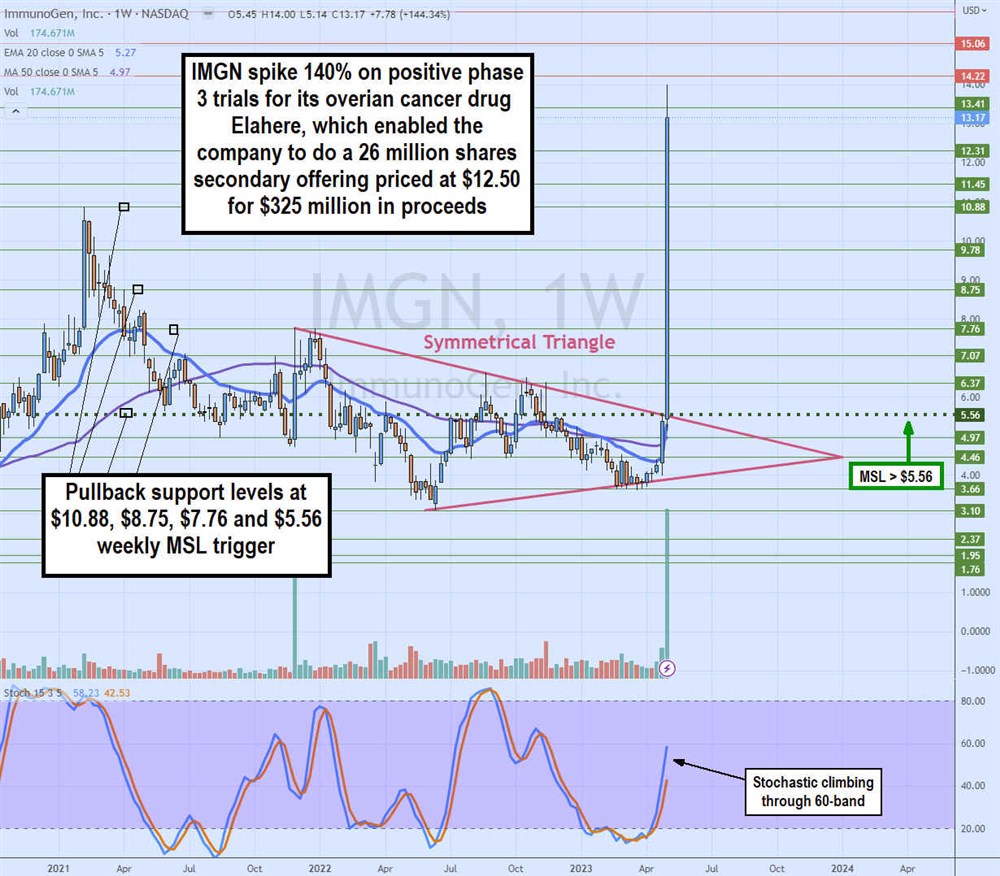 Weekly Symmetrical Triangle Breakout
IMGN weekly candlestick chart illustrates a symmetrical triangle breakout through the weekly market structure low (MSL) trigger at $5.56. A symmetrical triangle comprises lower highs on bounces and higher lows on a pullback as the range gets tighter until the upper falling trendline or lower rising trendline breaks. In this case, the upper trendline breakout occurred on heavy volume. Shares spiked as high as $14.00 after the phase 3 trial results announcement.
Remember that the secondary offering for 26 million shares is priced at $12.50, which should provide an initial floor for the stock price. However, if that level breaks, then be aware of the pullback support levels, which are $10.88 previous swing high, $8.75, $7.76 and $5.56 weekly MSL trigger.