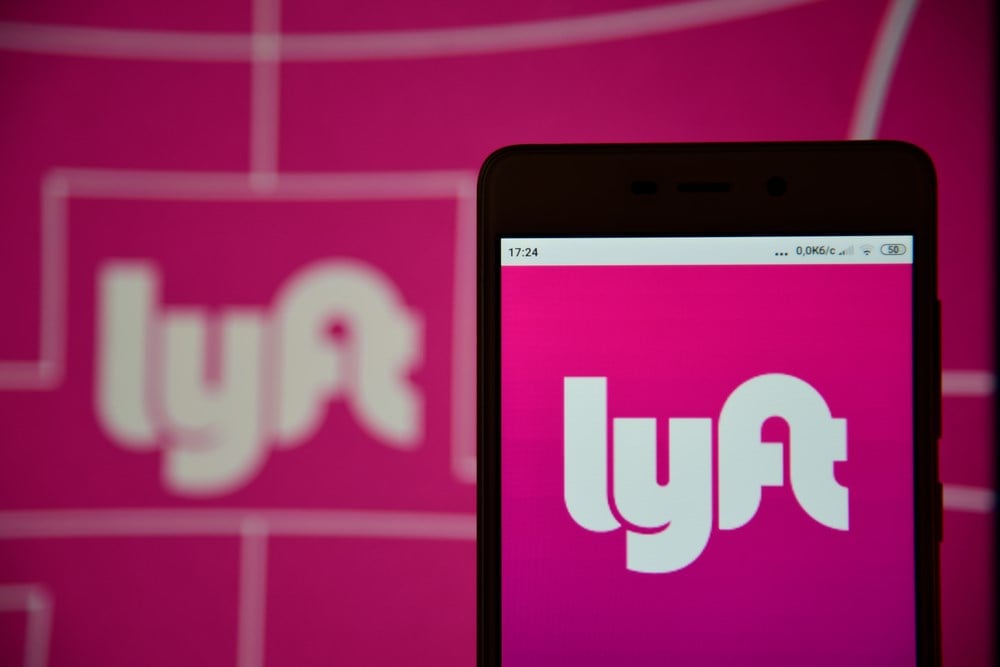 Domestic rideshare operator Lyft Inc. (NASDAQ: LYFT) has fallen even further in Uber Technologies Inc. (NYSE: UBER) rearview mirror. While its Q1 2023 earnings report beat the top and bottom lines with its adjusted profits, Wedbush analyst Dan Ives said that Lyft has "lost all Street credibility" after its disastrous Q4 2022 earnings conference call, prompting the search for a new CEO. The comparisons to Uber's metrics are like night and day.
The company still has $1.75 billion in cash that it needs to preserve. Lyft has waged a mini price war against Uber with more competitively priced rides which Lift claims are spurring rideshare growth for the first time in two years. However, they did cut Q2 2023 guidance.
Mission Impossible
Lyft's new CEO David Risher came on board on April 17, 2023, from a non-profit background where he was forced to do more with less. Before that, he was one of the earlier employees at Amazon.com Inc. (NASDAQ: AMZN) and a general manager at Microsoft Co. (NASDAQ: MSFT).
His immediate attention went to cost-cutting measures, including layoffs of 27% of its workforce or 1,072 employees and the elimination of 250 open positions to help finance price cuts in an attempt to hold onto its dwindling market share. A price war of attrition will be worse for Lyft than Uber despite still having a war chest of $1.75 billion in cash. CEO Risher believes Lyft will see $330 million in annual savings from the cost cuts and layoffs.
Blow Up Earnings
On May 4, 2023, Lyft released its fiscal first-quarter 2023 results for March 2023. The company generated an adjusted earnings-per-share (EPS) profit of $0.07, excluding non-recurring items, beating consensus analyst estimates for a loss of ($0.08), a $0.15 beat. GAAP EPS was (-$0.50), beating estimates by $0.04.
Revenues rose 14.2% YoY to $1.1 billion versus $980 million consensus analyst estimates. Despite the beat, shares gapped down on its metrics and downside guidance. Net loss was ($187.6 million) which included stock-based compensation and payroll tax expense of ($186.6 million).
Q1 2023 Metrics
Adjusted EBITDA for Q1 2023 exceeded top-end guidance of $5 million to $15 million, coming in at $22.7 million. This was a significant drop from Q1 2022 adjusted EBITDA of $54.8 million. Active riders grew 19.8% to 19.5 million. Revenue per active rider (RevPAR) rose 4% to $51.17.
The contribution margin fell to 46.5% from 57.4% in the year-ago period. Lyft has been pricing rides more competitively over the last ten weeks, accelerating rideshare growth YoY, which will be better reflected in its Q2 2023 earnings report.
Lyft CFO Elaine Paul commented, "In Q2, we will continue focusing on delivering service levels that riders and drivers expect. We've moved decisively to cut our operating costs and will use the savings to pay for continued service level improvements near-term." Lyft also announced that a new CFO, Erin Brewer, will succeed Elain Paul on July 10, 2023.
Lowering the Bar
Lyft lowered its revenue expectations for Q2 2023 to between $1 billion and $1.02 billion. Adjusted EBITDA is expected between $20 million and $30 million with an adjusted EBITDA margin of 2% to 3%.
Analyst Actions
Lyft earnings prompted more analyst actions. Wedbush analyst Dan Ives proclaims that little has changed, and it's a waiting period to see how Lyft's new CEO can turn the ship around. He lowered his price target to $11 from $13 but reiterated his Neutral rating. DA Davidson cut Lyft's price target to $9.75 from $12.50 and maintained a Hold rating.
Bank of America reiterated its Underperform rating and cut its price target to $8.50 from $10 due to the continued loss of market share to Uber. Uber hit a new 52-week high of $39.49 on May 18, 2023, while Lyft hit a new 52-week low of $8.05 on May 19, 2023.
Lyft analyst ratings and price targets can be found on MarketBeat.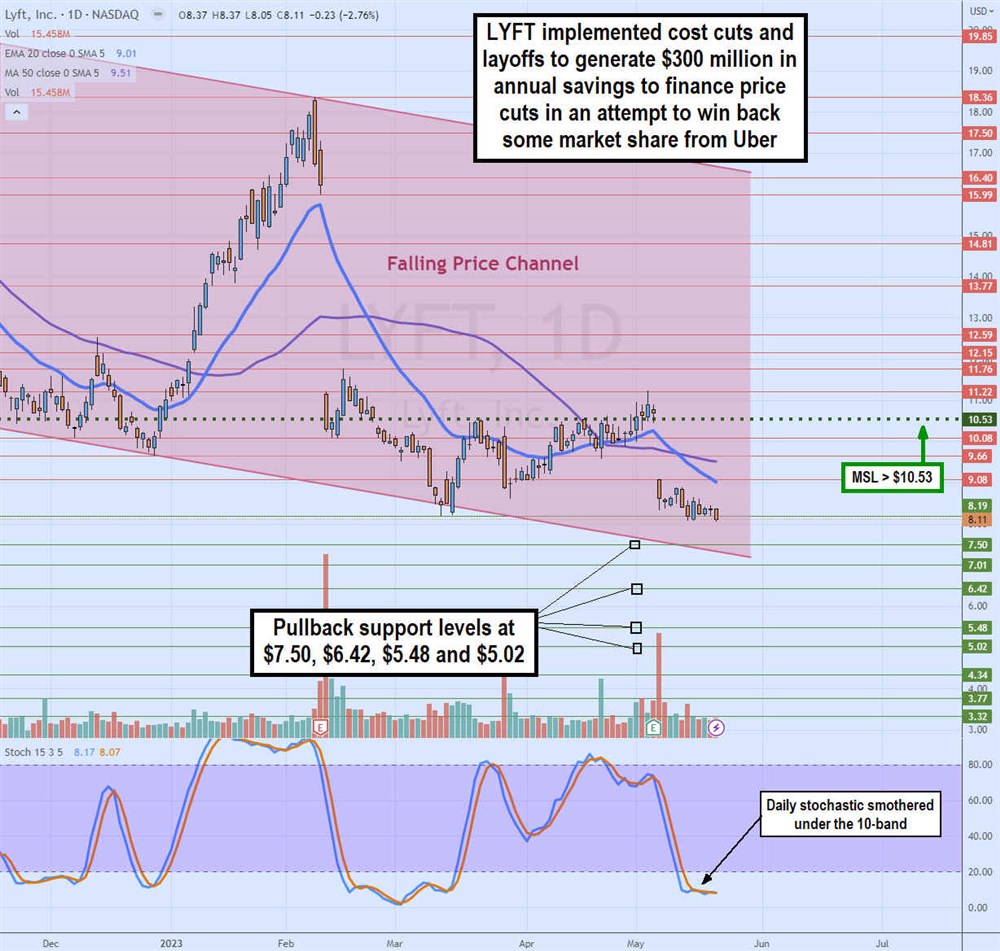 Weekly Falling Price Channel
Lyft has been in a weekly falling price channel since peaking at $18.58 in August 2022. Shares have been making lower highs or bounces and lower lows on pullbacks. The trend has not changed as shares made an impressive bounce from the $9.66 lower trendline in December 2022 to peak at the upper trendline at $18.36 in February 2023, only to collapse on its Q4 2022 earnings report sinking to $8.19 on March 13, 2023. Shares bounced again through the weekly market structure low (MSL) trigger at $10.53 to hit a high of $11.22. Its Q1 2023 earnings report collapsed shares toward new all-time lows at $8.05. The daily stochastic has fallen under the 10-band as the daily 20-period exponential moving average (EMA) resistance falls at $9.01. Pullback support levels are at $7.50, $6.42, $5.48 and $5.02.