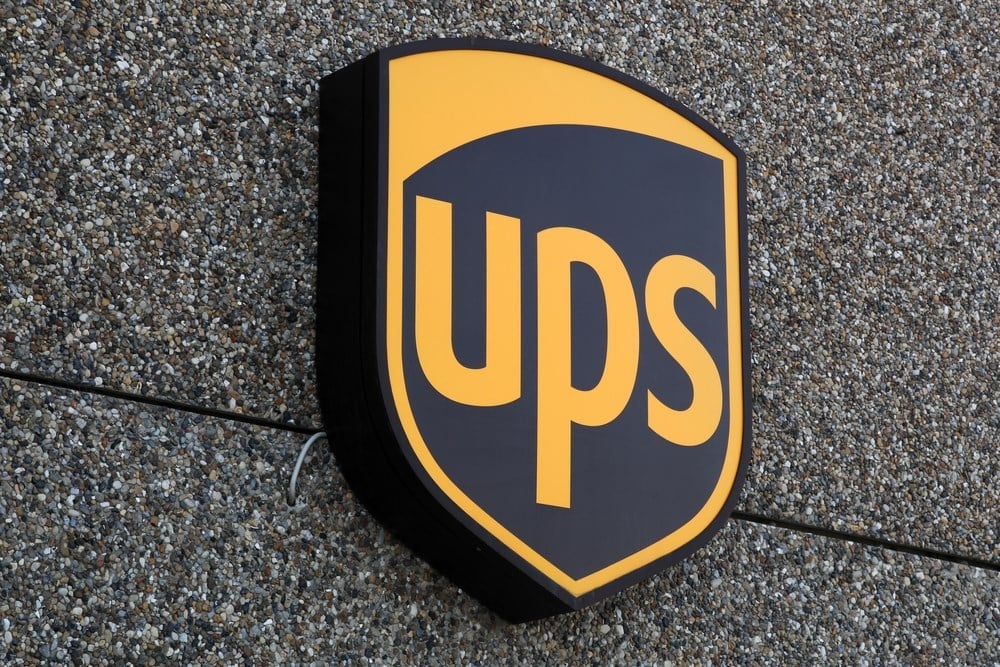 United Parcel Service (NYSE: UPS) didn't have a bad quarter, and it is not in danger of imploding, but the results were lackluster and pointed to a continued slowdown in consumer spending. That's terrible news because a slowdown in consumer spending, a sustained and possibly accelerating slowdown, will have a far-reaching impact on the economy.
The long-term results are positive, allowing global supply chains to catch up and rationalize with the times entirely, but the nearer-term consequences are troubling. Those include slowing sales, declining earnings, and economic recession. 
"In the first quarter, deceleration in U.S. retail sales resulted in lower volume than we anticipated, and we faced ongoing demand weakness in Asia," CEO Carol Tomé explained. "In response, we focused on controlling what we could control and delivered a first-quarter consolidated operating profit and operating margin in line with our base case targets. Given current macro conditions, we expect volume to remain under pressure."
UPS Falls On Lackluster Results And Guidance 
United Parcel Service reported revenue of $22.9 billion, or down 6.1% compared to last year. The decline was expected, but this is about $0.080 less than expected, so the first in a line of tepid details. The decline was driven by a decline in volume that was only partially offset by pricing. Volume fell to only 1.41 billion packages for the quarter, slightly below the Marketbeat.com consensus, leading to weak guidance.
On a segment basis, sales in the US fell -0.9% on a 5.4% decline in volume, while International declined by 6.8% and Supply Chain Solutions by more than 20%. 
The consolidated operating margin fell 240 basis points YOY to 11.1%. This is below the consensus and led to a 22% decline in operating profit and a 28% decline in adjusted earnings. The adjusted earnings also missed consensus by a penny which is helping to put pressure on the price action, slim miss that it is. The company expects volume declines to persist through the end of the year and has guided accordingly.
The company lowered its revenue target to $97 billion compared to the $97 to $99.4 range it had previously offered. This may be an optimistic estimate given the contraction in consumer spending. A slowdown in spending could produce negative feedback loops that lead to labor market weakness and an even weaker consumer. 

Negative Feedback Loops Are Forming 
An example of a negative feedback loop is the correlation between Packaging Corporation Of America's (NYSE: PKG) and UPS's weak results. Both are impacted by slowing consumer demand and are evidence of the impact consumer spending has and will have on the economy this year. UPS saw a lower volume, and PKG delivered fewer boxes resulting in weak earnings.  In both cases, cutting labor is one way to control costs and improve profitability, and we are seeing an increase in layoffs in 2023.
As pointed out by PKG CEO Mark Kowlzan, the PMI index shows manufacturing is also in decline. Manufacturing is another cog in the economic chain and a source of job losses that will undermine consumer demand as the year goes on. 
 "After a strong start in January, consumer spending was increasingly softer as the quarter progressed, similar to our box shipments during the quarter. In addition, the PMI index indicates manufacturing has remained in contraction territory for the last five months and continued to decline,"  CEO Mark W. Kowlzan explained in the Q1 release. 
UPS Nosedives On Weak Results 
Shares of UPS nosedived on the weak results and look like they are heading lower. The next target for support is near $175; if that doesn't hold, a move to the bottom of the 2-year trading range is likely. The analysts rate the stock at Hold and see some upside potential, but they've yet to take a stand on the new guidance, and their consensus may shift in ways that weigh on the price action. Don't expect UPS to make a significant recovery anytime soon.