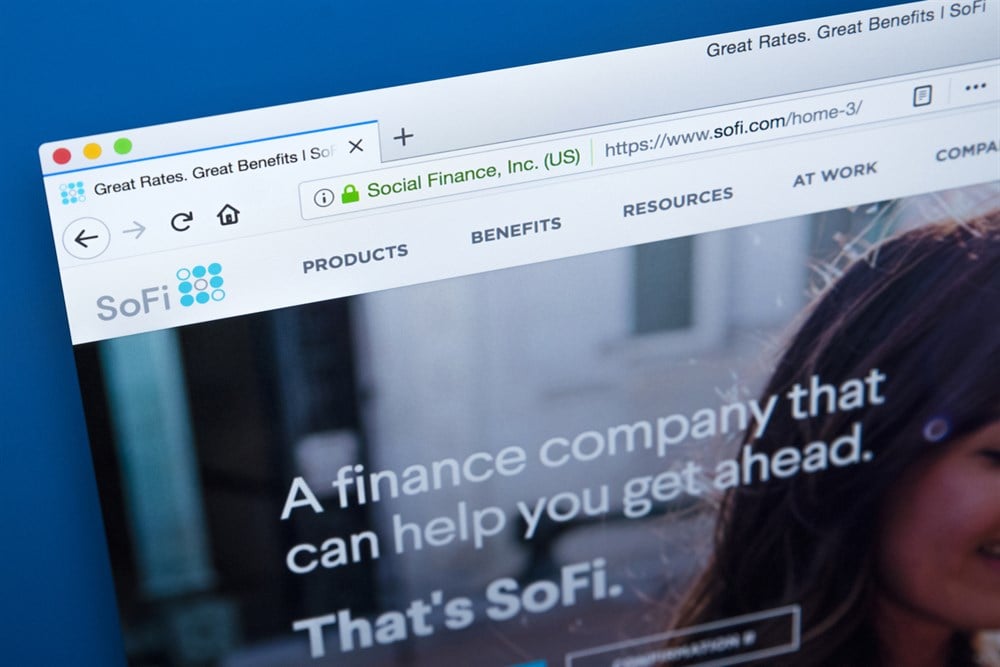 Every investor knows that "let the buyer beware" is always sound advice. And when you throw in a global banking crisis, that should make investors very cautious. In the midst of this, it can be easy to overlook a small-cap stock like SoFi Technologies, Inc. (NASDAQ: SOFI). The company is still in the growth stage, but it may be a mistake to overlook the stock at this time.  
SoFi Technologies went public by way of a special purpose acquisition (SPAC) company in 2020. As an up-and-coming financial technology (fintech) company, this was one of the most anticipated SPAC offerings. Not surprisingly, SOFI stock shot up to $25.14 as part of the meme stock movement.  
But since then, shareholders have endured a long slide lower. In the last year, the stock is down over 40% and at $5.80 a share, it's now 44% below its initial offering price of $10.   
Exposure to Student Loans Remains a Headwind 
One reason for the stock's slide is the company's exposure to student loans. The Biden administration issued a moratorium on student loans in March 2020 and there is still a desire to push initiatives that would cancel up to $20,000 of student debt.
SoFi focuses on high-income millennial and Gen-Z investors in an effort to have them refinance their student loans. That business has been affected by the moratorium as borrowers are not in a hurry to refinance a loan that could potentially be forgiven. In fact, SoFi estimates that it lost between $300 and $400 million in total revenue as a result of the moratorium. 
There's a Bigger Story Emerging 
One of the important things that happened with SoFi is they now have a bank charter. That allows them to cross-sell a variety of other products such as checking and saving accounts in addition to its loan and credit card portfolio. Better still, the company delivers this as a cloud-native company, so it's not hampered by the demands of excessive physical infrastructure. And in the company's last three quarters, this strategy is paying off at least on the top line. Revenue has been higher on a year-over-year basis.

Is SoFi the Next Domino to Fall in the Banking Crisis? 
But there's a downside to being a bank at this time. Especially an online bank. The collapse of Silicon Valley Bank is the kind of event that will cause retail investors to sell first and ask questions later. That's why I wanted to take a look at SoFi Technologies at this time, and why I'm cautiously bullish on SOFI stock.  
One concern I had was how much exposure SoFi had with SVB. MarketBeat compiles all of a company's SEC filings. And I found that in an 8-K filing on March 10 the company disclosed that none of the bank's cash or other financial assets were held by Silicon Valley Bank.  
And in a blog post that the bank released, not coincidentally on the same day as the SVB collapse, that showed the company has no problem with liquidity. The $1.8 billion of available capacity is three times the company's market cap of just over $5 billion.  
Finally, I went back to the SEC Filings one more time. And in a 10-K filing on March 17, SoFi disclosed that more than 90% of the company's deposits are FDIC insured.  
SOFI Stock is One to Watch Now and Maybe Buy Later 
I've just given you three good reasons to not lump SoFi Technologies in with other bank stocks. But it's also fair to point out that there are still reasons for caution. Short interest is still over 10%, but it's well below its peak in early 2022.  
Furthermore, the company has only 34% institutional ownership. Like it or not, institutional buying drives stock price growth, and right now SoFi doesn't have enough of it. Part of that reason is because the company is not yet profitable. But that could be ready to change. And when it does, don't be surprised if the institutions rush in. That's an argument for taking a small position now. But if that still feels too risky, you now have some key metrics to look at while SoFi is on your watchlist.