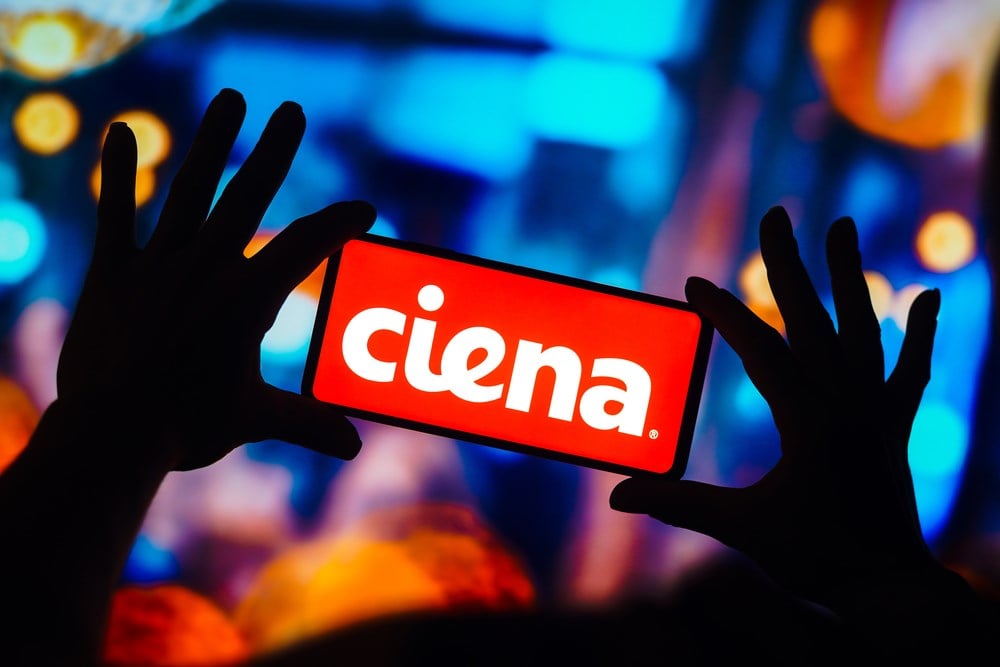 Global networking solutions provider Ciena Corporation (NYSE: CIEN) stock has struggled to breakout of a weekly ascending triangle pattern despite its blowout Q1 2023 earnings report. Ciena is a network infrastructure company benefiting from the secular tailwinds of growing demand for higher-speed and higher-capacity networks. Some of its competitors include Cisco Systems Inc. (NASDAQ: CSCO), Juniper Networks Inc. (NASDAQ: JNPR), and Infinera Co. (NASDAQ: INFN).
Technology tailwinds like cloud and edge computing, big data, the internet of things (IoT), 5G, video streaming, artificial intelligence (AI), and accelerate digital transformation are all growth drivers for Ciena's business. The company is a global optical transport network (OTN) market leader. It had a blowout Q1 2023 earnings report and raised its full-year 2023 guidance. So why did it sell off, giving back a large gap?
Optical Transport Network Technology
OTN technology is a multi-network protocol comprised of the g.709 OTN layer and the underlying DWDM layer, digital and photonic. It enables multiple networks to operate on a single common infrastructure. This enables providers to build internet, storage, mobile, and video services seamlessly and transparently over a single OTN infrastructure. The OTN layer is an insulator, like a digital wrapper, against changes in the network but enables new services or protocols to be implemented without changing the underlying infrastructure that was put in place. It gives providers full end-to-end transparency to gauge the health of the network in segments or as a whole.
Entrenched Top Tier Customers
Ciena is a leader in OTN technology with an established base of global telco, cable, and broadband clients, which include Comcast Co. (NASDAQ: CMCSA), Verizon Communications Inc.(NYSE: VZ), and AT&T Inc. (NYSE: T). It enables telco and network providers to offer high-speed and high-capacity networks to accommodate the growing demand for bandwidth and low-latency data transmissions. It's also partnered with Microsoft Co. (NASDAQ: MSFT) since 2021 to ensure robust, stable, and secure cloud networks for its customers. Since Ciena has a longstanding entrenched relationship with the big providers, they are stuck, as switching to a competitor would be challenging.

Firing on All Cylinders
On March 3, 2022, Ciena reported its fiscal Q1 2023 results for the quarter ending January 2023. The company reported earnings-per-share (EPS) of $0.64 beating consensus analyst estimates of $0.36 by $0.28. Revenues grew 25.1% year-over-year (YoY) to $1.06 billion, beating analyst estimates of $960 million. Improving the supply chain and robust demand helped drive top and bottom-line growth as the momentum is expected to continue through the year.
Ciena CEO Gary Smith commented, "We delivered record revenue in the first quarter, reflecting continued gradual improvement in the supply chain environment and strong customer demand for our market-leading technology. With strong momentum across our business, supported by robust fundamental drivers and visibility provided by our backlog, we remain confident in our ability to continue to take market share."
More Good Times Ahead
Ciena raised its fiscal Q2 2023 revenue between $1.035 to $1.115 billion versus $1.04 billion consensus analyst estimates. It raised full-year 2023 revenues to grow 20% to 22% YoY between $4.36 billion to $4.43 billion versus $4.25 billion consensus analyst estimates.
Weekly Ascending Triangle
CIEN failed to breakout on its weekly ascending triangle on its blowout Q1 2023 earnings report. The weekly candlestick chart shows that ascending triangle started to form after peaking at $53.44 and triggered the weekly market structure high (MSH) in October 2022. Shares continued to fall to a low of $38.22 in October 2022. CIEN staged a rally back up to the $53.16 flat top triangle trendline resistance by January 2023. Shares failed to breakout and fell to $45.83 before coiling again on the market structure low (MSL breakout through $50.01.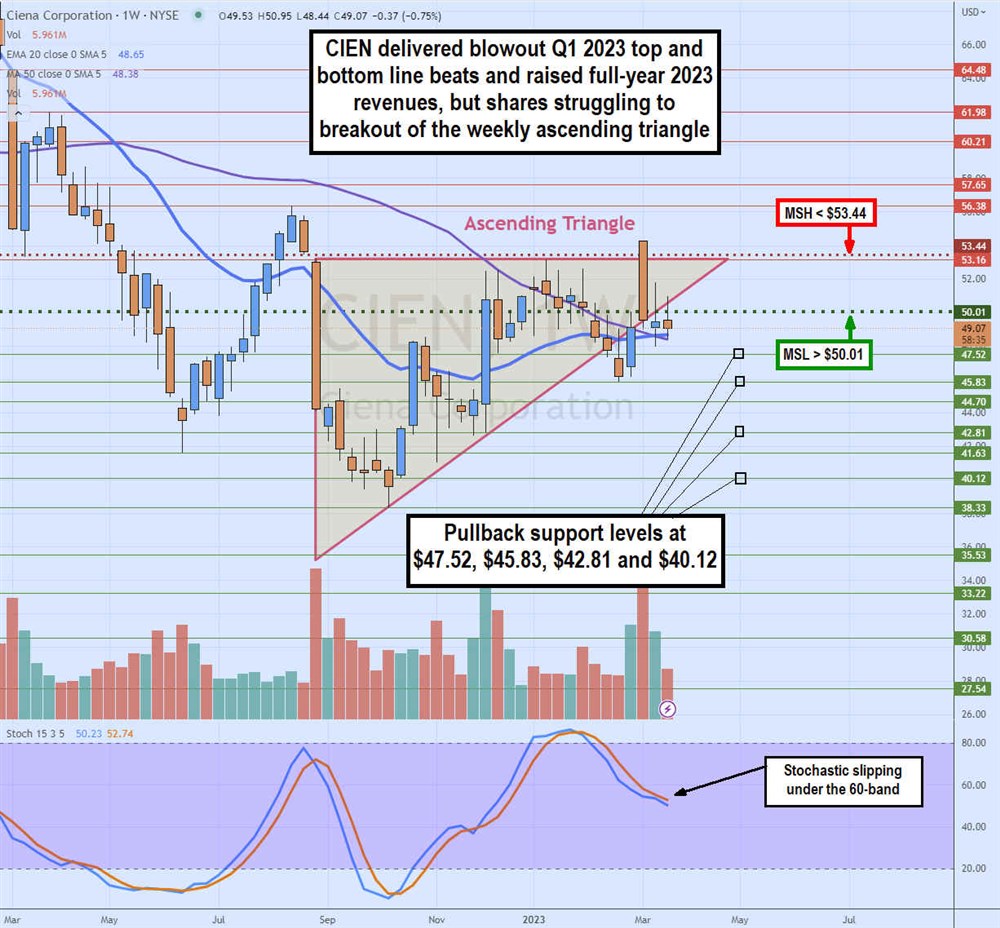 CIEN gapped through resistance at $53.16 initially on its Q1 2023 earnings. It hit a high of $54.25 but fell like a rock back down through the flat triangle top and a rising trendline. The weekly 20-period exponential moving average (EMA) rises to $48.67, followed by the 50-period MA at $48.38. The weekly stochastic is slipping under the 60-band. Pullback support levels are at $47.52, $45.83, $42.81, and $40.12.