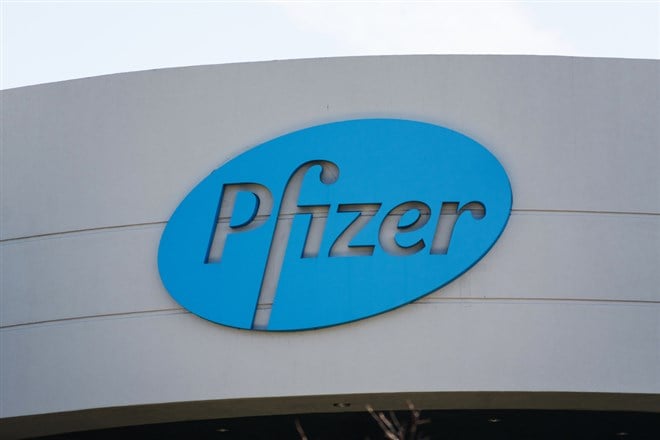 Pfizer Inc. (NYSE: PFE) may have ten blockbuster drugs in its pipeline, but it seems much of the company's near-term potential could be based on the success of two important Phase 3 studies.  Analysts anticipate the approval of these two drugs could add at least another $1 billion in revenue to what has already breached $81 billion each year.  This development, of course, could easily facilitate new momentum for Pfizer and, in turn, PFE investors. 
The Phase 3 Studies: talzoparib and zavegepant
The first of the two Phase-3 studies in question is for the cancer drug talzoparib. Developed by Medivation–which Pfizer acquired in 2017 for $14 billion –the drug is a crucial investment for Pfizer.  Indeed, this is a particularly important product for PFE because AstraZeneca PLC (NASDAQ: AZN), Tesaro (NASDAQ: TSRO), and Clovis Oncology (NASDAQ: CLVS) already have competing drugs on the market.
Although there are no potential revenue projections for talzoparib, Clovis Oncology has a biosimilar breast cancer drug that has been bringing in more than $140 million a year. Clovis has also petitioned to upgrade that same drug–under the label Rubraca–for other indications. Approval here could add another $580 million to those sales, for a total of $720 million annually. However, Rubraca sales have significantly declined to the point that Clovis filed for bankruptcy in December. So Pfizer's talzoparib drug might fill an important pharmaceutical gap and improve PFE's earnings. 
The other pivotal Phase 3 trial was for zavegepant in migraine patients. This drug has the potential to generate more than $206 million annually. When added to talzoparib's potential revenue, this sales combination could result in more than $900 million in new annual revenue for Pfizer. 
Pfizer Could Use A Boost Shareholders Would Appreciate
Pfizer is the 2nd largest multinational biotech company in the world by revenue, but things have been better for them, historically speaking. After all, its $5.9 million ipo in 1942 was one of the biggest ipos in that launch year, which resulted in a Day One market capitalization value of $12.4 million.  PFE earnings were [equivalent to] an impressive 10.9 P/E ratio and a dividend yield of 5.2%, around the same time, but today's numbers may not seem as worthy.
PFE's recent numbers might appear relatively tame for the company's size and notoriety. While the current 7.80 P/E is a little better than the pre-IPO metric, the current dividend yield has settled at 3.84%. This is paying out an annual dividend of $1.64 at a payout ratio of 29.93%. These are lower than they may have been a century ago.
In addition, while PFE revenue has consistently increased, the margins over the last few years have varied greatly. For example, annual revenue for 2020 increased by only 1.82%–to $41.651 billion–from the year prior. At the close of 2021, PFE posted a 95.16% revenue boost to $81.288 billion. By the end of 2022, revenue growth slowed again but still registered a 23.4% improvement–to reach $100.33 billion–by year's end.  
Hold Until The Next PFE Earnings Report
All of this hints that PFE stock has a lot of promise, but that payoff could be weighing on the result of these two pivotal stage iii studies. If Pfizer can get approval for both talzoparib and zavegepant, its current Hold rating could upgrade. After all, the stock is down 10% since this time last year and remains near the bottom of the 52-week range. 
What would help more is for PFE to see earnings continue upward. Analysts project earnings might grow 15.52%, which is decent, but earnings are down on the year. While the most recent $1.14 earnings beat the analyst estimate by $0.11–and last year's EPS by $0.06–overall earnings have fallen each of the last three consecutive quarters. At the same time, the $51.60 price target represents a promising 21% upside.  Of course, all of this appears to plead the case for the Hold rating, which will hopefully upgrade when they release their next earnings report in May.