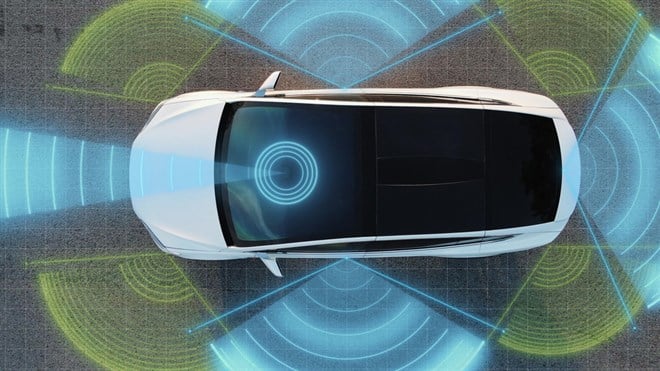 Arbe Robotics Ltd. (NASDAQ: ARBA) may be a key player in the global arms race toward fully autonomous driving. Arbe is a global leader in 4D radar technology whose chipsets are being implemented in advanced driver assistance systems (ADAS) and electric vehicles (EV) globally. Arbe claims its sensors are critical for L2+ and higher autonomy.
They are 100 times more detailed than most advanced radars, as 4D imaging provides full sensing coverage around the vehicle. EVs need batteries to operate.
Batteries need lithium to store energy. Autonomous driving requires accurate imaging technology to sense obstacles to avoid accidents. So far, LiDAR has been the band-aid solution with many shortfalls. However, 4D radar could be the missing link.
The Autonomous Race
Some of the world's largest auto manufacturers, including General Motors Co. (NYSE: GM) , Ford Motor Co. (NYSE: F), and Volkswagen AG (OTCMKTS: VWAGY) as well as Chinese EV makers NIO Inc. (NYSE: NIO), Li Auto Inc. (NYSE: LI), and Xpeng Inc. (NASDAQ: XPEV) are in the race to produce fully autonomous driving capabilities for their models. EV behemoth Tesla Inc. (NASDAQ: TSLA) has been at the forefront of reaching level 2 autonomy.
However, it has been mired in controversy over its claims. The road has been bumpy as many well-known brands have thrown in the towel. Rideshare giant Uber Technologies Inc. (NASDAQ: UBER) unloaded its self-driving division in effort to focus on profitability.
LiDAR
Light detection and ranging (LiDAR) is a 3D mapping and surveillance technology that can detect objects and their distance. This ability is critical for autonomous driving. It works by pulsating laser beams and measuring the time it takes for them to bounce back after pinging an object.
Radio detection and ranging (radar) operates similarly but uses radio rather than light waves. LiDAR creates high-resolution 3D images for more accurate and detailed measurements than radar. This has been a leading contender for ADAS and autonomous vehicles. Some of the largest include Trimble Inc (NASDAQ: TRMB), Velodyne Lidar Inc. (NASDAQ: VLDR), and FARO Technologies, Inc. (NASDAQ: FARO). However, the next generation of perception radar solutions lies in 4D technology.
4D Radar Technology
LiDAR technology's issues have been the limited range of 100 to 200 meters, stationary objects, reliability, and, most importantly, weather conditions. LiDAR can't produce accurate images during snow, fog, dust, or rain. Therefore, it usually needs to be paired with secondary sensors.
4D radar technology senses the height, length, width, and time of objects entirely around the vehicle giving it complete imaging of the environment.
4D versus LiDAR
4D can detect objects farther away from 300 meters to the 500-meter range, which is critical for high-speed driving on highways. It can detect moving and stationary objects. 4D radar works in all weather conditions filtering out the noise to operate reliably. 4D provides 360-degree coverage around a vehicle versus LiDAR's limited front field of view.
This enables 4D to track objects not directly in front of the vehicle, making it more effective in detecting blind spots and vehicles approaching from the side and behind. 4D costs less than LiDAR and has a longer lifespan since it doesn't rely on mechanical and spinning parts as LiDAR does.
Tesla Using 4D Radar Sensors?
Tesla CEO Elon Musk has been an outspoken critic of LiDAR and radar technologies and opted for camera-based sensors for ADAS similar to Mobileye Global Inc. (NASDAQ: MBLY) technology. Tesla was a Mobileye customer until it produced its own system in-house. However, he may be walking back his stance on the radar.
There's speculation that Tesla has purchased 4D radar sensors from Arbe Robotics to outfit its upcoming EVs. The recent price move has brought the spotlight to this company.
The Company received its first mass quantity preliminary order from leading Chinese ADAS tier 1 supplier HiRain Technologies. They ordered 340,000 chipsets to be used in autonomous trucks and automated guided vehicles across ports in China.
Low Revenues and Large Losses
In November 2022, Arbe Robotics revised its 2022 revenues from $4 million to $7 million, down from $7 million to $11 million. Revenues are based chiefly on sample sales. Adjusted EBITDA is expected to range from a loss of $34 million to $38 million. Its Q4 2022 earnings release is scheduled for March 2, 2023.
Weekly Descending Triangle Breakout
The weekly candlestick chart on ARBE illustrates a six-month descending triangle that started in September 2022, falling from a peak at $7.83. ARBE fell to a bottom of $2.89 by November 2022 to form the triangle support. Shares bounced on the weekly stochastic mini pup through the 20-band.
ARBE triggered a weekly market structure low (MSL) breakout through $3.60 as it peaked at the $5.40 resistance in January 2023 on the triangle falling trendline. Shares pulled back to $3.13 before staging another rally on hefty volume gapping up through the triangle falling trendline to test and fall below the weekly market structure high (MSH) sell trigger at $7.01.
Volume surged over 35 million shares compared to the 60,000 shares daily average trading volume. Pullback support levels are at $5.40, $4.85, $4.30, and $3.60 weekly MSL trigger, and $2.89 lower triangle support.