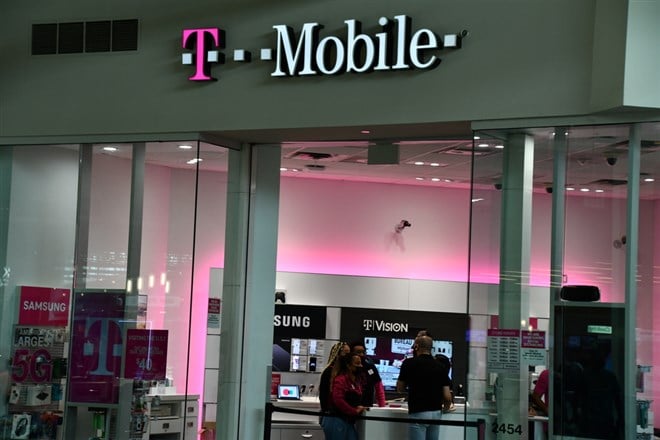 T-Mobile US Inc. (NASDAQ: TMUS) had a choppy day after reporting mixed earnings. But the company is up about 3% for the week starting January 30. And TMUS stock took part in the January effect by climbing over 9% for the month.  
The company is reporting that its affordable pricing plans are helping customers stay on time with their payments even in the face of inflation that remains near all-time highs. That's good for many reasons. Wireless carriers are frequently evaluated for their ability to add subscribers. And T-Mobile has been doing this for several quarters.  
And on the earnings call, T-Mobile chief financial officer Peter Osvaldik said that the company might continue to see subscriber growth if the economy weakens and customers look for lower-cost plans.  
But the company's revenue still came in at $20.27 billion, slightly below analysts' expectations of $20.66 billion. This highlights one of the concerns about the wireless business model. To get more customers, you have to offer lower prices which could lead to lower revenue. 
Fortunately for shareholders of TMUS stock, the company scored a beat on the bottom line. T-Mobile posted earnings per share (EPS) of $1.49. That was just a smidge under 50% of the estimate for $1.06.  
Sprinting to Higher Profits 
As The Wall Street Journal reported, the boost in profit is largely due to lower costs now that it is digesting its merger with Sprint. Better still, the company expects strong earnings growth in the next five years even though revenue is supposed to grow in the low single digits. 
Higher profits are welcome news for investors at any time. But for T-Mobile, investors have to be encouraged because the company is strengthening a prior weakness. 
The 5G Rollout is Nearly Complete 
Another encouraging note for investors is that the company's 5G network now covers approximately 98% of Americans. Furthermore, two-thirds of its network traffic is carried over a 5G network.  
That means the company is only forecasting capital spending between $9.4 billion and $9.7 billion. That's a far cry from the $14 billion it spent last year.  
A Buyback is Coming 
Almost as a footnote to the company's earnings report, the company announced that it is planning $60 million in share buybacks over the next three years. That's a massive increase from the $3 billion the company bought back last year and would reduce its outstanding share count by approximately two-thirds if its parent company Deutsche Telekom AG (OTCMKTS: DTEGY) does not sell into the buybacks. 
Is TMUS Stock a Buy? 
When I appeared on MarketBeat's YouTube channel to discuss TMUS stock, I said it looked overvalued. And based purely on the stock's P/E ratio, which is currently over 123x earnings, it still is.  
But that was without knowing about the buyback program. This does add some shareholder equity in place of a dividend, which the stock doesn't offer. So far, two analysts, including JP Morgan Chase & Co. (NYSE: JPM) have weighed in with higher price targets on the stock. Both are higher than the current consensus target. Assuming more upgrades are in the offing, it may not be a bad time to invest in TMUS stock.