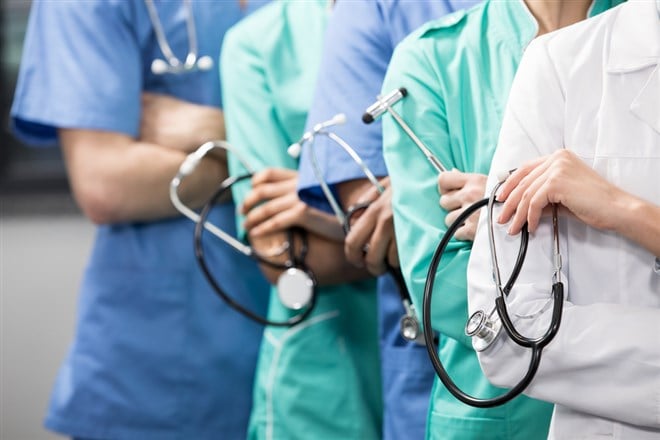 Many traders are attracted to low-priced stocks because they come with the allure of 2x, 3x or greater short-term gains. For fundamentalists, the challenge is finding such companies that have established businesses, products and customers. Often, low-priced stocks are unproven and carry an extraordinary risk. Almost always, they are micro caps. 
Wouldn't it be great if a stock had a bulkier capitalization and 2x potential?
Recent market moves confirm this is rare but possible.
Approximately 100 U.S.-listed stocks doubled in January 2023, a bullish sign considering there were only three two-baggers in January 2022. Of those 100, only five have market caps above $1 billion.  
CinCor Pharma received a $26 takeover offer from AstraZeneca, so that's likely off traders' tables. Marathon Digital is benefitting from a cryptocurrency revival. And Carvana is riding a short squeeze rally. 
The remaining two are small-mid healthcare stocks. Given where these stocks have been and Wall Street's revised views, it may not be too late to jump on their bandwagons.
Does Aurinia Pharmaceuticals Have More Upside? 
Aurinia Pharmaceuticals Inc. (NASDAQ: AUPH) gapped up in heavy volume on the first trading day of the year and hasn't looked back since. The Canadian biotech company launched LUPKYNIS two years ago as the first FDA-approved oral treatment for adults with active lupus nephritis (LN). This autoimmune disease affects more than 100,000 Americans a year. The therapy has been at the center of a patent infringement claim by India's Sun Pharmaceutical.
In early January 2023, Aurinia announced that the two parties agreed to dismiss the patient review and the claim against Sun's CEQUA, a dry eye disease treatment launched in October 2019. With Aurinia and Sun agreeing to avoid future action against each other, the news removed an overhang that plagued the stock since March 2022. 
Absent the legal challenge, Aurinia can proceed with its commercialization of LUPKYNIS and pipeline focused on other unmet diseases. Last year, the company booked $134 million in revenue as an increasing number of patients started on its core therapy. Management forecasts that LUPKYNIS sales will climb as much as 35% this year as more physicians are introduced to the product. 
Wall Street is bullish on eliminating the Sun dispute and Aurinia's growth prospects. Last week, three firms reiterated buy ratings on the stock with price targets of $12 and $14. This suggests the former $30 stock could run another 30% to 50% by year-end — which would turn this 2x into a 3x. 
Why Did Sotera Health Stock Go Up?
Mid-cap provider of lab testing and sterilization solutions Sotera Health Company (NYSE: SHC) is off to a fast start in 2023 thanks to a positive legal settlement of its own. On January 9th, the company announced that it reached an agreement to settle over 870 pending cases against ethylene oxide (EO), a chemical used to manufacture products made by its Sterigenics subsidiary. Under the agreement, Sterigenics will pay $408 million to settle the Illinois-based claims, although it denied that the settlement was an admission of liability. 
Back in September 2022, an Illinois jury awarded $363 million in a lawsuit claiming EO emissions from Sterigenics' now-closed Willowbrook facility caused a woman's breast cancer and her son's non-Hodgkin's lymphoma. This was major news in the health care community because EO is commonly used to sterilize medical devices. Sotera Health has asserted that science would have disproved the claim and that a Chicago-area media bias played into the decision to settle.
Despite the settlement, the EO issue is unlikely to go away in the medical technology field with regulators taking a closer look. This past summer, the Environmental Protection Agency (EPA) found 23 U.S. facilities where EO emission presents risk to surrounding communities. The agency is now pushing Sotera Health and peers such as Steris to reduce the chemical's usage and explore new sterilization methods.
What does this mean for Sotera Health's stock? First, regardless of whether Sterigenics has culpability, the widespread media attention could cause lasting reputation damage and deter some investors from buying. Since Sotera Health spiked above $18, profit-taking has set in, although downside volume has been light.
Since Sterigenics accounts for more than 60% of the company's revenue, future customer demand will be a big factor in its financial performance. There is no doubt, however, that the medical device industry is growing and with it a need for sterilization solutions. In recent quarters, Sterigenics has enjoyed favorable pricing and volume trends. Whether these persist is the big unknown.
The Street seems to think Sotera can continue to recover from a rough introduction to the Nasdaq after the stock debuted at $27 in November 2021. Since the Sterigenics settlement, two firms have upgraded to buy and one to hold. Their revised price targets are in the $18 to $25 range, so there could still be a significant upside from current levels.