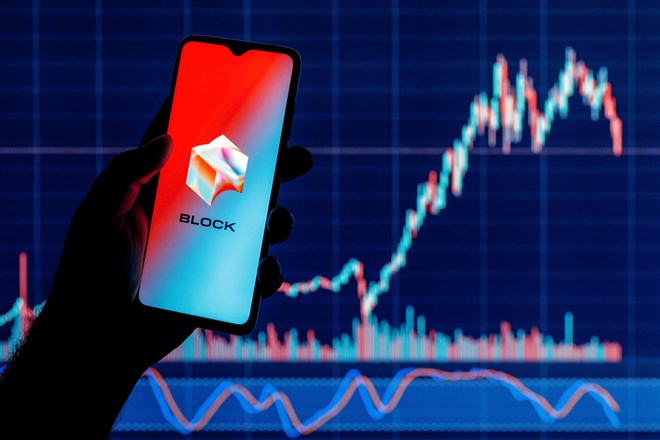 Merchant and consumer financial ecosystems provider Block Inc. (NYSE: SQ) stock starts the year off with a 6.7% gain after tanking a (-52%) tumble in 2022. Analysts believe the worst may be over regarding negative sentiment. While crypto brokers like Coinbase Global Inc. (NASDAQ: COIN) and Robinhood Markets Inc. (NASDAQ: HOOD) continue to suffer stock declines due to the FTX scandal, Block doesn't seem to be affected.
Block has no exposure since its brokerage services only allow bitcoin trades and exclude other cryptos, especially the more obscure ones that are susceptible to fraud. The market may have looked past Block's bitcoin exposure and embraced the growth of its core ecosystems Square and $Cash App, which are growing at a 36% YoY rate. Its outperforming rival PayPal Holdings Inc. (NASDAQ: PYPL) in 2023 as sentiment improves.
Its partnership for its Afterpay buy-now-pay-later (BNPL) service with the Shopify Inc. (NYSE: SHOP) merchant network should reflect a strong upside as Shopify saw a 16% YoY surge during the Black Friday weekend.
Market Maker of Ecosystems
Block changed its name from Square to reflect its role as the operator, connector, and market maker between its ecosystems. Its two main ecosystems are merchants and sellers through Square and consumers and buyers through $Cash App. Bitcoin and stock trading services are part of the $Cash App ecosystem.
Connecting $Cash App consumers to Square merchants acts as a market maker by taking a fee on both sides. $Cash App also has consumer banking and financial products with its Cash Card.
One-Stop Financial Shop
$Cash App users can send money peer-to-peer, buy stocks or bitcoin, use a debit card for purchases, finances purchases through its Afterpay BNPL service, and use banking services and money management services like Round-up, which rounds up transactions to the nearest dollar to invest automatically. $Cash App is trying to be a one-stop service shop for all things financial. It also has a discover function that introduces merchants in its Square merchant network to  $Cash App users amplifying the network effect.
FDIC Bank Charter
Square Financial Services was the first U.S. fintech to receive an FDIC charter to operate its own bank as an industrial loan company (ILC), which it received on March 18, 2020, during the pandemic.
The last ILC charter was granted a decade before. The ILC charter enables non-bank-owned companies to provide deposit and lending services to consumers without being subject to federal bank holding company regulations making it a shadow bank. Bank deposits are FDIC insured. It's an important distinction that PayPal does not have a banking charter; Square does.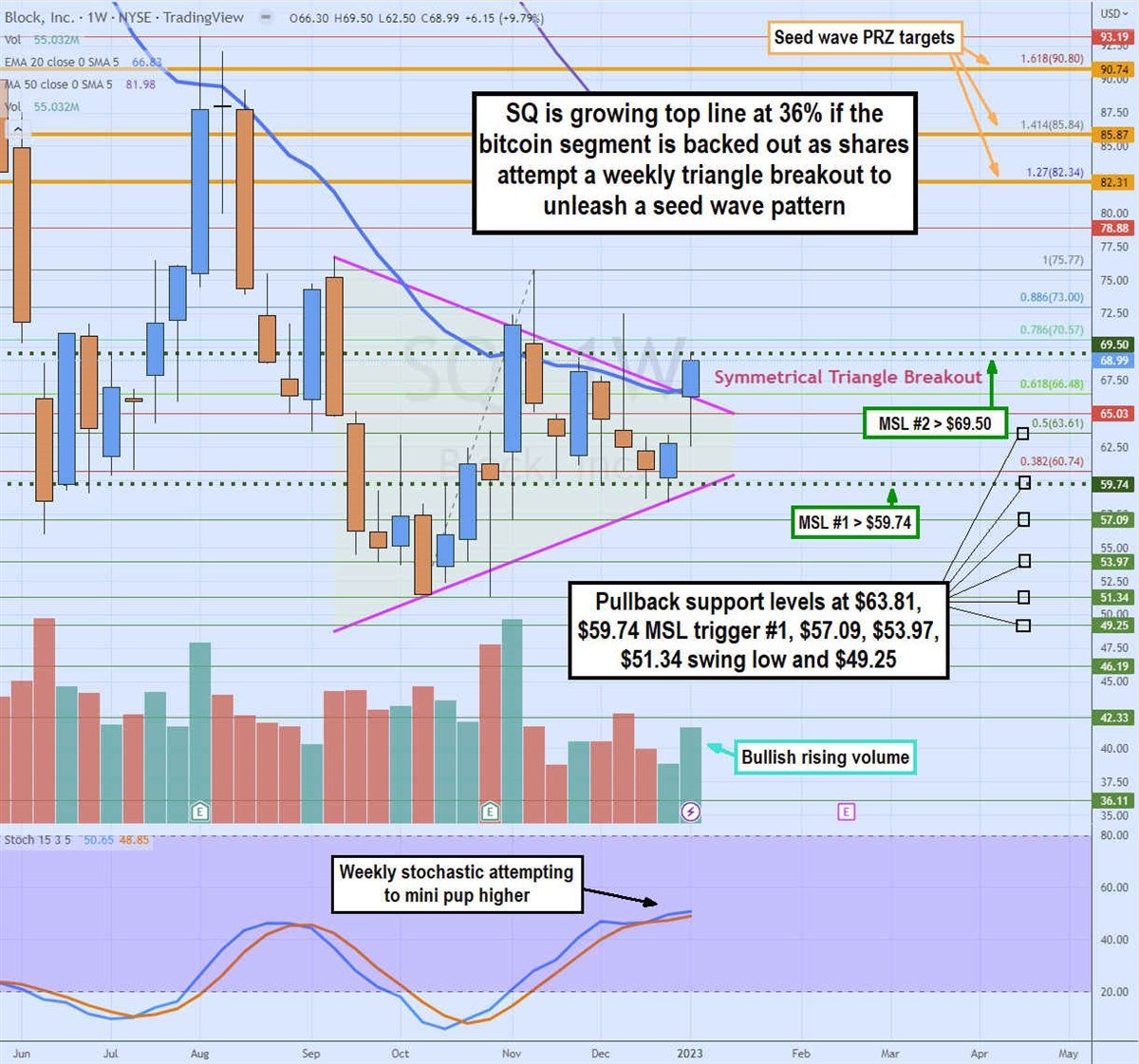 Symmetrical Triangle Breakout
SQ shares are attempting to break out of its weekly symmetrical triangle, comprised of a falling upper trendline and a rising lower trendline. The stock will make lower highs and higher lows as steam build for a breakout through the upper trendline or break down the lower trendline as it gets closer to the apex point.
There is also a potential seed wave pattern set-up comprised of two higher sequential market structure low (MSL) buy triggers. The weekly swing low formed at $51.34 as shares have been making lower highs on bounces and higher lows on pullbacks.
The first MSL trigger #1 formed on a breakout through $59.74. The second MSL #2 triggers on a breakout through the $68.99. The seed wave triggers the breakout through $75.55. If the seed wave forms, then upside targets are known as potential reversal zones (PRZs) where Fibonacci (fib) extensions are applied. The PRZs are $82.34 (1.27 fib), $85.84 (1.414 fib), and $90.80 (1.618 fib).
Longs can look to lock profits near the PRZs, while short sellers will look for price reversals near them. The weekly stochastic has a mini pup which could drive shares higher as bullish volume is also rising. Pullback support levels sit at $63.81, $59.74 MSL #1 trigger, $57.09, $53.97, $51.34 swing low, and $49.25. These support levels can be monitored in case shares tank in reaction to its Q4 2022 earnings results.
Still Growing
On Nov. 3, 2022, Block reported its Q3 2022 earnings for the quarter that ended September 2022. The Company reported earnings-per-share (EPS) profits of $0.42, beating consensus analyst estimates of $0.23 by $0.19. Revenues grew 17.6% year-over-year (YoY) to $4.52 billion beating the $4.47 billion consensus analyst estimates.
Gross profit rose 38% YoY to $1.57 billion. The $Cash App generated $2.68 billion in revenues and $774 million in gross profits, up 51% YoY, including its BNPL platform. Its BNPL platform contributed $105 million in revenues and $75 million in gross profits to $Cash App in the quarter.
Cost Cutting Measures
The Company is cutting expenses by significantly moderating its pace of hiring in 2023. It's also cutting back on its sales and marketing expenses and scaling back on low ROI brand awareness investment activities across both $Cash App and Square ecosystems.
Analyst Actions
On Nov. 22, 2022, Macquarie upgraded its rating from Neutral to Outperform with a $100 price target for shares of SQ. On Dec. 13, 2022, Piper Sandler resumed coverage with an Overweight rating and a $93 price target. On Jan. 3, 2023, Robert W. Baird upgraded SQ to an Outperform from Neutral rating, raising its target price to $78 from $62.
Analyst David Koning commented, "Square is a premier large-cap growth franchise with both profitability and net cash, benefiting from macro trends such as rising rates and inflation." He likes the $5 billion cash balance as the $3 billion in customer funds balance equating to nearly $160 million on interest income added in 2023 with a 2% interest rate hike in 2023.
The MarketBeat MarketRank™ Forecast tool indicates a potential 62.8% price target upside with projected earnings growth from (-$0.67) to $0.11 per share and 2.5 stars out of 5 rating. The analyst rating score is 2.82, which is a Moderate Buy.