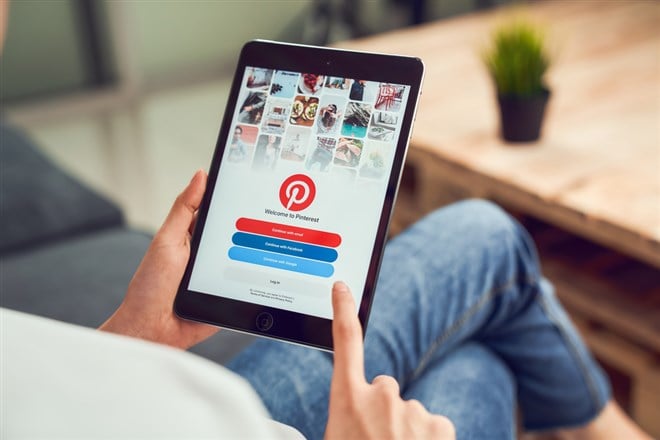 Social commerce platform Pinterest Inc. (NASDAQ: PINS) stock has been in a five-point trading range since September 2022. Pinterest is a social commerce platform that advertisers can feel comfortable about not being controversial as it promotes positivity, inspiration, and DIY content catering to lifestyle improvements without being overly intrusive.
Pinterest is one of the few platforms that have not been mired in controversy or regulatory scrutinies like Meta Platform Inc. (NASDAQ: META) Facebook, Alphabet Inc. (NASDAQ: GOOGL) Google, and Twitter during the 2020 elections and the COVID-19 pandemic. When advertisers pulled their ads during the COVID pandemic, Pinterest emerged relatively unscathed, as did Snap Inc. (NASDAQ: SNAP) Snapchat.
And Then There Were Two
After the $44 billion acquisition of Twitter by Tesla Inc. (NASDAQ: TSLA) CEO Elon Musk in October 2022, there are only two remaining major social media platforms with the potential to be acquired, Pinterest and Snapchat. Snapchat dominates the Gen-Z demographic as 90% of the 13 to 24-year-olds are active Snapchat users in the U.S., U.K., Australia, France, and the Netherlands.
While Pinterest's market cap sits at $18 billion compared to $15.8 billion for Snapchat, it also has $2.7 billion in cash. In addition, its monthly active users (MAUs) grew to 445 million in Q3 2022, adding 12 million users in the quarter. Nothing has transpired from the speculation of PayPal Holdings Inc. (NASDAQ: PYPL) acquiring Pinterest during the summer of 2022.
Beating Analyst Expectations
On October 27, 2022, Pinterest released its fiscal third-quarter 2022 results for September 2022. The Company reported an adjusted earnings-per-share (EPS) profit of $0.11, excluding non-recurring items, versus consensus analyst estimates for a profit of $0.06, beating estimates by $0.05. GAAP net loss was (-$65), but adjusted EBITDA was $77 million.
Revenues rose 8.2% year-over-year (YOY) to $684.6 million, beating analyst estimates of $666.63 million. Global MAUs were $445 million—adjusted EBITDA margin of 11% versus 32% in the year-ago period.
Pinterest CEO Bill Ready commented, "I'm proud of the solid results our team delivered in Q3, growing revenue 8% year over year, 10% on a constant currency basis, and returning to user growth," He concluded "Despite the challenging macro environment, we are delivering performance and a distinct value proposition to advertisers, reaching users across the full funnel."
Setting the Low Bar
For Q4 2022, Pinterest expects mid-single-digit revenue growth Partially due to the strong U.S. dollar versus consensus analyst expectations for 4.5% growth. In addition, it expects operating expenses for Q4 2022 to be low double-digit percent QoQ.
Personalization and Relevancy are Growth Drivers
CEO Ready covered two growth drivers during the Q3 2022 earnings conference call. First, the Company is making the platform more relevant to users to drive higher engagement. It is being done through improved personalization from complex machine learning algorithms and broadening its scope to a wider demographic audience.
The personalization improvement has been responsible for the return to sequential growth. Second, Pinterest is making the platform more relevant to users by leveraging human-curated content and upgrading the overall content ecosystem, promoting content that inspires users to create, do, or buy things.
Growing its Gen-Z User Base
Focus on user-created video content has been a high priority in reaching the Gen-Z demographic. The Company expanded its partnerships with Warner Music Group, Warner Chappell Music, Merlyn, and BMG to expand the music interest on Pinterest. The Company also focuses on growing its Gen-Z users through its shuffles standalone app.
More Shop-Ability
Aside from its partnership with Shopify Inc. (NASDAQ: SHOP), which places a Shop tab next to certain items, the Company also plans to make every product users see shoppable. CEO Ready stated, "While we have computer vision capabilities, machine learning, human curation at scale, and over 1 billion items in our product catalog, we also need to continue growing our product catalog to enable more of these shopping experiences."
He continued, "To that end, we released our API for shopping to general availability in Q3 across all of our shopping-enabled countries, which include the U.S. and our largest markets in Europe, Latin America, and APAC. Our API for shopping makes it easier for merchants to upload their catalogs and metadata while sending real-time data on SKU-level pricing and inventory."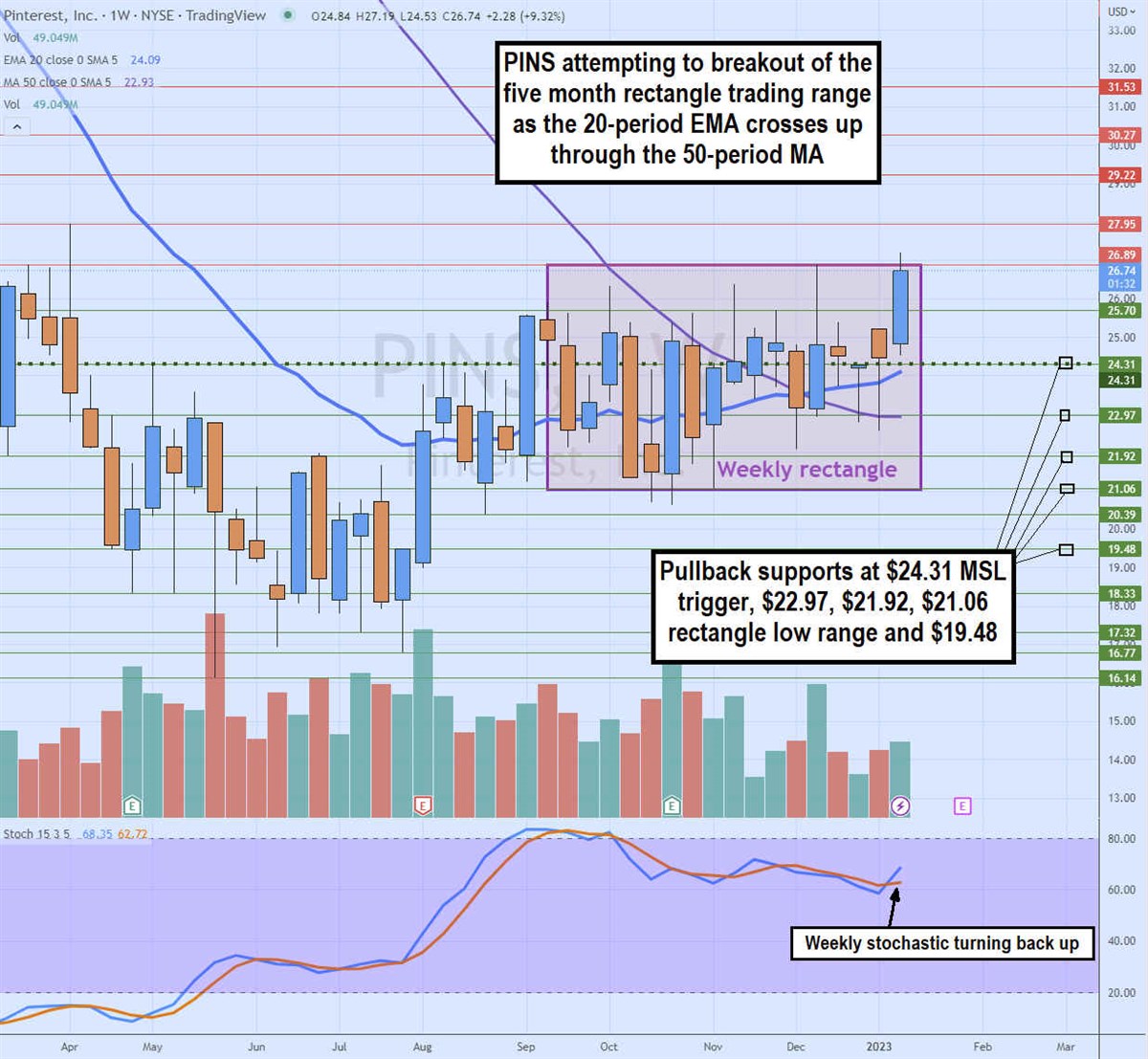 Weekly Rectangle Range Breakout
PINS weekly candlestick chart shows a five-month rectangle trading range that commenced in September 2022. The lower range sits at $21.06 to the upper range at $26.89. It's been building a base for five months and is attempting to breakout as it triggered the weekly market structure low (MSL) buy signal when it bounced through the $24.21 trigger.
The weekly 20-period exponential moving average (EMA) at $24.09  finally crossed over the weekly 50-period M.A. at $22.93, indicating a breakout. The weekly stochastic has also crossed back up as it heads towards the 80-band.
Shares closed the weekly candle just below the upper range of the rectangle and need to close above $26.89 to stage a breakout. Pullback supports sit at $24.31 weekly MSL trigger, $22.97, $21.92, $21.06 rectangle low range, and $19.48.