07/26/2023, Toledo, OH // PRODIGY: Feature Story //



Taryn Darrington of T-Mychals Darrington Agency is pleased to announce the grand opening of their brand-new insurance agency in Toledo, Ohio. The office will be inaugurated on July 29th at 1455 S Reynolds Rd, Toledo, at 3.30 p.m. The agency aims to become the go-to Toledo insurance agency by offering the widest range of insurance products, ranging from life insurance to health insurance, property insurance to vehicle insurance, and much more for individuals, families, and businesses.

Taryn is a fully licensed agent who has obtained state licenses from Idaho, Indiana, Iowa, Kansas, Michigan, Missouri, Nebraska, North Dakota, Ohio, Oregon, South Dakota, Utah, and Washington. The main insurance categories the company deals with right now are car, home, renters, life, motorcycle, manufactured home, condo, business, recreational, farm & ranch, landlord, and umbrella. The Umbrella Insurance Policy is a financial safety net that protects the client's assets and future. It is an extra layer of liability coverage added to automobile insurance, home, motorcycle, watercraft, recreational vehicles, and certain rental properties. It is a huge concept, and it is better to check with an agent at this Toledo insurance agency to know the exact details about coverage options and exclusions.
This Toledo insurance agency specializes in life insurance and various aspects such as Term Life, Simplified Term Life, Whole Life, Children's Whole Life, Senior Whole Life, and DreamSecure EasyProtect Term Insurance. No matter the stage in life, young or single, with dependents or no dependents, working or retired, life insurance is a necessity. It protects the policyholder and their dependents in a lot of ways. That is why it is advisable to get a policy done at a very young age to reduce costs, but the benefits could be more.
T-Mychals Darrington Insurance Agency and its agents are present with their clients every step of the way. From helping their clients explore several coverage options to assisting them in choosing the best product for their needs, these agents will support their clients. The online platform is also very easy to use. Insurance buyers can browse through the various products available here, manage their policies, set up AutoPay, view their proof of insurance, track their claims, get roadside assistance, connect with their preferred agency, and learn more about insurance, and much more. The insurance agency also helps customers save more by bundling insurance policies and benefitting from 10%-20% savings on insurance premiums.
To learn more, visit https://www.amfam.com/Insurance.
About T-Mychals Darrington Agency
Taryn Darrington is a fully licensed insurance agent specializing in property, casualty, life, and health insurance. Taryn heads the American family insurance firm, along with her team of qualified and experienced specialists with unique backgrounds that help them provide better and more fitting solutions for their clients.
###
Media Contact
Taryn Darrington – T-Mychals Darrington Agency
Address: 1455 S Reynolds Rd, Toledo, OH 43615
Phone: +14197576001
Email: TDarring@amfam.com
Website: https://www.amfam.com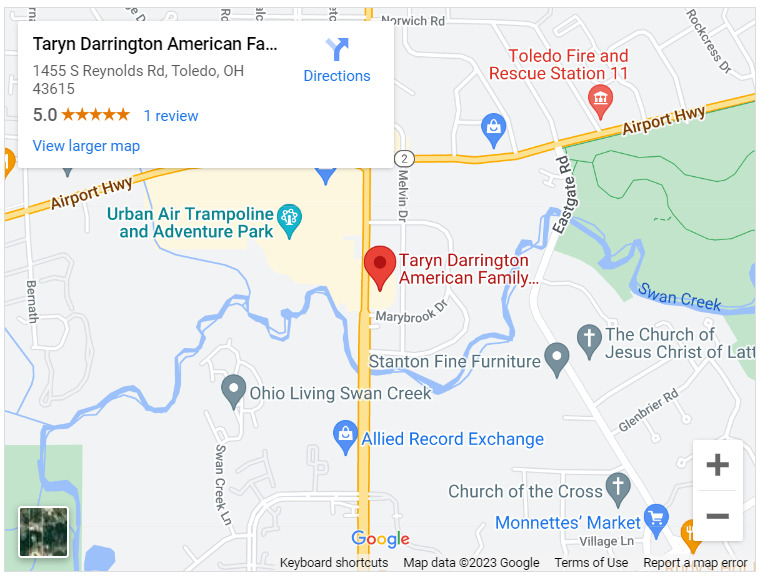 newsroom: news.38digitalmarket.com



Source: 38 Digital Market News

Release ID: 687116

Source published by Submit Press Release >> T-Mychals Darrington Insurance Agency Opens New Office in Toledo, Ohio