DANBURY, Conn., June 20, 2023 (GLOBE NEWSWIRE) -- On June 23, Ethan Allen will hold its 7th annual Ethan Allen Day celebration at the company's headquarters in Danbury, in addition to local events at Design Centers and manufacturing plants around North America.

"We've celebrated this important milestone since 2016, when the state of Vermont declared June 23 to be Ethan Allen Day," said Farooq Kathwari, Chairman, President and CEO. "We are proud to honor the pioneering spirit of our namesake and to celebrate our 91-year heritage as a proud American brand."
Ethan Allen was founded in 1932 and opened its first sawmill in Beecher Falls, Vt., in 1936. To this day, 75% of the furniture is made in Ethan Allen workshops in North America.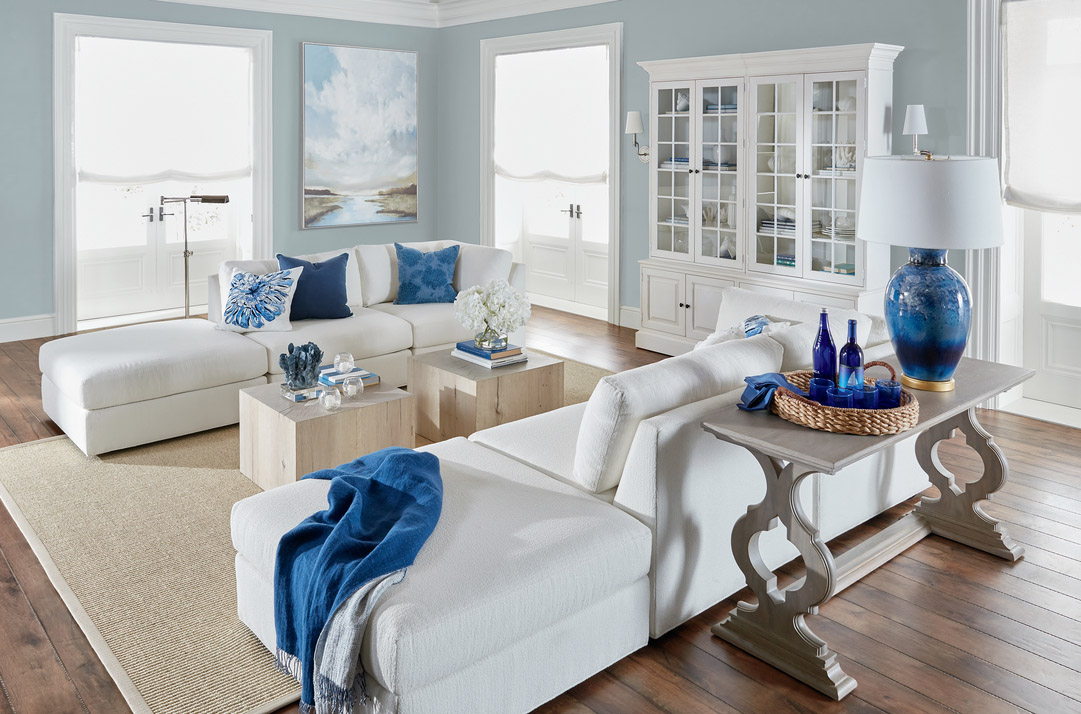 "When other businesses took their manufacturing overseas, we strengthened our commitment to manufacturing in North America," Kathwari noted. "Even though our vision of American style continues to evolve, remaining close to home empowers us to offer an incredible array of styles and customization options to our clients, and to maintain our strong reputation for quality and personal service."
In addition, many Ethan Allen Design Centers will partner with local charities, collecting nonperishable goods for community members in need. Those who wish to participate can contact their nearest Design Center for more information from now through July 31.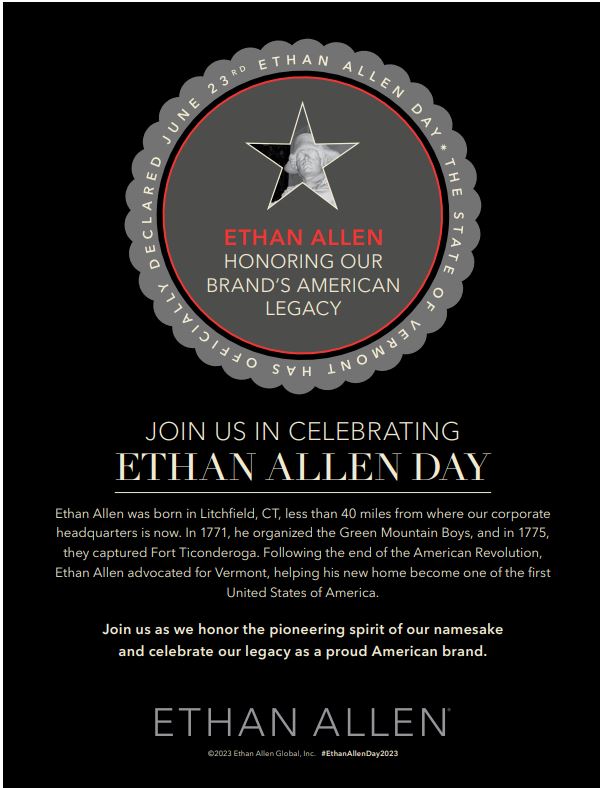 ABOUT ETHAN ALLEN
Ethan Allen Interiors Inc. (NYSE: ETD) is a leading interior design company, manufacturer, and retailer in the home furnishings marketplace. The company is a global luxury home fashion brand that is vertically integrated from product design through home delivery, which offers its customers stylish product offerings, artisanal quality, and personalized service. The company provides complimentary interior design service to its clients and sells a full range of home furnishings through a retail network of design centers located throughout the United States and abroad, as well as online at ethanallen.com. Ethan Allen owns and operates ten manufacturing facilities in the United States, Mexico, and Honduras, including one sawmill, one rough mill and a lumberyard. Approximately 75% of its products are manufactured or assembled in these North American facilities.
CONTACT:
Stephen Patrizzi
VP, Education & Marketing Services
203.743.8549
stephen.patrizzi@ethanallen.com
Photos accompanying this announcement are available at:
https://www.globenewswire.com/NewsRoom/AttachmentNg/a46ce746-3df1-4d11-adce-3cb7ef41f351
https://www.globenewswire.com/NewsRoom/AttachmentNg/fdcc5d16-9d22-4be5-9c96-a7f6476695b6