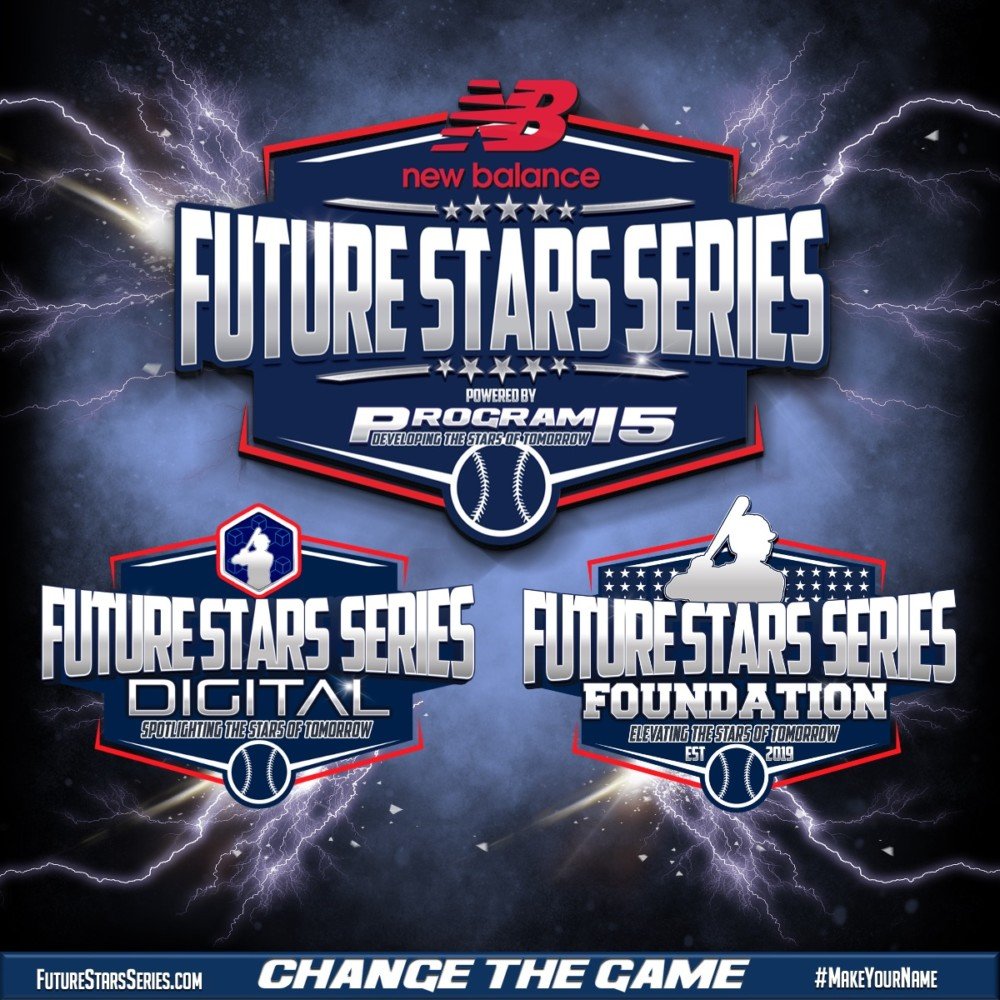 Launched in the fall of 2016 as a grassroots initiative between New Balance Baseball and PROGRAM 15, the Future Stars Series has emerged as the gold standard for player identification and development events in the amateur baseball world.
Led by President and CEO Jeremy Booth and backed by a staff of former MLB players, scouts, and coaches with decades of Pro Baseball scouting experience, Future Stars Series has earned a reputation as the most comprehensive amateur baseball player identification and development experience available.
While Booth's passion and dedication to the development and discovery of elite amateur players may fuel his vision for the next chapter of the Future Stars Series, he has no hesitation in crediting his highly skilled staff for bringing that vision to life. Continuing his unwavering commitment to changing the game of baseball, Booth announced the following Future Stars Series Staff additions.
Jason A. Churchill – VP of Future Stars Series Digital Content
Churchill will be leading Future Stars Series Digital, working closely with the content and media staff to enhance player exposure and accelerate the organization's reach in markets around the globe through its digital media channels.
Churchill's broad experience in all content generation and optimization levels includes Founder of ProspectInsider.com, ESPN analyst, Drive-Time host at CBS Radio, Stats & Insights for FOX Sports, Narrative Engineer & QA at Data Skrive, current host of Baseball Things and publisher of Mariners After Midnight on Substack.
On the addition of Churchill, Booth says, "Jason is a consummate professional with a unique blend of vision and operations understanding. He's the right and only choice for me to lead the digital model and enhance player and fan experience across all levels of baseball, from the Future Stars Series to the Major Leagues."
Brady Rodgers – New Balance Future Stars Series Partner Relations
Rodgers is focused on growing and enhancing FSS Partner Organizations from event service to player/organization growth. He will handle team sales, marketing, player development assistance, and player event coordination, ensuring all Partner Organization players can get the most out of the Future Stars Series.
Rodgers is a former MLB player with the Houston Astros. He was drafted twice, once out of Lamar Consolidated HS by Jeremy Booth for the Milwaukee Brewers and once out of Arizona State by the Houston Astros. He is an original Pro Member of PROGRAM 15 player growth and development in 2015 and 2016.
Jeremy Hamilton – Future Stars Series Foundation Director
Hamilton will lead fundraising initiatives, ensure player engagement and entrance, and assist on-site with player development and event operations.
Hamilton was drafted in the 5th round of the 2008 MLB Draft by the Phillies out of Wright State, where he earned a degree in Organizational Leadership and was also a member of the USA Baseball National Team. As the Assistant Director at Cincinnati Reds Urban Youth Academy, he worked extensively in their baseball and softball programs.
David Sheaffer – Future Stars Series Digital Social Media Manager
Sheaffer will manage all FSS social media and grow the digital platform across all channels into fully interactive mediums leading to more player exposure and higher engagement and value.
Sheaffer is a former Triple A catcher in the Seattle Mariners Organization. He was drafted out of North Surry HS by the Tampa Bay Rays in 2013 and signed with the Mariners in 2018 out of the University of North Carolina at Wilmington.  Sheaffer holds a BA in Business Administration with an emphasis in Marketing and an MBA in International Finance.  He is the son of Future Stars Series field coordinator Danny Sheaffer.
Max Mize – New Balance Future Stars Series Baseball Operations Assistant
Mize works directly with Booth on the role prediction model and data analysis that ties together scouting and player development to ensure that nothing is missed collectively in departmental operations for maximum player growth and pathway enhancement. Mize is a 2016-2017 PROGRAM 15 player alumni and worked as an intern for P15/FSS while playing his entire college career. Mize joins the organization full-time after graduating with an MBA from Lamar University.
Booth said about the new additions, "We're excited to formalize these positions with the people who have such a passion and drive to impact players and the game as a whole. I've known some of these guys for years and have been involved in their own professional growth as players and now scouting and development professionals. I know their work ethic and dedication, so I'm confident in their ability to deliver in all aspects of our core values and, most importantly, to pass those on to the players who participate here."
ABOUT FUTURE STARS SERIES:
FUTURE STARS SERIES boasts a faculty and staff that includes multiple Major League All-Stars and World Series veterans responsible for executing the New Balance Baseball Future Stars Series, an initiative between the two organizations to elevate the game of baseball by providing amateur players across all economic levels an opportunity to reach their full potential through the training, development, and guidance of former MLB players, scouts, and coaches.
For more information on the Future Stars Series, visit FutureStarsSeries.com.
Follow @ftrstarsseries on Twitter.