HONG KONG, Aug 29, 2023 - (ACN Newswire) - The 42nd HKTDC Hong Kong Watch & Clock Fair and 11th Salon de TE - jointly organised by the Hong Kong Trade Development Council (HKTDC), Hong Kong Watch Manufacturers Association Ltd and The Federation of Hong Kong Watch Trades and Industries Ltd - is set to welcome more than 700 global exhibitors from 17 countries and regions. Under the EXHIBITION+ hybrid mode, the physical fair will run from 5 to 9 September at the Hong Kong Convention and Exhibition Centre (HKCEC). Salon de TE will open its doors to both industry buyers and the public on the final two days (8 and 9 September). From 29 August to 16 September, exhibitors and buyers from across the world can engage in online and offline meetings through the AI-powered Click2Match smart business-matching platform.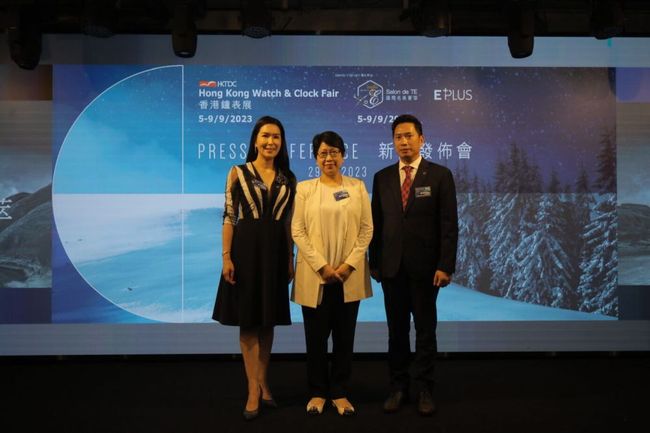 Introducing highlights of the fairs at a press conference today are Sophia Chong, HKTDC Deputy Executive Director (centre), Stanley Lo (R) and Amy Chow (L), Co-chairmen, HKTDC Hong Kong Watch & Clock Fair Organising Committee 2023



Watch and clock industry outlook improves

The globally renowned Hong Kong Watch & Clock Fair has consistently served as an effective platform for the industry to secure orders and establish business connections. Sophia Chong, HKTDC Deputy Executive Director, said: "Last year, Hong Kong's total export value of watches and clocks reached almost HK$54.8 billion (US$7 billion). From January to July this year, the export value amounted to HK$31.62 billion. Meanwhile, Hong Kong remains the world's largest wristwatch import market and the second-largest wristwatch export market, following Switzerland. The watch and clock export index has risen from 47.5 in the first quarter to 48.8 in the second quarter, indicating improved sentiment among Hong Kong's watch and clock exporters.

Sophia added that the HKTDC has been committed to bringing new elements to the fairs. Hong Kong Watch & Clock Fair exhibits are more diversified this year to serve changing industry needs. This year also welcomes a first-time exhibitor from Greece and Dubai, and will feature Guangdong, Guangzhou and Taiwan pavilions, hoping to create business opportunities for the industry."

Showcasing Chinese design excellence

Salon de TE, dedicated to showcasing internationally renowned watch brands, will feature five thematic zones: World Brand Piazza, Chic & Trendy, Craft Treasure, Renaissance Moment, and Wearable Tech. These zones will present more than 130 prominent watch brands and designer collections from France, Switzerland, Italy, the United States and more.

The debut Guo Chao theme welcomes several remarkable mainland watchmakers. They will showcase timepieces that intricately blend Chinese cultural elements. Ma XuShu is a highly respected independent watchmaker from Mainland China and an Academie Horlogere Des Createurs Independants (AHCI) member. He will present his masterpiece Starry Night wristwatch, a silver-award-winning timepiece at the 1st China (Blue Light Cup, Zhangzhou) Watch Design Competition. The watch features a dial with a retractable pointer indicating both hours and minutes, while the back depicts the starry night sky over Beijing, with "Beijing starry sky" engraved. Another watchmaker Wei Guang Wen will showcase Guangzhou clocks, a timepiece of historical, cultural and artistic value. Inspired by the classic Guangzhou clocks style from the Qianlong period (mid-to-late 18th Century), the clock features three sub-dials and chimes every hour, accompanied by various rotating designs, making it a truly timeless piece.

Exquisite craftsmanship from independent Swiss watchmakers

Swiss Independent Watchmaking Pavilion (SIWP) and Franceclat are returning this year, together with a debut by the International Luxury Group, presenting a range of Swiss and international watch brands, including H992, Pilo & Co, Adriatica, Epos and Ollivier Saveo, showcasing unique designs and delicate artisanship. The H992 was founded by Thierry Heiniger with H representing the spirit of hours and humanism, while 992 is the altitude of La Chaux-de-Fonds, birthplace of the brand, at 992 metres above sea level. The collection will be available in a 992-piece limited edition. Amarildo Pilo, another Swiss watchmaker, will present Pilo & Co, unveiling the Extraneo series. The hand-length changes with the indication of minutes or hours, a patented design.

World Brand Piazza - luxury showcase

Sponsored by Prince Jewellery & Watch for the 13th consecutive year, the World Brand Piazza remains a fair highlight. This year it will feature an impressive lineup of 10 international watch brands, including Bovet, Carl. F Bucherer, Corum, CVSTOS, DeWitt, Franck Muller, Jacob & Co., Kerbedanz, Parmigiani Fleurier and Sarcar Geneve. The zone will showcase an exclusive selection of luxurious and rare timepieces. Bovet, a Swiss brand, presents the Recital Grand Recital Tourbillon timepiece, which features a celestial display resembling an astronomical instrument showing the sun, moon and earth. Priced at HK$4.959 million, just 60 pieces are available. Jacob & Co., in collaboration with the French sportscar brand Bugatti, introduces the Jacob & Co. X Bugatti Chiron Tourbillon timepiece. The movements of this watch, meticulously designed over a year, comprise 578 components and simulate the operation of a sportscar engine, priced at HK$3.2 million.

Wearable tech, classic to fashionable elements

At Salon de TE, Wearable tech zone this year has tripled its exhibiting area compared to 2019, displaying a series of smart watches and the latest technology brands, including Microwear, DTNO.1, DO and MYZI etc.

Other international timepiece brands will present wristwatches of different styles and personalities. Highlighted timepieces include:

- Swiss brand ROMAGO launches its collaboration with Snoopy for this season with the Bluebird's Egg Blue Rotating Disc Watch.
- A limited-edition Mermaid Tourbillon by Hong Kong brand Memorigin, with just 100 pieces worldwide. The watch has a hollow design that reveals the sea-blue ripple pattern, highlighting the oceanic theme.
- First-time exhibitor King-Wear from Mainland China will feature one-touch Bluetooth pairing for calls, built-in music and video playback, body identification sensors and more than 100 sports modes.
- Young watchmaker Ricky, cultivated by Hong Kong brand ANPASSA, has made his own tourbillon, a creative work described as a 15-year-old dream.

Pageant of Eternity showcases high-end OEM and ODM watches

The Hong Kong Watch & Clock Fair includes eight zones. The Pageant of Eternity zone showcases OEM and ODM high-end complete watches. Other product zones cover clocks, machinery and equipment, parts and components, packaging, and trade services.

Scan2Match, EXHIBITION+ expands networking opportunities

In addition to EXHIBITION+, the fair will also launch the Scan2Match function, which brings communication from offline to online. Buyers can use the HKTDC Marketplace app to scan exhibitors' QR codes during the exhibition period, bookmark their favourite exhibitors, browse product information and the e-Floor plan, and continue to chat with exhibitors online during or after the exhibition period, extending their sourcing journey.

Forums, seminars, watch parades and networking events will provide first-hand market information. At the Hong Kong International Watch Forum on 5 September, watch association representatives from all over the world - including Mainland China, France, Germany, Japan, Korea and Switzerland - will discuss the global trade situation and industry trends.

Global market research agency Euromonitor International will discuss sustainable watch design development around this year's theme Shaping the Future Watch: The Next Design Trends at the Asian Watch Conference on 6 September. Zhang Jianmin, the founder of the renowned watch brand CIGA Design, and Ollivier Savelli, a Swiss Independent Watchmaker, are invited to share their design inspirations and experience in watch design, delving into the latest trends and future directions of watch design.

On the same day, Noel Wong, a watch collector, and William Bai, a watch culture expert and founder of Watch Traveler, will discuss affordable luxury watch prospects, a hot topic among celebrities.

To cultivate a new generation of watch designers and technical talents and promote the innovation and development of watch design, the HKTDC, Hong Kong Watch Manufacturers Association Ltd and Federation of Hong Kong Watch Trades & Industries Ltd jointly organise the 40th Hong Kong Watch & Clock Design Competition. The competition has two categories - The Beauty of Perspective for the Open Group and Game Code for the Student Group. Artist Jessica Hsuan was invited as a guest judge this year. Award-winning works and finalists will be exhibited during the Watch & Clock Fair, and the award ceremony will be held on 9 September at the Infinite Galaxy in Hall 3FG of the fairground.

Interesting events, lucky draws, shopping discounts

Salon de TE will be open to the public aged 12 and above on 8 and 9 September. Exciting activities will include watch parades, watch and painting demonstrations, embroidery watch crafts, product launches and more. Visitors can participate in lucky draws, with prizes including luxury watches, fashion accessories, dining vouchers and more. They can also join Smart Bidding to bid on their desired watches starting at as much as 90% off the retail price. Some exhibits will be available for on-the-spot sale.

In addition, Asia's premier fashion event CENTRESTAGE will be held from 6 to 9 September at the HKCEC, assembling designer brands from around the world to create synergies. Visitors can view the latest products of more than 350 watch and fashion brands at the same time.

Export performance of Hong Kong watches and clocks:

2022 (total value) | Change year on year | Jan-July 2023 (total value) | Change year on year
HK$54.78 billion | -8.4% | HK$31.62 billion | -1.6%

Websites:
- Hong Kong Watch & Clock Fair: https://www.hktdc.com/event/hkwatchfair/en
- Salon de TE: https://www.hktdc.com/event/te/en
- Photo download: http://bit.ly/3qNvBvn

About HKTDC

The Hong Kong Trade Development Council (HKTDC) is a statutory body established in 1966 to promote, assist and develop Hong Kong's trade. With 50 offices globally, including 13 in Mainland China, the HKTDC promotes Hong Kong as a two-way global investment and business hub. The HKTDC organises international exhibitions, conferences and business missions to create business opportunities for companies, particularly small and medium-sized enterprises (SMEs), in the mainland and international markets. The HKTDC also provides up-to-date market insights and product information via research reports and digital news channels. For more information, please visit: www.hktdc.com/aboutus. Follow us on Twitter @hktdc and LinkedIn

Media enquiries
Please contact the HKTDC's Communications & Public Affairs Department:
Frankie Leung, Tel: +852 2584 4298, Email: frankie.cy.leung@hktdc.org
Agnes Wat, Tel: +852 2584 4554, Email: agnes.ky.wat@hktdc.org

Source: HKTDC

Copyright 2023 ACN Newswire . All rights reserved.