The popular ODM and OEM factory is back in the news again with their amazing new product series.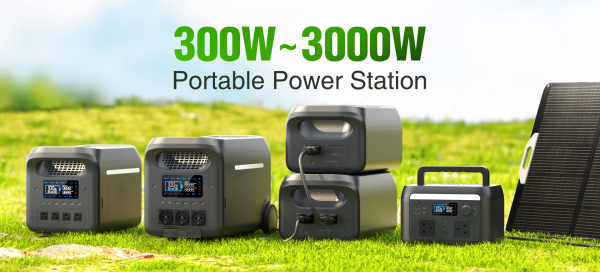 One of the top electrical and electronic products manufacturers CE-LINK Limited, is back with its latest product, a new series of 3000W Portable Power Station products. This cutting-edge product line combines state-of-the-art technology with advanced features, providing users with a reliable and efficient power solution for various applications. With features such as intelligent APP control, USB flash disk software upgrade, bidirectional topology, and smart UPS functionality, the 3000W Series sets a new standard in power supply systems.
The CE-LINK 3000W Series incorporates an automotive-grade LiFePO4 prismatic cell with complete protection for its aluminum structure, thus, ensuring exceptional performance and safety. With its long cycle life and enhanced durability, the LiFePO4 Prismatic Cell offers users a safe and extended operational lifespan. One of the standout features of the 3000W Series is its intelligent APP control. Customers can easily monitor and manage their power supply system remotely by seamlessly integrating with a user-friendly mobile application. The intuitive interface allows for real-time data monitoring, customization of settings, and access to various advanced functionalities, making power management effortless.
In addition to the APP control, CE-LINK has implemented USB flash disk software upgrade capability. This feature enables users to conveniently update the system's software by simply plugging in a USB flash drive, ensuring that the power supply system stays up to date with the latest enhancements and improvements. The 3000W Series is also equipped with a built-in Battery Management System (BMS) to ensure comprehensive protection. The BMS safeguards the system from overcharging, over-discharging, and other potential risks, providing users with a reliable and secure power supply. The 3000W Series boasts a range of impressive specifications, including a 2560Wh lithium-ion battery, three 120V AC outlets, four USB ports, including a 100W Type-C PD3.0 port, a 12V DC outlet, and a built-in LED display for easy monitoring.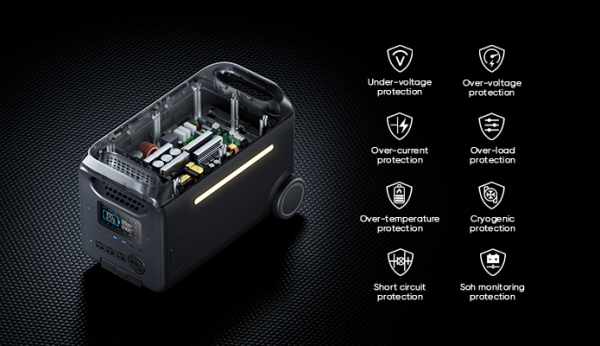 The bidirectional topology of the 3000W Series allows for AC reverse fast charging, providing users with flexible charging options. Whether from a traditional AC power source or through solar panels, the system efficiently converts and stores energy for a continuous and uninterrupted power supply. The Smart-UPS functionality of the 3000W Series offers an uninterrupted power supply, ensuring critical devices remain operational during power outages or fluctuations. With seamless and instant power transition, users can rely on the system to keep their essential equipment running without disruption. It even offers 400W Solar Power Panel PV support with a backup function to provide families with continuous energy.
Supporting fast charging, this new portable power station packs "True-bidirectional Inverter Technology": the fast charging mode can actually charge 0-100% of the power in 1.6 hours (no power adapter is required, plug in the AC cord to charge), which makes it truly different from traditional columnar battery technology. With a powerful UPS that promises an uninterrupted power supply, passed UL1778 UPS certification, grid power failure or fault switch (buck-up) time is less than 14mS; AC output automatically connects to the grid after the grid is restored; Support bypass function, when the grid is normal, it is connected to the AC output, and when the grid fails, it is powered by the battery; Support the function of charging while discharging, through DSP calculation, when the output power is less than 1800W, the remaining energy will charge the battery.
Equipped with an intelligent inertial air cooling system: when the input/output power is less than 300W, the fan does not work; the fan speed is adjusted according to the internal temperature sampling. It enables constant monitoring of the Plant through Wi-Fi and Bluetooth. This new product will now make it possible to detect an input frequency of 50-60Hz automatically and ensure a constant AC output frequency. These products are also available with an aluminum alloy bracket that gives it a stronger structural design. The new product range is significantly upgraded from the company's previous products, such as 1800W, 600W, and 300W power stations.
With a staggering 2560Wh lithium-ion battery, the new 3000W series is a true powerhouse. It boasts a rated power output of up to 3000W, allowing users to power multiple devices simultaneously without compromising performance. Whenever people need that extra power surge, it can even reach a peak power output of up to 3000W, with a continuous power output of 2000W at all times. With four AC outputs, including 100W Type-C PD3.0, users can now power multiple household appliances or office equipment simultaneously. Additionally, it features two USB-A ports, perfect for charging any smartphone or tablet. Two USB-A Quick Charge ports are available for fast charging capabilities, ensuring that all devices receive power at an accelerated rate. The inclusion of two Type-C ports allows users to charge compatible devices like laptops or cameras efficiently.
To learn more, visit: https://www.CE-LINK.com
About The Company
CE-LINK Limited, established in 2004, is a leading company specializing in developing, developing, and manufacturing electrical and electronic products. With a diverse product range that includes cables, signal adapters, converters, docking stations, chargers, power sockets, and gaming power supplies, CE-LINK has become a trusted name in the industry. The company's commitment to excellence is reflected in its ability to respond quickly to market demands and provide efficient product development services to its customers. This dedication has earned CE LINK a reputation for reliability, stability, and sustainability. The company has implemented comprehensive quality control, environmental protection, and social responsibility systems, holding certifications such as ISO9001 Quality Management System, ISO14001 Environmental Management System, EICC Electronic Industry Code of Conduct, and SA8000 Social Accountability Standard. These certifications highlight CE Link's commitment to meeting the highest standards in every aspect of its operations.
Media Contact
Company Name: CE-LINK Limited
Contact Person: Candy Chan
Email: Send Email
City: Dongguan
State: Guangdong
Country: China
Website: www.CE-LINK.com