The official tequila company of National Margarita Day, Eleven20 Tequila, debuts as the official tequila sponsor of Flockfest's 'Spring Splash' Pool Party Fundraiser in South Florida.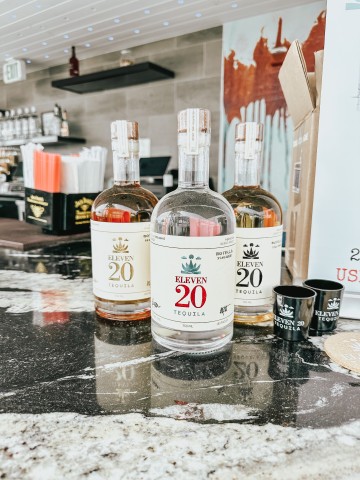 FORT LAUDERDALE, FL - March 22, 2023 - Eleven20 Tequila, the Miami-based luxury tequila brand, debuts as the Official VIP Tequila Sponsor of Flockfest's 'Spring Splash' Pool Party charity fundraiser, just following their recent announcement of becoming the official tequila of National Margarita Day. Held at The Easton Rooftop Pool and Lounge in downtown Fort Lauderdale, Florida, the lively poolside reception was held on March 19th, 2023. The VIP guests at the event were additionally treated to an afternoon of tequila tastings by Eleven20 Tequila, custom signature cocktails at the open bar, and fabulous company while the poolside DJ played a mix of best hit songs, all while raising funds for the various community organizations that Flockfest supports.
"We wanted to give back to the community and introduce Eleven20 Tequila to support and liven-up this fabulous charity event! It is important to us to be involved.", says Ana Tess, cofounder of Eleven20 Tequila.
Sponsoring the "Spring Splash" event allowed Eleven20 Tequila to share the experience of the exceptional taste and commitment of the tequila with the vibrant South Florida locals. The event was produced by Flockfest Events, a leading charity event production organization.
Eleven20 Tequila takes pride in its unique blend of modern and traditional techniques, making sure that each step of the production process brings out the best possible flavors in the final spirit, which showcases the company's attention to detail that is rare in the industry. Eleven20 Tequila is the ideal choice for those who seek a unique experience that doesn't compromise on taste or principles.
About Eleven20 Tequila 
Eleven20 Tequila is a luxury tequila brand committed to sustainability and quality. From selecting the ripest agave plants to using sustainable farming practices, Eleven20 Tequila takes pride in every step of the production process. This results in a unique tequila that is perfect for those who want a taste of luxury without compromising on their values. For more information, visit eleven20tequila.com.
For media inquiries, contact:
Laura Pucker, Otter Public Relations
laura.pucker@otterpr.com
Media Contact
Company Name: Otter PR
Contact Person: Laura Pucker
Email: Send Email
Phone: 8136786828
Address:320 1st Ave N Suite 110
City: St. Petersburg
State: Florida
Country: United States
Website: OtterPR.com