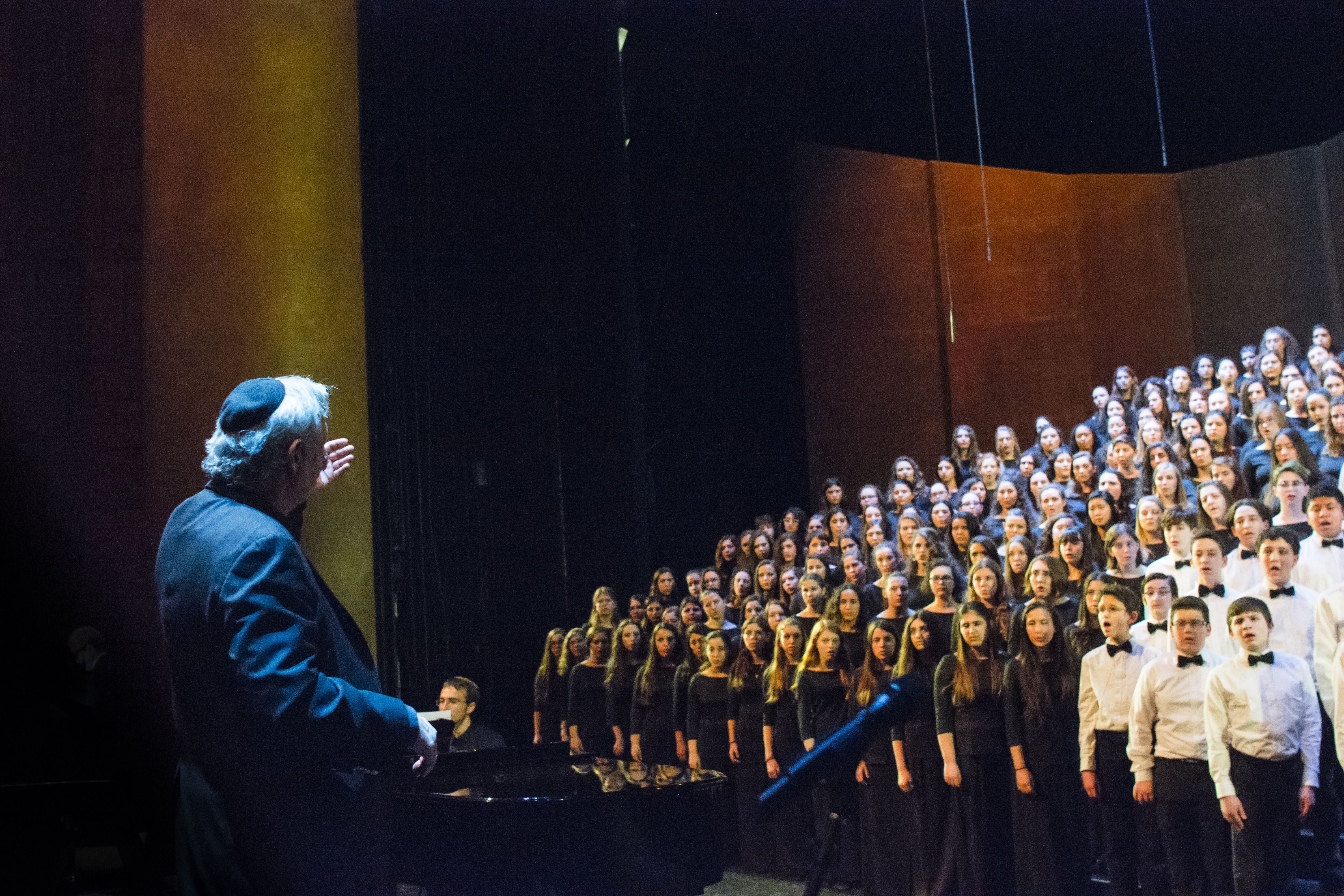 "We are more than a choir, we are an incubator for future leaders who find their voices and purpose," says Matthew Lazar, Maestro and creator of HaZamir. "Providing a high-quality, structured program, HaZamir's unique experience helps foster a lifelong commitment to Jewish culture and music in young people and builds a strong foundation for future Jewish involvement among its participants."
HaZamir: The International Jewish Teen Choir, with members from 26 U.S. chapters and 10 cities in Israel will join together this month for workshops and rehearsals and to share Jewish culture, music and values as they cultivate international friendships. They will sing in a gala performance at Jazz at Lincoln Center in NYC on March 19th under the direction of Maestro Matthew Lazar, founder and director of the Zamir Choral Foundation, and featuring conductors from across the U.S. and Israel.
HaZamir was created in 1993 by Matthew Lazar to provide an opportunity for talented young Jewish singers to sing great Jewish music at the highest standard of excellence. HaZamir singers express their Jewish identities and love of music with peers from a range of cultural and economic backgrounds and levels of religious observance and perform Jewish choral music on the world's greatest stages. For 30 years, HaZamir has served as a training ground for a new generation of singers, investing in young people so that they have a deeper understanding of the values, traditions and glory of Judaism and artistic expression.
Many HaZamir graduates have gone on to musical careers and have assumed leadership roles in their communities. Eleven HaZamir alumni are now conductors or coordinators of their own HaZamir chapters.
"My years in HaZamir as a teenager helped me to develop and use my own voice, believe in myself, and connect to my spirituality in a non-judgmental and highly encouraging environment," says Sarah Immerman, a former HaZamir member and current clinical psychologist treating adolescent boys. "Professionally, I now understand just how crucial it is for teenagers to have a validating and predictable environment, and that's what HaZamir provides for so many young people across both North America and Israel."
HaZamir teens study Jewish text and history, grow as leaders, cultivate a deep connection to Israel, and create enduring ties that transcend geographic, political, social, and denominational differences. A key component of the Festival is called "Mifgash" or Encounter, where Israeli and American teens are placed in small groups and given a prompt that calls for deep thought on topics related to Judaism, such as nationalism and antisemitism. These encounters expose the American students to Israeli traditions and Israeli teens to the many ways of practicing Judaism in the States.
"The young people hear first-hand descriptions of what life is like for each other," says Vivian Lazar, the Director of HaZamir. "They develop a greater understanding and appreciation of their similarities and differences and learn that the cultural divide is not as great as they had imagined."
The HaZamir choir is comprised of teenagers in grades 9-12, featuring ensembles which rehearse all year long in 10 Israeli cities including Ashkelon, Beit She'An, Dimona, Gan Yavneh, Hod HaSharon, Jerusalem, Karmiel-Misgav, Ofakim-Merchavim, Tirat HaCarmel and Yerucham; and 26 American chapter locations in Atlanta, Baltimore, Bergen County NJ, Boca Raton, Boston, Brooklyn, Central New Jersey, Chicago, Cleveland, Houston, Los Angeles, Long Island NY, Manhattan, MetroWest NJ, Miami, Minneapolis, New Haven, Orlando, Philadelphia, Pittsburgh, Providence, Raleigh-Durham, Silicon Valley CA, South New Jersey, Washington, DC and Westchester County NY.
The gala performance combines music, Judaism, community and spirituality in a powerful blend. The concert will include music that celebrates 30 years of HaZamir and commemorates the important milestone of the 75th anniversary of the State of Israel. A variety of musical styles will be featured, including popular music, classic Israeli and Jewish American selections in English and Hebrew, as well as an uplifting gospel-style song. Two new classical music commissions, written specifically for HaZamir, will be premiered. A select group of teen singers who are ready for an even greater musical challenge can audition for the HaZamir Chamber Choir which performs an additional musical set. Three decades of singers have participated in this choral experience and reunite as alumni performers as a select alumni choir this year in a special concert finale.
For additional information visit www.hazamir.org
Media Contact
Company Name: CATHY CALLEGARI PUBLIC RELATIONS INC
Contact Person: Liz Ammirato
Email: Send Email
Phone: 914-299-3882
Address:159 Madison Avenue, Apt. 5J
City: New York
State: NY
Country: United States
Website: www.callprinc.com