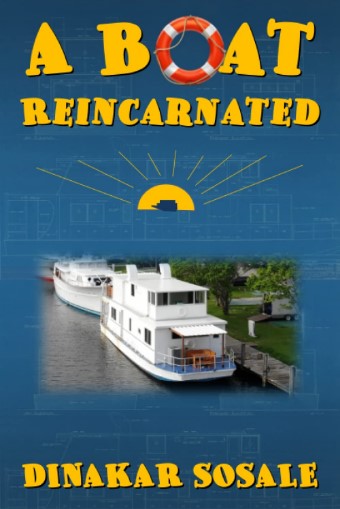 Dinakar Sosale, a US immigrant, has published a book on Amazon about an exciting houseboat transformation journey. The new book 'A Boat Reincarnated' features Kris and his family who are inspired by the author's experience of houseboat renovation with a great mix of family drama, current affairs, and humor. Readers who appreciate these should try out this book. 
The semi-fictional novel is filled with amusing anecdotes about Kris's family and other characters like the hired crew that assist him in this boat renovation endeavor. The story goes that a houseboat is bought to be remodeled, with Kris unaware of how consequential this would be. Spanning over hundreds of pages, the technical aspects of the houseboat reincarnation combines alluring storytelling to shed light on a myriad of themes such as survival and renovation during covid times, the tremendous polarization in American politics, and the post-election drama as the family works on the boat. 
The events that the characters encounter during the boat's remodeling affect them in a variety of ways; their lives will never be the same again. Numerous life lessons are packed for the readers who'd pick up this piece of literature reviewed as a "delightful and engaging read." 
Dinakar Sosale is an Indian IT/Telecom Engineer who moved to the United States in the 1990s to pursue higher education. The author enjoys the little things in life. He enjoys spending "me time" on the weekends and loves visiting bookstores and coffee shops. He also travels to countryside areas; it was his love of architecture that inspired him to remodel the boat he wrote about. 
Dinakar placed himself as Kris in the book, fulfilling his real life wish of owning and renovating a vintage boat as well as writing a book. He was always passionate about becoming a published author, so this is a dream come true for him. Lovers of adventure, boating enthusiasts, immigrants, and basically everyone who's amused by a great story will find themselves turning pages of this book. Readers will learn about everything from his experience in this book. 
A Boat Reincarnated by Dinakar Sosale promises to be a unique reading experience, which you can get on Amazon in ebook and print. To find out more about the book, check out Dinakar's website, www.figureheadmedia.com. For more information on the wondrous houseboat featured in the book, check out the houseboat rental site www.wrightonwater.com.
Media Contact
Company Name: Figure Head Media
Contact Person: Dinakar Sosale
Email: Send Email
Phone: +1 (305) 547-9909
Country: United States
Website: https://www.figureheadmedia.com/